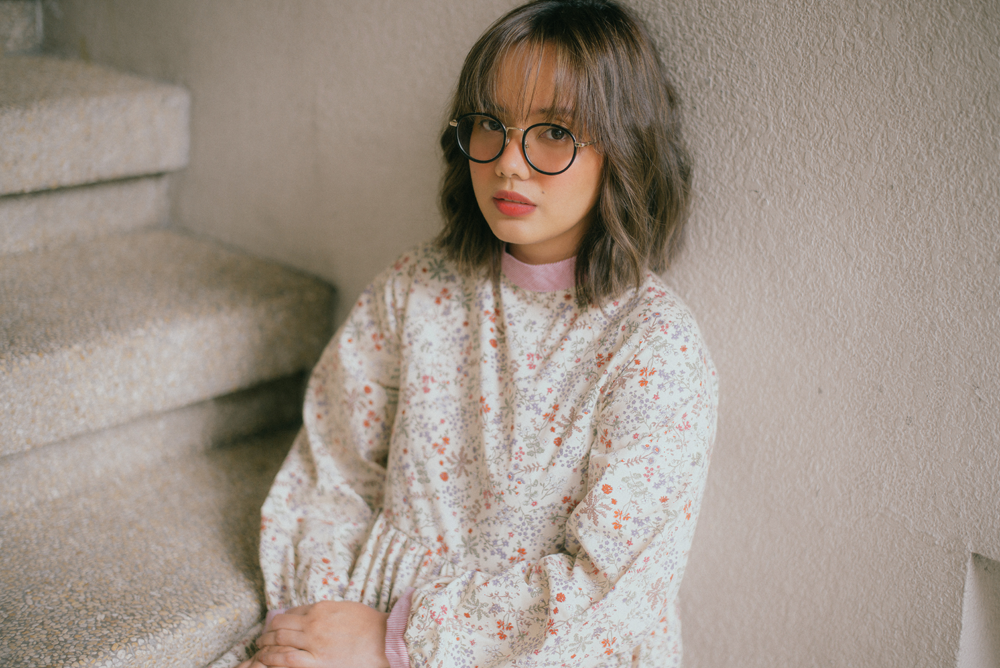 The (Shy) Struggle Is Real: Anthea Bueno on introvert problems and making it in the makeup industry
Her dewy, no-makeup makeup looks have made her a favorite of celebs, it girls, and blooming brides. But what's it like to be a painfully shy girl in the dynamic world of fashion and showbiz? Makeup artist Anthea Bueno gives us a rare peek into her private universe.
Text Pierra Labrador
PHOTOGRAPHY/STYLING Tricia Gosingtian
MAKEUP Anthea Bueno
HAIR Jay Aquino
SHOT ON LOCATION AT Photo Kitchen
"There was a point I was crying na and thinking, this is not for me," shares makeup artist Anthea Bueno of her early days in the business. Known for her quiet confidence and aversion to small talk, people often thought she was "mayabang" or "suplada." "It's so hard to express yourself, kasi you can't really open up to people because you're shy. And it takes twice as much effort to do my work when I have to talk to people." But today, with a steady clientele, celebrity muses, and over 70k followers on Instagram, she's glad she didn't quit.

Like many Filipinos hoping for a better future, her family urged her to take up nursing, but her interest lay firmly in the arts, and she wouldn't be swayed. She pursued Fine Arts at UST, and it was while doing research for a school fashion show that she found her true calling. "I stumbled upon makeup artist Pat McGrath's work, and my mind was blown. I didn't know you could see makeup application that way—it's like an art form talaga," Anthea enthuses, excitedly showing us the images of Pat McGrath's makeup from the John Galliano for Dior runway show that sent her down this rabbit hole.
"I used to have this notion that if you wore makeup, you were so maarte—why would you even bother putting on makeup for class?" Anthea sheepishly admits. But after being inspired by Pat McGrath's artistry, she started to do research, learned how to apply makeup from YouTube, and slowly started building a makeup collection of her own. "Every time I would get paid from summer jobs, I would buy one tube of lipstick." Friends and relatives were her first guinea pigs, and when she felt deep in her gut that this was really her calling, she apprenticed under established makeup artist Jigs Mayuga for a year, before finally striking out on her own.
She began making a name for herself with magazine editorials in 2013. "At my first beauty editorial for Preview, the topic was about skincare, but my model was breaking out! It was really challenging, but after doing the makeup, Ms. Agoo [Bengzon] said, 'Oh, you do skin well!'" Acing that editorial opened doors to more beauty features and makeup gigs for TV guestings, establishing Anthea's expertise in "no-makeup makeup" looks and hyper-real, radiant skin. Her early muses include Kelsey Merritt ("Grabe, ibang level na siya!") and KZ Tandingan for ASAP ("Experimenting with her different quirky looks was like art to me"), but she really turned heads when she did the bronzed dewy look on Ylona Garcia. "At that time, hindi pa uso ang dewy look on an artista, especially morenas—it was always matte with the blocked brows and bright pink lip, so I wanted to break that mold that artistas should look like this, perfect, poreless."

Is your makeup brush like a magic wand, we ask. "More than [magic] wand, it's a paintbrush. There's already this artwork in front of you, and you just have to finish it. I want them to feel like themselves, but a more refined version. I don't try to change what's there." And true enough, a quick peek at @antheabueno on Instagram serves up a gorgeous gallery of fresh, radiant faces, from Janine Gutierrez, Megan Young, Jennylyn Mercado, and Leila Alcasid, to glowing brides like Tricia Gosingtian, Kryz Uy, and Camille Co.
Anthea considers herself lucky that she was one of the last batches of makeup artists that still reached the heydey of print media, and was able to naturally transition to social media. And while she mourns the demise of many print publications ("I love love magazines!"), the rise of social media was instrumental in getting her work out there—especially as an introvert. "Super helpful ang social media. Before, you'd have to be really ma-chika to get into the industry; they'd have to like you to work with you. Social media is changing it; they can see our work already, and that's why they book you."

Ever pro-active, she invested in a camera, lighting equipment, and started doing her own content for social media. "Photography to me is yet another creative outlet—I enjoy doing it, I enjoy learning from the people I work with. When I was starting out, I didn't even have a smartphone, I didn't even have Instagram."
As the breadwinner of the family, she would feel guilty buying makeup with money that could go toward paying bills ("I would think, pang-Meralco na ito!"), and sometimes would even borrow money from friends when she needed particular products for a shoot, never scrimping on quality. Times were tough, and she would do odd jobs to get by. "But at the end of the day, if you're passionate about something, you just keep going back to it. Even if it's hard, I can't imagine doing anything else—this is how I choose to live my life."
Her perserverance began to pay off, but as the work poured in, so did the pressure to make small talk. "Every time I would have a client, I would be like, what topics should I talk to her about? Why did I become a makeup artist? I hate this!" Anthea shares candidly. "Then people would start asking, why are you masungit? And I'll have to explain, 'No, I'm not,' making my work even more challenging." At the end of each day, the effort would be so physically draining that she would literally just brush her teeth, change into jammies, and collapse into bed without speaking to anyone when she got home.

Fast forward to a few years later, and she's now carved her own quiet space in the industry, letting her work speak for itself. Instead of trying so hard to fit in, she's come to terms with the fact that it's really in her nature to be reserved—and that's OK. "My favorite muses actually like that about me, that I don't get too personal. And now, I get to work with people I've worked with before, so I'm at ease now most of the time. Most," she stresses.
Public speaking for beauty workshops still terrifies her, though. "I find it so hard expressing myself even just to one person, paano pa kaya to a whole room? But Jigs always taught me to come prepared with bullet points. He said, 'Don't think of it as trying to please everyone—they're there because they want to learn, and you have knowledge that you can share.'" She recounts how she would hyperventilate in panic ("As in, I would hear myself on the lapel mike!"), but has learned to overcome her fear by thinking that if her knowledge could help even just one person in the audience, it would be worth it.

"Before kasi, I liked attending free workshops at the mall, and so now I see myself in that crowd again, and I tell myself, what if that person in the crowd is just like you? What if she wants to become a makeup artist, but can't afford to go to school for it, and you're giving her the knowledge that she needs? And so, even if each workshop makes me feel like I did the makeup of ten people, I still do it, because I want to help out." Quiet girl power.
If you're working with Anthea for the first time, we discovered three topics to break the ice:
✿ Cats
✿ Her obsession with sad girl Halloween costumes
✿ Game of Thrones ("I would do their makeup for free!")