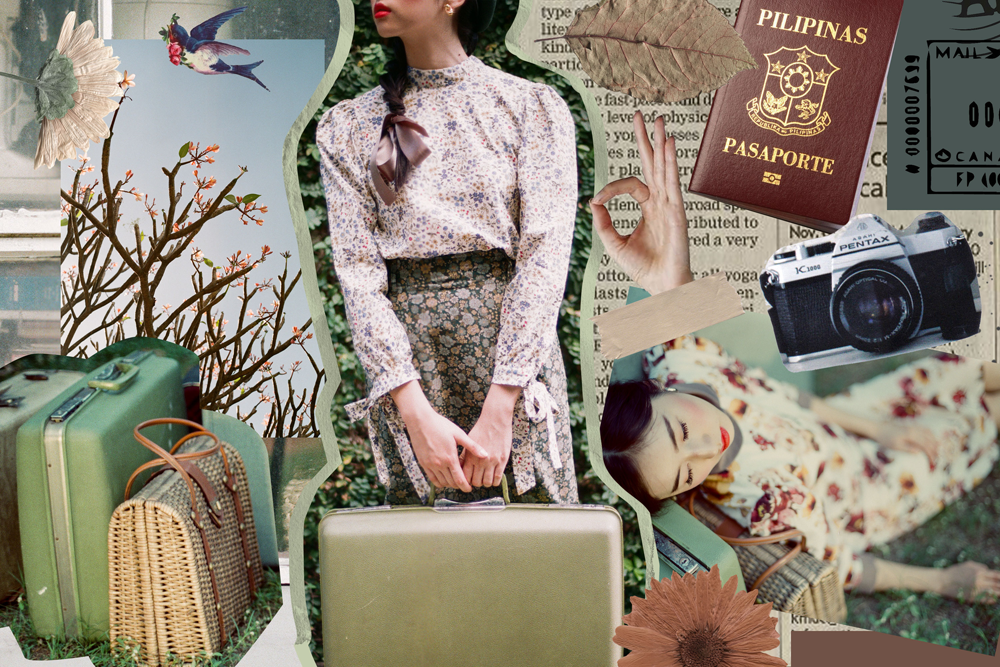 Flying Solo
Dreaming of traveling alone, but afraid to try it? Chinggay Labrador shares the quiet, unexpected joys of discovering the world on your own.
TEXT CHINGGAY LABRADOR
ART STEPHIE YAPNAYON (PHOTOS KIM LIM) 
Check in. Leave your bags at the counter. Fill up the departure form. Get through immigration. Look for your gate. Wait for boarding.
The first time I traveled alone, I kept a running list in my head—all the steps it would take to get me from the airport all the way to my destination. I was traveling out of necessity—not to embark on some idyllic Eat Pray Love adventure. It was the early aughts and I was flying from Rhode Island to San Francisco, moving across coasts between summer and fall.
I was there for art school and while I had been to the States before, the experience of living in a different continent sparked a sense of wanderlust in me. My friends and I were young—in our early 20s, some of us scattered across different cities in the US after having graduated from college in Manila. My New England weekends were spent hopping on the Amtrak to meet up with friends from New York. I loved sitting for hours, looking out at the changing landscape, memorizing all the stops that would take me from Providence to Penn Station.
My big move from East to West opened my eyes not just to changing landscapes, but different accents, cultures, food, and people. From the impressive, wood-paneled walls of the library I'd spend my time in, I found myself in tech-centric halls where all I needed was to swipe a card to check out a book. From the rich, clam chowders and seafood sandwiches I was used to munching on at our cafeteria, I suddenly was surrounded by all sorts of food just around the corner of my new apartment—Vietnamese pho, El Salvadorian pupusas, Mexican tacos, and Chinese takeout.
And although I had experienced a bigger cultural shift moving from the Philippines to a completely different country, because I was moving from Rhode Island to California by myself, the subtle differences between east and west coast cultures were more tangible and evident to me. I was a stranger to both experiences, so all my observations were heightened and visceral.
For Thanksgiving, I flew back from San Francisco to New York, getting used to the NY subway again after having spent my time hopping between cable cars, MUNI buses, and the BART.
As opposed to my super sheltered life in Manila, where travel consisted of driving down the highway from north to south and the very rare beach trip with friends or family, my early 20s stint in the US opened me up to the possibility that I could pick a place—any place—and JUST. GO. THERE.
Most of the trips I took when I came back home from school were with friends. Two-person, short haul, best friend trips to the old standards: Singapore, KL, Seoul, and Hong Kong. Every couple of years, I would make my way back to the States—traveling alone from city to city for the most part, but always with the intention of meeting with friends who were either traveling too or were living there. I had gotten used to the airport rush—there was no need to run through checklists in my head anymore.
And then, just before a painstakingly-planned trip to Tokyo, my friend and I ran into some trouble. We were both used to shuttling from one city to the next—she had been one of my frequent New York travel buddies. Her visa application for Japan was rejected and I was forced to head to Tokyo by myself. It was an unwelcome twist, for sure, but it forced me to look at trip planning in a whole new way. I made friends and headed to Disneyland with two girls from Singapore who I only met there. I spent my winter evenings trolling the department store basements for giant strawberries and cheap, yummy bento boxes. I took photos of every subway stop to make sure I could make my way back from far flung stations like Yokohama all the way back to my tiny hotel in Shinjuku.
I missed my friend but realized the upside of solo travel—you could do anything, eat anything, shop for as long as you wanted, sit when you needed to, without having to trouble anyone else. I was used to freedom, but not this kind of freedom. While I missed my friend, I feel that one trip allowed me to embrace the idea of traveling alone.
Since that Tokyo trip in 2010, I've made it a point to travel every year—mostly by myself. It's easier to make plans without having to adjust to anyone but yourself. Now that we've gotten older, so many of my friends are occupied either with partners, babies, or jobs and pets that demand as much attention as partners and babies. I, on the other hand, have pretty much free reign over my schedule and have worked hard enough to set up a career that allows me to pack up and go whenever I want.
These trips have landed me in places I would have never expected to reach, and have allowed me to meet people I wouldn't have if I were otherwise saddled with a bunch of friends. There was the photographer I shared a table with in Café Habana in Soho—we exchanged work war stories and New York travel tips over Cuban corn. There were the two German grandmothers I sat next to for dinner in Amsterdam—they told me about how they met when Germany was still divided into East and West, each of them living on the other side of the Berlin wall (we each ordered chicken liver for dinner, which I think cemented our bond even further). There was the Canadian couple who treated me to a cappuccino after we had toured St. Mark's Basilica and the Doge's Palace. There was a Swedish couple I'd met on the train from the English countryside back to Paddington Station in London, who talked to me about how they were uprooting themselves and living in the coast of Spain, and were curious about the Philippines and what it was like to live there. And there were the American sisters who generously paid for dinner at a Florentine restaurant, just a walk away from the Uffizi Gallery (they turned out to be well-connected government people, which kind of blew my mind). There was also the fancy New York dinner I was invited to by an aunt, where I somehow found myself amongst Ivy League professors, orchestra musicians, Oscar winners, and opera fans, and had absolutely nothing to contribute to the conversation.
It hasn't been all great, of course. There was the time I absent-mindedly queued up to take the bus in Honolulu, only to discover that I was lined up for the local soup kitchen instead. My first time alone on the New York subway was the first time I discovered what an Express train was—I was near tears and on a payphone with a relative when I somehow landed myself in Harlem when all I wanted to do was get from Brooklyn to midtown. I had a cell phone stolen at Port Authority, bird poop fall on me in Gramercy Park and Granville Island Public Market, and sleazy dudes and taxi drivers try and buddy up to me everywhere from San Francisco to Staten Island.
But, I'd like to think that it's these little stories about chance encounters that add color to the stories I take home with me whenever I travel. And I don't think I would ever trade these for the world in exchange for the convenience of traveling with someone with me.
A couple of years ago, I won a spot for a 10-day surf and yoga retreat for young cancer survivors in Byron Bay, a charming surf town near Australia's Gold Coast. I had decided to spend a few days in the Gold Coast before heading to Byron, and shared a hostel room with a couple of other travelers. I remember hanging out in our room's balcony one afternoon, taking in the coastline, when my Japanese roommate struck up a conversation with me.
She'd gone on a hike that day—it turns out she was also flying solo, after deciding to push through with her Australia trip, which was originally meant for her and her boyfriend who had just broken up with her. I asked her how the hike was, and she said she had a good time, except that when she reached the end of her trail, she felt herself instinctively look to the side, wanting to say something to someone—anyone—about how awesome she felt. "It's not the same, sharing a photo you took," she told me.
I could understand how she felt but never actually experienced it myself, until I touched down in Paris a few years later. I wanted to hit my very cliché, bucket list city of dreams before turning 40, and by some miracle, I made it happen. My cousin from Belgium was set to meet me in the evening, but until then, I had a couple of hours to myself. As the airport bus took me from Charles de Gaulle, I eagerly looked out the window—again, watching the landscape change until the wide, green spaces turned into cityscapes, until the blue Haussmann rooftops began to come into view until the bus had finally reached its stop just a few blocks away from my AirBnb, the Arc de Triomphe. I was thrilled, almost bursting in my disbelief that I had made it there, and had nobody to talk to about it.
After I had dumped my bags in the AirBnb, I took a quick shower and headed back out to take the Hop On Hop Off (the HoHo!) bus right back at the Arc. I climbed to the upper deck—of course—sat eagerly by myself, ready to see every building, park, street, church, and monument I had read about, researched on, and watched for decades. The couple in front of me at the bus was Filipino and had realized as the bus started to move that I didn't have a pair of earphones on me. They kindly helped me out, asked whom I was traveling with, and I told them that I was basically on my own. I was used to the look of surprise from people—while solo travel has gotten popular in the last few years, it still isn't the norm. It's always a mix of concern, amusement, tainted by a hint of pity (especially from Filipinos who usually like to travel in huge packs). I typically dismiss other people's reactions to my solitude—that was, until Paris made itself known to me. Beautiful, bold, gritty, imposing, charming, sweet, and tough, all I wanted at that moment was for my cousin to teleport herself from Belgium to the bus seat beside me so I could share my amazement with someone. Anyone! I mean—the Eiffel Tower was right there and while I was pretty much speechless the first time I actually breathed the Parisian air (albeit from atop the HoHo), I would have wanted someone to bear witness to my inability, then, to form coherent sentences.
After my few hours in Paris alone, I swore to myself that I would try to share my adventures with people next time. I remembered my Japanese friend from the Gold Coast and her telling me "it just wasn't the same." I wondered if I had had enough of solo travel—if it was something you embarked on in your 20s and early 30s and eventually grow out of. I'm not so sure.
Since then, my trips have been a mixed bag of one-on-one explorations and solo travels. Some cities are just meant to be seen alone, I feel. I will always want to take my time walking through SoHo before the New York summer heat wave strikes by myself. London also lends itself well to people who enjoy the quiet, despite the crowded Tube, and the droves of people flocking to its galleries, exhibitions, and museums. And since my time walking up and down the unforgiving hills of San Francisco on my way to school, I've always found it comforting to traverse those streets without anyone with me and also, without a plan.
It's a privilege to travel by yourself and if you can make it happen, I feel that you'll be doing yourself a huge, huge service. Traveling solo, these days, marks a rite of passage that ushers in self-discovery, self-awareness, and a way of looking at the world that you could have never cultivated otherwise. All you need is to keep that running checklist in your head as you move from the airport gates, through the gangway, and into the plane.
Take the window seat on your first trip alone. The clouds, the views, and the unexpected sunrises and sunsets will all be on your side.
Guest contributor Chinggay Labrador is a freelance writer and tarot reader (IG: @practical_magical) who likes to take pen, paper, and cards with her wherever she travels.