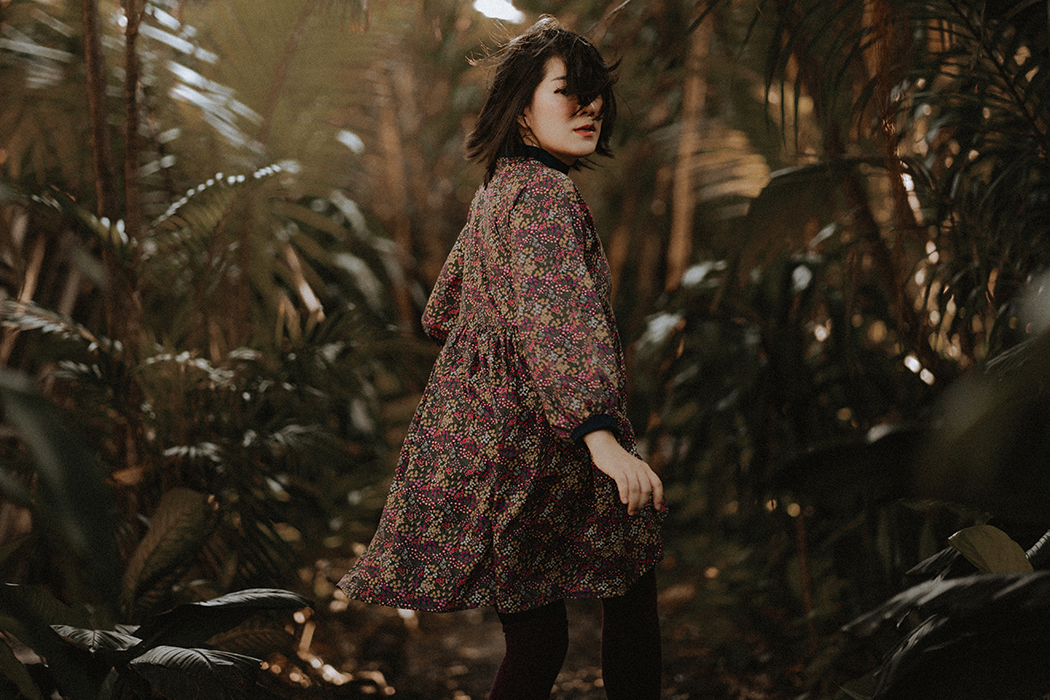 Behind The Mask: Jin Joson on owning her geekery, the confidence-building power of cosplay, and her J-drama worthy real-life romance
Once super shy, Jin Joson is one of the country's most popular cosplay artists with a worldwide fanbase. In this rare bare-faced interview, she talks about owning her geekery, the confidence-building power of cosplay, and her J-drama worthy real-life romance.
SHOT BY AYO RIN MANGOROBAN
ASSISTED BY TET GOUDIN AND @RANDOMROM
She walks into the shoot clad in head-to-toe black, reserved and unassuming, belying the fact that she's practically a celebrity in the cosplay universe. This is Jin Joson, self-described cosplay geek, artist and blogger, who is probably best known for transforming into Naruto and (Rurouni Kenshin's) Kenshin Himura, and beloved by fans for her helpful and low-key hilarious blog entries (from cosplay to skincare adventures). Today, she steps out of costume and into a floral dress, and tells us all about her own hinhin world.
"When I first heard of Hinhin, I got a flashback of when I was in (girl) Scouts, and everyone was getting these awards of 'Most Friendly' and the like, and I got... 'Most Mahinhin.' At the time, the reaction of people was like, 'Is this a positive award, or not?' So it's nice that this word is being celebrated, because not everyone has to be the outgoing, outspoken, Miss Congeniality type," shares Jin.
PASSIONS CONVERGING
"I was super shy in school, but I felt like online I could write whatever. I suppose I felt a little out of place in school, and having something online—social media at the time was LiveJournal—helped me find other people who were the same," Jin reveals. And when she started exploring digital photography and illustration, she moved into DeviantArt, widening her circle of kindred spirits. (Any Kingdom Hearts fans here? Jin's Sora is sooo good.)
"I've always loved art since childhood, and would often represent the school in competitions," she attests. A summer workshop on acrylic painting (where she was moved from the beginners to the advanced class) sparked a deep affinity for the medium. "I fell in love with acrylic painting, and that's how I got into liking colors, and composition, and visual storytelling."
While attending the UP College of Fine Arts as a painting major, digital photography was on the rise, igniting yet another passion. "I felt I had all these ideas and feelings I wanted to convey, and because it takes a while to complete a painted piece, photography gave me another medium. And then the painting and photography aspects met when I got into cosplay."
Getting to masquerade in costumes beyond Halloween? Yes, please. "I was pretty shy, so Halloween was like my one day. So, when a couple of friends and I heard about cosplay, we decided to try it out, 'cause we were nerds—we liked anime characters and video game characters, and so it was like all of our interests coming together in this one hobby."
DOWN THE RABBIT HOLE
"To wear a costume is one thing, like to be a generic wizard, for example. But it's different when you're Harry Potter, specifically. My first proper cosplay at an event was American McGee's Alice—Alice in Wonderland, but horror."
When she and her friends attended their first cosplay event over a decade ago, they assumed that everyone needed to register for the costume competition. "We were super nervous, but we signed up anyway," laughs Jin, completely unaware that joining the competition was optional. (A nudge from the universe!)
"Everyone had to do a catwalk, and when it was my turn on stage, something just clicked and I did some horror thing—I think I did the Sadako crawling thing in the Alice costume. And I actually won!" And she hasn't stopped since.
"I felt that with cosplay, since you're representing someone else, you're pushed out of your comfort zone and you're able to do things you wouldn't usually do. It's less scary, because when you're in costume, it's not like, oh, Jin's being weird—it's Alice! It's scary Alice being scary, OK."
AROUND THE WORLD IN COSTUME
Discovering cosplay was magic: here was a world in which she could shine in all her geeky glory. "Today, geek culture is a lot more celebrated, but back then, people didn't really know what cosplay was. They didn't understand why we would do this. My family was actually supportive from the start; they knew how shy I was, so they were supportive of this thing that gave me more confidence."
Jin's costuming skills, intense dedication for getting into character, and creative photo shoots catapulted her to rockstar status, opening up amazing opportunities—from being invited to hold workshops (this year, it was wig styling at Cosplay America) and being flown in as a guest at international conventions ("I still can't fully process there's a community in Sweden that knows me!"), to cosplaying Kenshin Himura on the red carpet for the local premiere of the live-action Rurouni Kenshin movie, where she met Takeru Satoh in the flesh. "He's super cheery! Ang cute niya. I knew he was in Kamen Rider, though I'm not a fan of that genre; but I became a fan of his after seeing him as Kenshin. I thought it wouldn't be possible for someone to embody this character that's been so dear to me for so long, but he managed to do it, so... wow."
Cosplay is still a hobby to her (she has a day job as an artist), but sometimes gigs come along that she's happy to call work. Recently, she was invited to play a character ("and actually make the costume!") for Square Enix's Final Fantasy Brave Exvius mobile game, which is a pretty big deal.
Her cosplay-honed skills have paved the way for other opportunities too, such as landing a gig in the Puppets & Masks department for the Lion King production staged in Manila last year—the only local production assistant entrusted by the in-house team to help in the upkeep, maintenance, and repair of the iconic costumes. "Basically everything in the Circle of Life number," gushes Jin, still awed and humbled by the experience.
SWEET GOTH GEEK
At the moment, she's crawling on the floor in her Hinhin dress for the shoot, as comfortable in sweet florals as her standard black, a style preference since high school.
"I was this weird mix of honor student and batch goth weirdo. I wouldn't speak unless spoken to, mostly. When I got into rock music in high school, I found a group of friends, and that's when we embraced being emo or goth or whatever. I felt a bit less awkward about not fitting in and started embracing it."
For Student-Teacher week at school (where top students are invited to do the teaching), she was assigned to the Christian Living Education subject. "So there I was, in my fishnets and all-black outfit, stacks of necklaces, cuffs, and knee-high lace up boots...You can be in civilian [clothes] as a teacher, right? After that, there were some dress code rules enforced because of me," she laughs.
The fascination for black continues, and in her downtime, she loves shopping for "Yohji Yamamoto-eque" pieces with her boyfriend, cosplay partner in crime, and awesome artist Miguel Mercado (that's his art on the Archie & Friends Travel #1 Philippines Exclusive cover, and Marvel's Amazing Spider-Man #33 2099 variant cover!). "Come and model your outfit," she calls out to Miguel, and he sheepishly obliges. He's in head-to-toe black, too, which we assume was sourced from some underground fashion label, but Jin proudly reveals it's merely creative styling of pieces from our friendly neighborhood Uniqlo. Side by side, the edgy pair looks you-can't-sit-with-us cool, but when they speak, they're so adorably cute you just want to give them a hug. How did they meet?
HINHIN ROMANCE
"It's funny, 'cause we're both shy. It was through cosplay. We were both Sasuke. We'd see him at events by himself, and... Are you familiar with Naruto? So Sasuke is like the cool guy that this girl Sakura has a big crush on. There was one time at an event, we saw Miguel dressed as Sasuke being mobbed by a group of Sakura cosplayers, so we were like, Do you think we should help him? So I went up to him and said, 'Do you want to join us for dinner?' And so he did." They continued to hang out at events after that, though he would only speak when spoken to. "My friends and I were like, 'He's really quiet, do you think he really enjoys our company? But he keeps coming along with us, so I guess so...'"
Bonding over shared passions, Jin and Miguel eventually became each other's best friend. "I would even like wing man for him when I knew he had a crush, because he was so shy, shyer than me." And then? "And then...one time, he wrote a journal entry on DeviantArt. He said, 'There's this girl I like, and if people find out who, they're going to be shocked.' He sounded like he was really bothered and down about it, so here I am on Yahoo Messenger (!!!), I said, 'Oh hey, I saw the thing you posted, I just wanted to encourage you 'cause you're one of the most genuine people I know, I'm sure it will work out.' I even sent him a song [Sen no Yoru wo Koete] from the Bleach movie by Aqua Timez; it's about just letting your feelings out and letting the other person know.'" And you had no clue, we ask. "I had no clue," she laughs, totally oblivious of Miguel's torpe dilemma.
"After I messaged him, he logged out, so I thought, oh no, he's mad." Did she like him at that point? "At that moment, we were best friends and would talk everyday, so of course I was rooting for his romance. I thought, aww, I hope it works out! But then I thought, wait, if it works out, I guess he won't have as much time to talk to me... And then I was like, oh. Ohhhh (realization dawning). Bobo pareho," she says, giggling at the memory.
The catalyst to their coupling was a date camouflaged as a silly dare on who was going to cry first at Makoto Shinkai's movie 5 Centimeters Per Second. "We were joking na, oh I heard this was a tear jerker, iyakin ako, I bet I'll cry before you do. Then he was like iyakin rin ako, sige, manuod tayo, tignan natin sinong unang iiyak!" So who cried first? "Hindi kami naiyak, we kept laughing," Jin shares. Miguel adds, "We'd be like, ang galing ng linework..." Jin continues, "Ang galing ng pagpaint ng [scene]..."
After the movie, Jin's ride came to pick her up. " So I was like, ok, I have to go. And as I was gathering my stuff... he hugged me from behind." Game over. And to top off the J-drama moment, Jin adds: "Today is our 12-year anniversary [of that date]."
CROSSPLAY
Can we ask a stupid question, we venture. "There are no stupid questions," assures Jin. Why does she prefer to cosplay male characters?
"In the beginning, I would think, try to choose someone that looks like you, but eventually it became, Who do I feel most strongly about, and how much of a transformation can I push myself to do? So it doesn't matter anymore if we look alike,  as long as I identify with them. It just so happens that most of the characters I'm drawn to are male. Even as a kid, while the rest of the girls liked Sailor Moon, I liked watching Dragonball."
Jin also dispels the notion that only the sexy cosplayers get noticed. "Some people think that that's what you have to do to make it in this hobby, subculture, whatever you want to call it, but I'm glad I didn't have to resort to something I'm not comfortable with."
Of course she's gotten ardent declarations by girls enamoured by her male personas, and in true cosplay fashion, she doesn't want to burst anyone's bubble. "Sometimes people can't guess what I am underneath the cosplay, and I have always taken that as a compliment. I don't think it's necessary to correct someone for using a different-gendered pronoun to refer to me, simply because I feel it doesn't matter. I like being a blank canvas and let people appreciate the character in relation with the work I put into the cosplay." The only time she is bothered though, is when girls are hurt by other people impersonating her. "Sadly, there are people making fake profiles pretending to be me. They're usually on the site Cosplay Amino. People would message me on Instagram and say, Hey it's me from Cosplay Amino, why aren't you replying to me anymore? And I'd be like, I don't have a Cosplay Amino, I'm sorry, that must've been someone else. One girl told me that she'd been talking to this guy for a while; I felt so bad for her, that wasn't me." 
POSITIVE INFLUENCE
From putting on a costume to gain confidence, Jin's cosplay journey now enables her to encourage others in turn—whether by sharing her knowledge through workshops and informative blog posts, or making meaningful connections with people around the world.
"For me, that's what I look forward to when I post; being able to banter with the people who comment. I think my readers are super sweet, super witty, and super funny! I've made friends on DeviantArt, now we've been friends for more than ten years even though we've only met in person twice or so, but we keep in touch online."
And because cosplay can be incredibly empowering, a lot of thought goes into the characters she chooses to portray. "[My choice is based on] partly being able to identify with the characters, as well as aspire to be like them; I hope to be a positive influence to the people around me, somehow. That's a big thing with Naruto—the manga taught me that everyone has their own back story why they're this way, and how your interactions with others can help them become better people as well."
These days, she rarely experiences people being unkind, but when she does: "At some point you just have to realize that these are people and their words, and maybe they're frustrated in their own life and they're putting so much energy into trying to bring you down. With everything naman talaga, you realize you can't please everybody, so the most you can do is focus on the things that make you happy. That's something I apply to any aspect, even art, even work. As long as I feel like I did what was right for me, it's ok, even if some people won't like it."
If there's one thing Jin's still shy about, it's her personal art. "I'm still shy about posting my acrylic painting; I need to push myself more. But Miguel and I hope to hold an art exhibit in 2020," she reveals. We can't wait.
Icebreakers
Getting a chance to meet Jin soon? Break the ice by...
✿ Geeking out on makeup (Jeffree Star! Club Clio! "Whether technique or products, I can talk to someone about makeup for hours") and cooking (Who else watches "Cooking With Dog" on YouTube?)
✿ Comparing horror movie favorites (Fave: "The Orphanage, a Spanish film produced by Guillermo del Toro")
✿ Talking books. "I'm a big reader, so I like old stuff like H.P. Lovecraft, Edgar Allan Poe, the novel Howl's Moving Castle—different from the movie, but parehong maganda;  I even keep a copy on my phone to read in case of idle time."