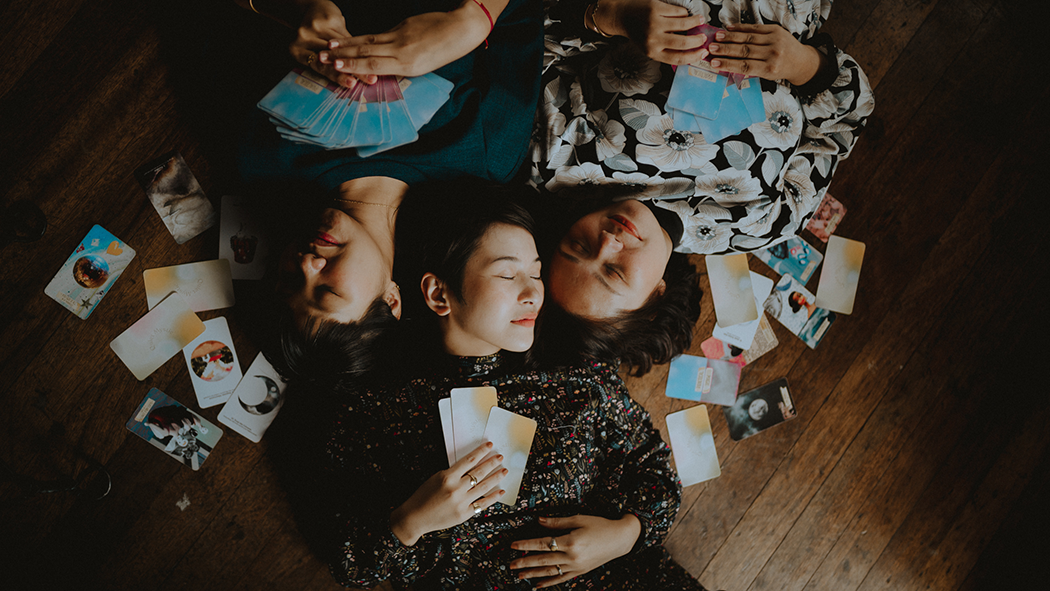 Every Little Thing She Does Is Magic: Mansy Abesamis, Wiji Lacsamana, and Chinggay Labrador on battling creative blocks, manifesting dreams, and celebrating authenticity
Hinhin isn't just for shy girls; it's for everyone who honors their quiet side in this noisy, noisy world. Listen in on our empowering chat with the Mystic Matter girls Mansy, Wiji, and Chinggay on battling creative blocks, manifesting dreams, and celebrating authenticity.
SHOT BY AYO RIN MANGOROBAN
SHOT ON LOCATION AT COMMUNE
Fun fact: When Tricia Gosingtian was wondering whether to pursue her dream fashion line, she signed up for a tarot reading from Chinggay Labrador at a Mystic Matter pop-up at Commune cafe in Poblacion. With all the cards saying "Yes," Tricia took it as a cue from the universe to kickstart her business—a thoughtful lifestyle brand you now know as Hinhin. Today, we come full circle as we interview Chinggay, Wiji, and Mansy, the creatives behind the Mystic Matter pop-up, back at Commune where it all started.
But first, a little introduction. Chinggay Labrador is a tarot reader and freelance writer. She collaborates with local artists for the tarot decks she designs, and just launched her latest book, Practical Magic: Your Guide to Everyday Astrology, published by Summit Books. Wiji Lacsamana is a tattoo artist, illustrator, natural perfumer, and author of the beautifully illustrated book Tiny Universe. Mansy Abesamis is a papercut artist, potter, and founding partner of the craft shop and creative hub Hey Kessy, and also designs nature- and celestial-inspired jewelry for Dandy Ona. And when these three astrology-obsessed ladies get together for creative collabs (mindful craft pop-ups! Curated box sets!), they're known as the Mystic Matter girls—or, as they fondly call their sisterhood, the "woowoo crew." Listen in!
Hinhin: When we first approached you guys for this feature, I remember you saying, "But we're not hinhin!"
Wiji: Chinggay is definitely Hinhin, Mansy and I are not—but now that I think about it, the things we do are very Hinhin. We value quiet, slow living, despite not being introverts. I'm very solitary in my work. Tattooing is always a meaningful, one-on-one conversation with my clients, and when I illustrate or make perfumes, I'm just at home. Si Mansy rin with her pottery, it's very tactile, but very quiet. Very meditative ang process namin.
Mansy: Especially when it comes to my papercutting, kailangan, ako lang yon. Pottery is how I deal with the world, but papercutting is how I process things happening in my life. It's like reverse painting; instead of adding paint, you take away all the unnecessary pieces to create the stories.
The projects are very personal, except for the Tubbataha project, which was the first time for me to work [on a papercut] with other artists—super different but amazing experience.
Chinggay: I need to be alone to recharge, as an introvert. Especially with tarot—the conversations are so intense, so I need to be myself to reset. For face-to-face readings, I can only manage one a day.
Wiji: People usually get tattoos when they're going through something in life—sometimes it's happy, sometimes it's heavy. So I had to learn how to do Reiki on myself [to clear the energy], because I'm such an empath. And I also limit my appointments. I think, in a way, I'm an ambivert—I'm not shy at all meeting new people, but I have to recharge, I have to retreat. I can go for weeks, just by myself. But if you ask me to go out, I'm game.
Chinggay: There are times when I'm so stressed out and I need to be around people to relieve that stress; and there are times when I need to be alone, and I've learned how to tell the difference between when I need to be with people, versus when I need to be by myself. And I guess doing these [mystic] things helps us attune more; be more mindful.
Hinhin: So how do you guys de-stress?
Mansy: Papercutting. And I go to Sagada and Siargao. There was a time when I questioned the sense of home—where is home? I intentionally looked for other places outside of Manila where you can feel safe and loved and can do anything that you want. Sometimes I feel like I have this ball of energy inside and I need to let it out; and a healthy way is to go to Sagada or Siargao and immerse myself with different people, different points of view, different ways of seeing the world.
Hinhin: How do you set your intentions for the year?
Chinggay: Every December, I answer this free workbook online on susannahconway.com. The workbook asks questions that you don't normally ask yourself, it helps you assess your year, it asks what you want to do next, identify your word for the year... all of these things really help me.
Wiji: I forgot where I learned this—every start of the year, I write a list of ten things I want to manifest in the year. Start with something doable, like get a haircut, just so you can jumpstart the manifestation. Be as specific as you want, and write it in the present tense, so you imbibe the feeling of it happening already. I make a copy of that list to burn, to give to the universe, and then I try to forget about it. It's sort of like trusting the universe, and it will come to you if it's for the highest good, and in the right time.
Chinggay: Oh yeah, in the workbook, you write a letter to your future self one year from now. So that the next year, you read the letter of the past year [and see how far you've come]. Also, the book's very first exercise is to do a meditation on your ideal day, then write it down. What does it feel like, what does it smell like—write it down in present tense. From that ideal day, that's how you can pull your intention for the year. Because your ideal day is what you would like to experience the whole year, right? From there, you can derive your word, and that's the intention you set.
Mansy: Ako naman, I list three things—or even just three words—before the start of the year. Before the pottery studio happened, I listed "Pottery studio, one, two, three" and I posted it on the wall where I could see it every day when I woke up in the morning. Feeling ko, subconsciously, the songs you listen to, the movies you watch, the people you talk to, all those small things, papunta siya doon [toward your intention]. Once I decide on those three things, I daydream about them [to manifest into reality].
Wiji: I remember, you would tell us you wanted to set up a pottery studio, and it really happened!
Hinhin: Do you also set deadlines?
Chinggay: Yes, so there's a sense of urgency! I have monthly check-ins; everything that I wrote at the start of the year, I track every month. And sometimes, you don't want it anymore, so by the middle of the year, just cross it out—at least, you asked yourself.
Hinhin: What do you do when you feel overwhelmed? Or when your goals are taking so long to materialize and you end up pressuring yourself?
Chinggay: Do one small thing a week. Ask yourself, "What can I do for this goal this week?" For example, sobrang laki ng goal mo, like, start a business—so your goal for the next week that's doable is to talk to someone who put up their own business. So every week, just do one small thing.
Hinhin: Since you are all into "woowoo" things, have you ever felt that people found you weird?
Wiji: I think I was always a weird child, so status quo lang—if people found it weird, it's alright.
Mansy: Not really...
Chinggay: It's not weird for me... maybe for other people! (Laughter)
Wiji: But maybe because we're all on the same wavelength. We're not the type who share energies with people of a different frequency; we kind of retreat when we sense that [unwelcoming vibe].
Mansy: I think astrology has a practical side; for example, [knowing someone's sun sign] mas maiintindihan mo how they're different from you; hindi na as frustrating.
Chinggay: When I got into yoga [teacher training], that's how I got started with astrology; parang it's the same community. And I feel like because of Instagram, more people are open to these things now. Especially these days, it's so bleak, people are looking for things like these to connect to other people in a nice, different way.
Wiji: It's also the Age of Aquarius, so...
Hinhin: How do you integrate magic into your daily matters?
Wiji: As a kid, I always moonbathed. Whenever there was a full moon, I always felt the urge to go outside, under the rays of the moon, and I didn't even know it was a thing. But I feel it's integrated with Reiki—I do Reiki on myself and my clients everyday. And I do a reading with Chinggay's [Practical Magic tarot] journal.
Mansy: I work barefoot most of the time; parang mas may connection sa natural world. And I daydream. Sometimes, I'll just space out, and hinahayaan ko lang siya. Before, nahihiya pa ako because siguro nagiging weird ako na nakatulala na ako, pero now, I'll just say, "Oh sorry, I spaced out" and hindi na ako nahihiya. Ganon, eh.
Chinggay: For me, it's hard to separate... I think everything has a little bit of magic. For example, when I'd make a cup of coffee in the morning, parang wala lang; but now, because I'm into these things, everything is special. Little things that you take for granted, they become rituals that are part of your day that are so important. In the morning, I do the morning pages—it's part of The Artist's Way na free writing. It may sound like it's merely just writing, but that's my time to myself, and how creativity flows. Even conversation; it seems like you're simply meeting up with someone to catch up, but [that connection] does something special to your day. Even driving—people think it's such a chore, but being stuck in traffic can also be your time to listen to a good audiobook, or just be with your thoughts and be with yourself.
Hinhin: You're all fire signs and always starting something. How do you break through creative blocks?
Wiji: I don't resist it. When I was younger, I would get so frustrated if I couldn't paint or do anything that day; but I've learned to accept that it's part of the creative process. Put your pencil—or whatever your medium is—down, go for a walk, and just think of anything else but what you want to create. And it will come to you, in its perfect time.
Chinggay: At the workshop I took under Jessica Zafra [appreciative gasps all around], that's what she talked about—people tend look down on you [when you seem to be idle], lalo na when you're working for yourself. For example you're at the mall, they're like, bakit hindi siya nagtatrabaho?
Wiji: Or sometimes it's self-judgment!
Chinggay: But what we don't realize, is that there's a part of the brain that continues to work, and is even more efficient, when you're not [right in front of a task]. For example, studying for an exam—after three hours, wala na eh, you need to do something else for that part of the brain to start working again. That's why the ideas come when you're taking a bath...
Hinhin: That's why my house is cleanest when I need to work!
Chinggay: ...because there's something going on internally.
Wiji: It needs a breather. For creative ideas, you can't just put fire and charcoal... you need a little bit of air for it to burn.
Chinggay: At the same time, discipline is required. I don't believe in blocks. You just show up, no matter what.
Wiji: But you don't fight it; parang you recognize it for what it is. You think, OK, I'm out of fuel right now, but it will arrive.
Mansy: Ako, I love collaborating with other people who are totally different—na meron silang nakita or nabasa or napanood na never kong mapapanood because I have limited time. I love working with them and learning new things. Kunyari, working with tattoo artists (for a Dandy Ona jewelry collab)—ang daming moments na, oo nga no, bakit hindi ko naisip yon? [I thrive on the] energy exchange. And then after the collab, parang may seed planted, which you can use to inspire other stuff.
Hinhin: So what inspires you guys?
Wiji: People have a really good BS detector; we know when something is made with a lot of authenticity. When I meet someone, it doesn't matter how opposite our world views are, but I really respect when something, or someone, has a lot of authenticity, when they know what they stand for. That really grabs me.
Chinggay: As an Aries, I get inspired by my competitive drive. When I see other people achieve—and not belittling them, ha—I think, ang galing naman niya... Dapat ako rin, magaling!
Mansy: Oo nga, you're like, puede pala yon, tao lang siya!
Hinhin: Do you have girl crushes?
Hinhin: Or boy crushes?
Wiji: Lately, I'm so into Olivia Wilde, especially now that she's directing. She was always gorgeous, and when she guests on podcasts, she's super funny, super smart, and very appreciative of other people's talent. I like people like that; they're confident, but they also know how to recognize the great in other people. I also love Greta Gerwig, the lady who directed Lady Bird and Little Women.
Chinggay: Girl crush? Dyahe if you're gonna put this, 'cause she's my friend... pero shucks, I want to be like her—Sam Potenciano (stylist and owner of vintage accessory brand Souvenir). My friends and I always joke around na sana magpaworkshop siya...
Mansy: On how to be Sam!
Wiji: She's a Libra, right?
Chinggay: She's not full of herself, but she does such great, creative things. I like her point of view.

For guys, I'm super inspired by this group of guys who were speechwriters, spokespersons, and communications people during the Obama administration. When they left the White House, they moved to California and thought of working in the private sector and becoming screenwriters; but after the last presidential election in the US and Clinton lost, they couldn't help but feel all these things about what was going on in politics, so they started a podcast, which eventually became a media company called Crooked Media. It's four guys—Jon Favreau, Jon Lovett, Tommy Vietor, and Dan Pfeiffer.
They started with one podcast and now they've become so big, they've raised a lot of money for good causes. I'm so inspired by them because they're so smart, and they're making such big concepts more relevant and accessible to young people. That's so important, because young people make up the majority of the vote.
They do it in a very real way. That's how I started getting into all these political things. I never expected I would—and I'm in the Philippines! If only there were more people like that, everywhere in the world, then maybe it's possible to see real change happen.
Hinhin: And Mansy?
Mansy: Quota na ako on crushes for 2019. (Laughter)
Hinhin: On your downtime, what are the quiet pleasures you indulge in?
Wiji: Reading. I enjoy books that transport me to somewhere exotic. And I actually get inspiration from literature when I create my perfumes [for her Radioactive Mushrooms in the Forest natural fragrance and cosmetics line]. They're very sensual scents—they're actually sold out! I'm excited to go home after this and experiment some more—I have a peach isolate, I can do a Call Me By Your Name-inspired scent... Timothée!
Mansy: I love taking walks. And reading books (Steve Jobs! An unauthorized biography on Banksy!). And watching interviews...
Chinggay: And your cult Netflix shows! (Bikram, Wild Wild Country...)
Mansy: Ha ha, yeah! [Even though they're creepy] I'm fascinated by how an idea of just one person [grows into a phenomenal following]. They're crazyyyy, but amazing. Wait, I'm scaring myself!
Hinhin: Well, the original intention of the [Osho] commune started out good...
Chinggay: Pure naman siya...
Wiji: But power consumes you.
Wiji: On my downtime, I also love learning another medium. Recently, na-resurrect ang love ko for film photography. I did it before, but stopped because the developing labs closed. But now they're back, so I can do it again—plus I have more money now than in my early twenties. It's nice immersing yorself in another medium, artistically.
Chinggay: Reading also. And I like to journal, like a scrapbook—I can do that for hours. I always bring a travel journal when I go around so that the ephemera [collected from the trip] isn't scattered around; I like to put it on paper already so there's a place for it. Towards the end of last year, I was thinking, why do I only journal when I travel? Maybe I should do that everyday. So that's what I've been doing since the start of the year. It's such a lola activity, but I love it.
Hinhin: What are some of the mindful things you do? Yoga?
Chinggay: Yoga is not a physical activity, really; so you find it in everything. I may not go to the studio everyday, but everything I learned from that practice, I apply. I was talking to someone recently, and they said, Arnold Schwarzenegger meditated every day for a year straight. And then after that, he didn't meditate anymore—because it's so ingrained in you, that it's just in everything that you do.
Wiji: As a mom [to five-year-old Rocco], I need to meditate to recharge. What I try to do is, I pair a workout with meditation. I have a toddler and he just drains my energy—I love him, but ang likot! So I need to be stronger. So whenever I need to meditate, I know I need to work out first so I can be stronger physically, and mentally, emotionally, and spiritually, as well.
Mansy: Sorry, what was the question again?
Wiji: Daydreaming again! [Laughter]
Mansy: I'm not sure if this is the answer to your question... Last year, meron akong social experiment. Every time people ask me, "How are you?" I always say kung ano ang nafee-feel ko. Wala akong pakialam kung ready sila for emotion—they asked me, eh. And I realized, being honest really helped me get through 2019. Because I noticed that Filipinos always ask "How are you," but they don't know how to react if you say, "I'm not OK." We just usually answer "I'm good," para tapos na. Then, we think, I should be good, how come I'm not good? You're trained to lie—it's such a small thing, you don't realize there's an effect. So when I changed that, when I say what I really feel, parang mas nawala ang mga internal battles, nawala ang doubts, nawala ang fears... Sometimes, you're happy, and you have the most beautiful life experiences, and sometimes, things can be f*cked up, and it's normal. Mas honest ka na. I'm like, OK, that's part of life.
Hinhin: What do you love about what you do?
Mansy: I have this really strong feeling that life is good; once you move your hands, by just making a mug or a bowl or whatever, you can make the world a better place. Parang naniniwala ka—usually you just read it in books or movies or whatever, but when you see it and you really feel it [in the work of your hands], sobrang powerful siya. I don't know if I'd feel this way if I were doing something else.
Wiji: For me, ang galing, because what I do—tattooing, illustration—it's not only healing myself, but apparently, it's healing to the people who receive it, as well.
I feel like I'm a bartender-slash-shrink, and that communication with clients, what they share—it's like we become best friends for that span of time that I'm tattooing them. I learn so much about life doing what I do, and hopefully through these things I scribble on the body or on paper, I heal them, somehow.
Chinggay: What I love about what I do? I think I can wake up and feel happy with myself. I'm not doing anything that doesn't feel right. And connected to what Wiji said—I have a teacher who said, "Every time you read cards for someone, you are reading for yourself." The best thing is always when someone says, "You made me feel lighter"—I didn't make anything go away, but at least bringing an understanding to somebody, even for a few seconds, it's good. It also helps me understand myself, and everyone in general—parang I've become less judgmental.
Hinhin: What's a personal goal you'd like to put out into the universe?
Wiji: I've been meaning to do a solo show that incorporates paintings, and the scents I make—an interactive show. I have the motivation and pieces already; gallery nalang. Hello universe, do you have a gallery? It doesn't have to be such a big space, but I want something homey, where you can sit down and really take in the experience.
Mansy: When I would make papercuts, they would just be small, kasi yung intention ko, para sa akin lang, or sa studio. And then last year, I went to Siargao, and nag-iwan ako ng maliit na papercut na bird sa isang wall on a hill, where there's this cube with mirrors. I pasted it on the broken mirror. When I got home, I made another papercut that was slightly bigger, and placed it on the wall. [Though these were personal projects] I think subconsciously, gusto ko na malabas sa studio yung papercuts; I didn't realize that I actually wanted to create wall art or larger pieces. And then last December, the Tubbataha papercut [project] happened. Ooooh, pwede pala yon—you can make bigger things, and it doesn't have to be just you; you can have a team, and it's part of the process, working together.
I think I'm trying to redefine yung pagiging artist. Especially now; for example, Instagram—they only show your pieces kung pare-pareho sila, so your tendency is to look at the likes and think, ah, ganoon pala ang gusto ng mga tao. So subconsciously, that's what you put out [to suit the market, the algorithm]. Siyempre, you want to be sustainable, you want to see your work. But at the same time, how are you going to grow as an artist? It's so difficult. For me, it doesn't mean that making a big piece with other people, nadidilute yung pagiging artist ko; it doesn't have to be like that.
Chinggay: I really want to bring this, everything I do [practicalmagic.co], to Renegade Craft. It's a craft market; it's an event that goes around the different states seasonally, and it's really for small, independent businesses, all creative people. I just feel that it's a good fit. I got a little taste of it when I joined Alt Summit last year in Palm Springs, thought that was more of a networking event. I really want to experience having a table, talking to people; sometimes I get inquiries from people who buy my decks abroad, so it would be great to meet my customers in person. I still have to apply; but I'll work hard, and I hope I pass the application. Other Filipinos have done it; Sunnies, Renegade Folk, [artist] Hannah Liongoren... When I ran into Alessa Lanot [of Life After Breakfast], she told me her friend recently joined Renegade Craft, she said, "You know what? I think you could do that, too." So let's see.
Hinhin: It will happen!
Wiji: Let's manifest all this.