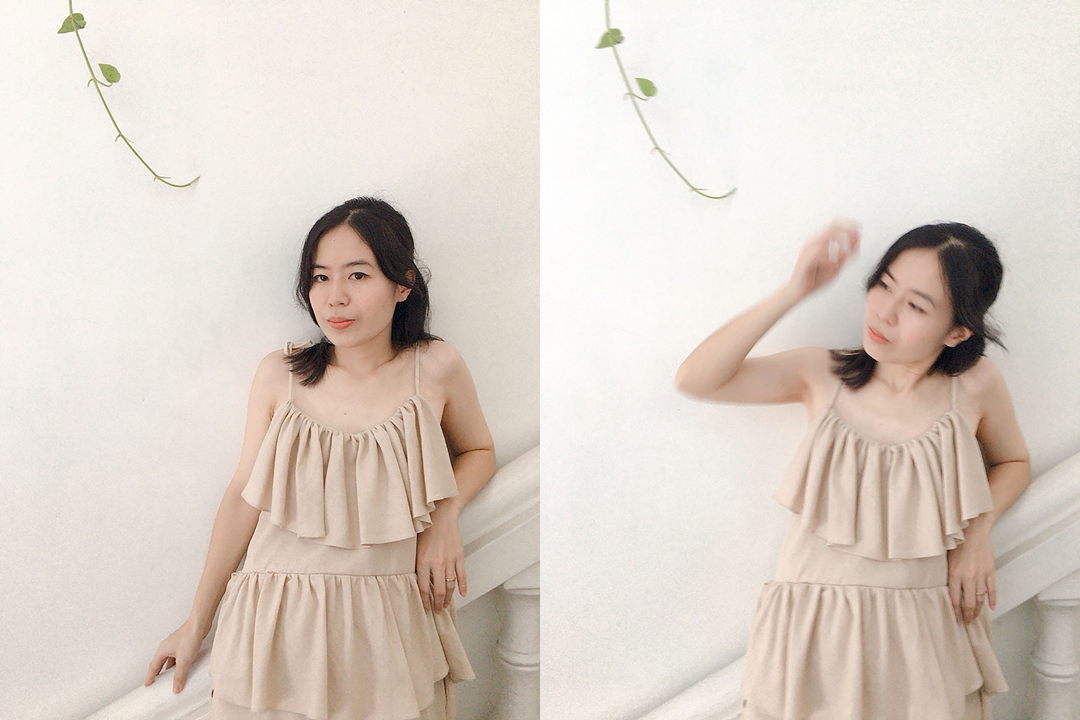 Hide and Seek: Ev Laugo
Fashion designer turned artist and vintage shop owner Ev Laugo gives us a peek into her world—from Cubao X adventures and shifting careers, to pandemic love and moving out of Manila.
If you've ever gone treasure hunting at Cubao Expo, you must've crossed paths with artist Ev Laugo—you might know her by her maiden name, Ev Yu—who runs the vintage haven UVLA Store with her mom. That quiet, quirkily dressed girl behind the counter, or upstairs at the (now defunct) Studio Soup Library? That would be Ev.
"I grew up in an old house, so vintage things were the 'normal' thing for me," shares Ev. "I appreciate the design and how funny most of them looked. I love bootlegs (reproductions, not the jeans) because they're massed produced mistakes. These imperfections make vintage hard to part with."
Along with retro toys and things, she has a special affinity for off-kilter, vintage clothes. "I like how most of them do not fit me right but I still wear them because of the fabric patterns or cut. Sometimes, it's like wearing a disguise."
HAPPY ACCIDENTS
The idea for UVLA materialized partly as a sewing workshop for Ev, partly as a solution for what to do with all the vintage collections her father had amassed, since the family was transferring from a big house to a smaller space. At that time, Ev's mom noted that there were lots of vacant spaces in Cubao Expo (AKA Cubao X), their favorite haunt for vintage pieces and comic books.
"I was about to graduate from [my fashion course in] college and I didn't know what to do next." Since the rent was affordable, Ev's mom decided to snag a space, and things soon fell into place. "We opened UVLA in 2011, and it started as a place where I accepted made to order clothes. We had a few vintage items to decorate the place. The inventory grew since then. I eventually took a break from making clothes and went full time in buying/selling old things."
Every inch of the shop is now filled with a lovingly-curated selection of nostalgic toys and tchotchkes, vintage décor, antique rings and brooches, retro costume jewelry, and delightful memorabilia (love the classic print ads!).
And when they joined 98B Collaboratory's Saturday Market in Escolta, it connected them to even more like-minded people in the vintage world. "Marami kaming na meet na ibang nagbebenta ng second-hand and vintage. Mas nag-expand ang community namin."
INTROVERT SAFE SPACE
On the second floor of UVLA, Ev also set up Studio Soup Library, a little Aladdin's cave of zines and local indie publications. "Like UVLA, it was also unplanned. Because buying zines from abroad was so expensive, my partner, Camz (Dagal) and I just wanted to share our zines with others. We really didn't expect the community to be so big. Most of the zine makers know/meet each other online, so it's exciting to have a physical place where people can exchange works," shares Ev.
"We sold foreign comics/art books at first. When we started to meet more local zine makers, we focused more on carrying them instead. It grew organically and it was fun to hold mini exhibits and fairs. Since there was also a nearby print shop in Cubao, we also published our own zines."
Despite both being naturally shy, Ev and fellow artist Camz championed Filipino makers and nurtured Studio Soup Library into a lovely, thriving creative community and introvert safe space. Unfortunately, they had to shut it down—another pandemic casualty. "It was no longer possible to hold events, and rent was expensive. So we're planning to take it online nalang."
HIDING FROM THE CROWD
Manning UVLA all these years was like having front row seats to the Cubao X real-life drama, especially during its earlier years—when social media was still in its infancy and the buzzing cul-de-sac felt like a secret discovery. With an eclectic mix of shops and bars drawing an equally eclectic crowd, Cubao X provided the perfect setting for a whole generation's core memories—from treasure hunting, to epic parties, gigs, exhibits, art fests, flirtations, break-ups, and various other spontaneous, mostly pre-IG adventures.
But what if you're an introverted shop owner? "Pag may events, mas maaga ako umuuwi," she admits sheepishly. The morning after, she would witness the aftermath in telltale party debris, crossing her fingers that UVLA's glass windows remained intact. Once, she spied a guard asleep at his post, blissfully unaware of the drawing on his face, painted on by naughty revelers.
"Mas matagal na ako nakakastay pag naging tame na ang mga crowd," she reveals, describing how the scene shifted with the departure of some of the older tenants. There's still that hip, indie vibe, but now she misses the glorious rundown chaos, the DIY feel of barkada-run shops, and the delicious thrill of disappearing into a sea of strangers.
"I was drawn to Cubao X since I was in high school. Tumatakas ako para pumunta sa comic shop (Sputnik). In a strange way, I enjoy being in a place or crowd that is my polar opposite, as long as I remain an observer. I feel energized when I'm in a scene alien to me."
Speaking of alien things: "Art is one of those things. I never expected to be a participant in the art scene. It is still a surprise to me."
FROM FASHION TO ART
When her aunt/sewing workshop partner moved away, Ev decided to shift her focus to the thriving vintage shop and eventually, to her art. "It was really difficult to find someone else to work with. My Tita and I had a set 'production line' and were really in sync. I didn't know how to start my own fashion line, too."
Any regrets? "I do regret that I wasn't brave enough to face the business side of fashion. I still love nice dresses, so I never really left fashion behind. And it would be nice to try it again someday."
Teaming up with Camz for Studio Soup Library introduced her to zines and artists—Sammy Stein, George Wylesol, Clay Hickson, Patrick Kyle, Max Huber—that sparked Ev's own creative explorations and latent talent in art. "My work is mostly inspired by abstract comics, especially wordless comics. There's more room for interpretation with no words," she surmises. "Eventually I thought, I'd like to do this, too."
She works in watercolor for her vivid, abstract paintings, and ink for the drawings in her zines. "A lot of my works are based on everyday life and mundane but funny things. I like overhearing conversations, and they inspire me to think of a scene or alternate event."
The love for drawing and painting has always been there, as far back as art class in pre-school. "That's one reason why I am comfortable with starting with watercolor. There is the aspect of play. I liked to doodle a lot in school, then I'd paint on them at home, pampalipas oras lang. So my notebooks were really messy. I also liked editing the pictures in schoolbooks…I know, it's a bad habit!"
When she decided to pursue art seriously, she began observing how other artists worked, asked them for professional advice, and read curators' blogs on artists and their process. "I also learned how to upgrade the materials I used when I joined [the arts and crafts collective] 10A Alabama. I really learned a lot from other illustrators."
One day, while painting away in her corner studio on UVLA's second floor, multi-disciplinary contemporary artist and curator Lena Cobangbang walked in and invited her to join a group show upon seeing her work. It was a pivotal moment, affirming her shift from fashion to art. "That was the first time I joined an exhibit," shares Ev, grateful for the eye-opening experience. "Yung gallery set-up, medyo late ko na discover siya. Ah, may curation pala. Para siyang job na kailangan mong ipasa. You need to train yourself to be professional."
Most memorable exhibits so far? "First, is a group show I was part of, Pang Hui Ba Huo in Post Gallery, Cubao (March 2017), together with some 10a Alabama artists," shares Ev. She created the quirkiest miniature sculptures of toiletries to go with the tongue-in-cheek banyo theme. "It's one of the first shows that inspired me to want to make more art. Pang Hui Ba Huo is sort of a joke we took seriously and by far the most enjoyable show I ever had."
"Second is a solo show at Kinkan gallery, Tokyo. It was sad that my visa got rejected so we had to organize everything online. But that is where I felt a genuine appreciation for my work from a gallery owner who also became my friend. The similarity of these two shows is the intimacy in making them."
Ev's most recent solo show was a collection of watercolor paintings at West Gallery, thoughtfully and tediously produced during lockdown. "It was called Squares Running in Circles, about finding your place. Gusto mo mag fit in, pero wala, di mo siya ka shape." An excerpt from the show's description reads: "Known for her very visually decadent prints and zines, she encapsulates here the essence of progression and feeling through her use of simple shapes and delicious colors, each work resulting in a complex and wild composition that is at once clean, crisp, and chaotic."
She credits the kindness and support of the community—curators and fellow artists alike—in her creative journey. "Tulungan sa paghanap ng materials, paghanap ng show; but it can be competitive din, hindi lahat friendly."
ADVICE TO FELLOW INTROVERTED ARTISTS
"You have to know what you are confident about, and where you can afford to take risks. In my case, sobrang naive ako sa art world; I thought, I just have to submit my work, no one needs to know who I am. Pero sobrang visible pala ang ilang artists."
Though she herself isn't comfortable being on social media ("Feeling ko, ang dami nang tao sa Instagram"), she concedes that having an online presence is helpful, even just to serve as your portfolio. "Especially for illustrators who are just starting out. It's a big help, mas independent ka sa work mo; on your own, you can attract clients."
A support system is also crucial. "Maganda na may small circle [of fellow artist friends] ka, kahit dalawa lang kayo, kasi sometimes ang savage ng mundo." Most importantly, you need to have faith in your own abilities, because you can't please everyone. "Dapat ready ka na mayroong manlalait sa work mo."
LOVE/HATE
"I have a love/hate relationship with art," Ev admits, explaining that the same thing that gives her joy can also be a source of anxiety. "Pagka dumadami na ang gagawin, pumapanic na sa loob ng utak ko. But now that I've been given the chance to do it full time, I don't want to waste the opportunity."
When she is faced with creative blocks, she takes a walk, rides her bike, takes a coffee break. Somehow, procrastination diverts her stress and clears her head. "Tapos, ah, ang dami ko nang ginawa, sige, magpapaint na ako," Ev laughs.
Inspiration strikes when she least expects it. "Minsan, lilitaw yan bago ka matulog, mga oras na inconvenient. Dumadating ang mga ideas ng biglaan." So off she goes to paint it, write it down, or at the very least, says it out loud to a friend so she'll remember it.
"Minsan, pag nanonood ng movie, biglang may naisip ako na alternate ending—ay, puede sa akin nalang yan." Her favorite film genre? "Horror! Mostly older ones. Yung mga John Carpenter na films, sometimes cute rin ang mga colors kahit horror." Which explains the dark, slightly sinister vibe that's often apparent in her art, in stark contrast to its vibrant, happy palette.
Her current obsession is listening to podcasts while she paints. "Right now, I'm listening to Failed Utopia—yung gumagawa sila ng commune or isang lugar na gusto nila maging perfect siya, pero hindi siya nag-work out. I just listened to the one about Oneida, the company that makes silverware—nagsimula pala siya sa isang commune. Parang cult-ish siya. Pag pinapakinggan mo, naiimagine mo siya, di mo akalain—paano sila napunta sa spoons and forks?"
UNEXPECTED BLESSINGS
Endless months in lockdown limbo forced Ev to pivot to online selling for UVLA. But even if she could only manage to post sales on Saturdays, she admits it was quite overwhelming and difficult. "Promotion isn't my strongest suit so I had to learn from other sellers. But it was nice that a lot of familiar customers would reach out. They sort of kept me company in a way." Though they had to give up Studio Soup Library on the second floor, it's comforting to know that UVLA's physical shop at Cubao X remains open, albeit with reduced shop hours/days.
Despite all the lockdown challenges, there were unexpected blessings, too. "Blessings ng extra extra! Mostly, the gift of time. I got to spend so much time together with my mom at home. Yun pala, kasi ikakasal na ako!"
In January 2020, she reconnected with an old school acquaintance, artist and musician Vik Laugo, to collaborate on a project to create cartoons/animated shorts. "Hindi na natuloy ang project," shares Ev, but something else bloomed. "Usap kami ng usap," she shares shyly. They kept up the correspondence throughout the early days of lockdown, and finally met up in person in May. In December 2021, they were married in simple civil rites. What made her take the plunge in the middle of a pandemic? "I know it's real love," she states with quiet confidence.
WELCOME HOME
Tying the knot also involved moving from Metro Manila to Vik's hometown of Nueva Ecija, a big step that somehow felt very natural. Being away from the hustle and bustle of the city has such a soothing effect on her senses. "Parang mas mabagal ang oras," shares Ev contentedly. She loves the simpler life and quiet, uncrowded spaces, where she and Vik can sometimes walk around freely without masks. There's also a warm and wonderful sense of community, yet there's still a sense of personal space. "Dati kasi where I used to live, walang community. Here, you know your neighbors, and it's such a good, safe feeling to know that if you need help, kakatok ka lang."
At her idyllic new home, Ev is slowly but surely finding her rhythm in her extraordinary, ordinary days. She's still adjusting to domestic chores as a newlywed, and the unhurried pace is helping her churn out new work (including one immortalized in a tattoo, executed by tattoo artist and fellow Hinhin girl Wiji Lacsamana). She is also collaborating with her husband on a new (but still secret!) project that she's excited about.
Art allows Ev to create her own world, think without interruptions, and even safely express her feelings without having to spell it out. The work she's proudest of? She thinks for a moment, then reveals that it's not a particular project at all, but simply being able to find joy in her craft. "Yung feeling na ineenjoy mo kung ano yung ginagawa mo. Yun yung best accomplishment." Looks like this "square running in circles" has found her place.