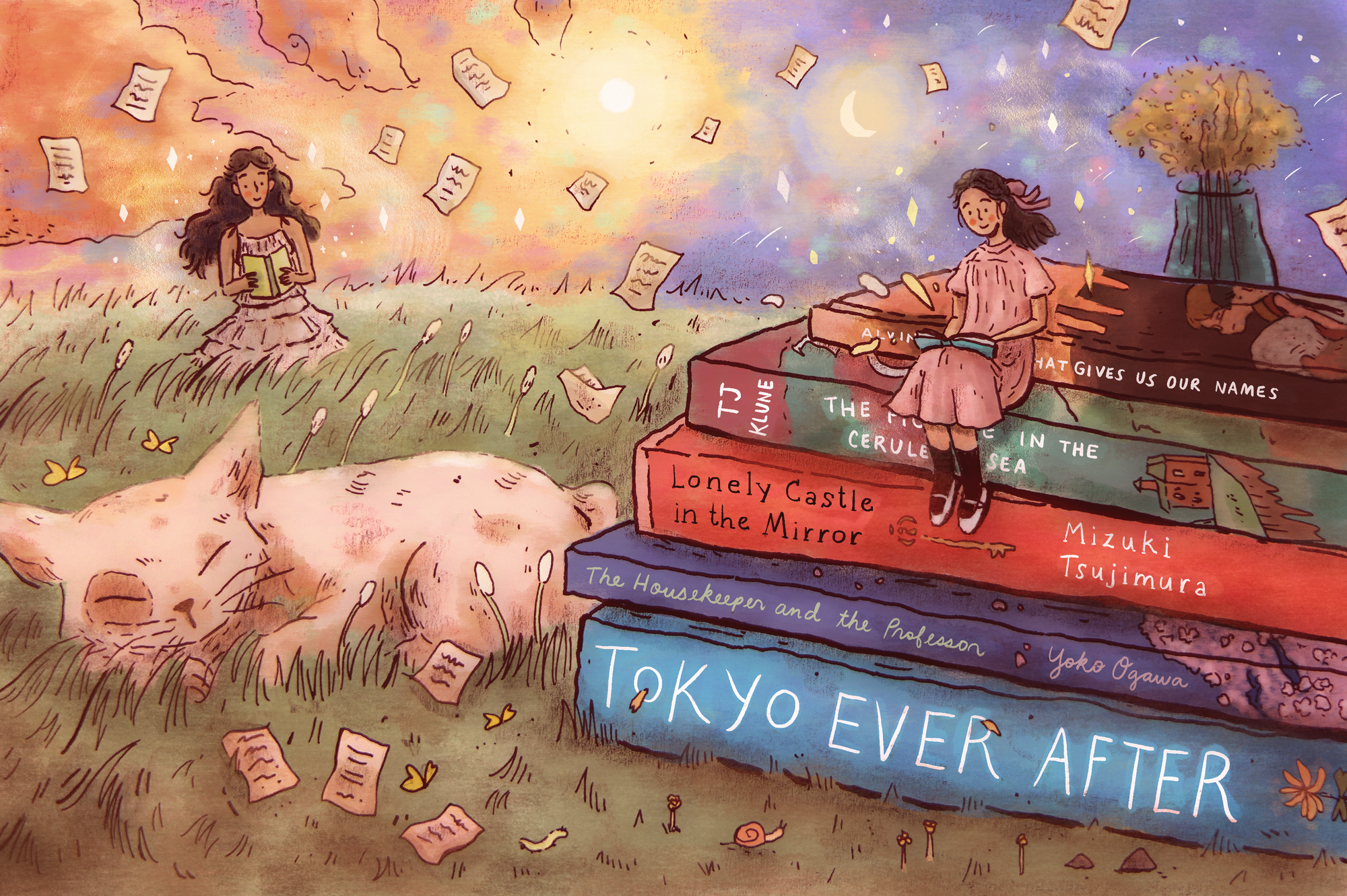 Lockdown Library
Books have always been treasured companions. But over the past two years, they've become even more of a refuge and sanctuary throughout the pandemic. In gratitude, we'd like to share a few favorite reads that have helped us time travel, visit different places, and imagine worlds where lockdowns can lead to beautiful discoveries.
TEXT Chinggay Labrador and Pierra Calasanz-Labrador
ART Arli Pagaduan
THE LAST CHANCE LIBRARY by Freya Sampson
There's something comforting about a story set in a small town, where a band of unsung neighborhood heroes saves the day. "The Last Chance Library" is about a rundown library whose existence is threatened by gentrification. Coming in as the unlikely savior of this old neighborhood institution is June Jones, a lonely thirty-year old librarian whose lack of a social life means she spends day and night thinking about the stacks of books her mother, the town's previous librarian, loved so much.
Unbeknownst to mousy June, her constant presence behind the counter has become a comfort to many of the townsfolk—immigrants learning to speak English as a second language, 80-year-olds whose only form of entertainment comes from a fresh supply of books, and homeless folks who turn to the library for some temporary warmth, comfort, and kindness. The catastrophes the library supporters encounter are by no means easy. And they deal with all their struggles with a lot of love, compassion, and camaraderie—the kind of magic you wish would come through for everyone off the pages and in the real world.
If you've ever felt without hope or unseen by the people around you, you'll love June and embrace her journey towards self-worth.—CL
HOW TO GET FILTHY RICH IN RISING ASIA by Mohsin Hamid
Not a lot of books about life in "Rising Asia" are given the spotlight, so I was really intrigued when this was featured in John Green's (now defunct) Book Club, Life's Library.
Mohsin Hamid sets you as the hero of the story as the book is told entirely in the second person. It starts out in your youth, growing up in the rural countryside dirt poor. Your childhood mirrors the reality that kids in countries like ours must contend with. Slowly, through hard work, steely determination, and dumb luck, you manage to climb out of the gutter and build a life for yourself in the big city. You're involved in some sketchy operations (repackaging water and selling it off as clean and potable) but you get by and thrive and even fall in love.
"How to Get Rich…" employs the structure of a corny, banal self-help book, which might be off-putting at first, but begins to make sense as you move through your life, chapter by chapter. He turns a live-laugh-love structure on its heels and uses it as a brilliant way for you to understand what it could be like to fake it, make it, and question the meaning of it all in a developing country.
Read with a box of tissues.—CL
SWAN SONG by Kelleigh Greenberg-Jephcott
Travel back in time to Truman Capote's New York City, where he was the toast of the town and had a flock of swans—beautiful, rich, cosmopolitan society ladies—surrounding him. "Swan Song" follows two timelines—one in the 1960s when Truman was on top of his game, hosting New York's Black and White Ball, the legendary "party of the century" held at the Plaza. The other timeline follows his childhood in the 1920s and '30s, where he was able to extricate himself from the deep South and get himself to the city—through talent, luck, and an unyielding desire to make a name for himself.
For all his talent and wit, the "Breakfast at Tiffany's" writer was also an oddball—in the middle of society but also painfully outside of it. He was never without a drink and constantly inebriated, and through his charm and wiles, earned the ear of many powerful people.
In this fictional retelling of his life, Truman uses the secrets he keeps to manipulate the people who had grown to love him. Through this book, you become privy to the private lives of Frank Sinatra and Lauren Bacall, the Bouvier sisters Lee and Jackie (Kennedy), and discover just how tragic a fall from grace can be.
PS: Read with Wikipedia and YouTube open on your browser to make your experience of "Swan Song" come to life.
THE LOCK-IN by Phoebe Luckhurst
This book reimagines lockdown life without covid, making the prospect of being trapped in an attic with your best friends, roommates, and the guy you just slept with and are sort-of dating a lot more fun than what we've been going through IRL. On the onset, it doesn't seem like you can get very far with a book about four people locked up in a small room without a way to get out, but Phoebe Luckhurst manages to do the unexpected. "The Lock-In" serves up a predictable plot and turns it around, offering twist after twist so you're not sure where the story is headed. Before you know it, you're hooked on the intricacies of each character, wanting to know their back stories and how they're all connected.
Aside from the individual POVs and all the emotional baggage that starts to unravel the longer the lock-in takes (spoiler alert: a total of five hours), the actual situation offers up a lot of laughs. From how the characters manage the logistics of peeing to their harebrained ideas on how to get help, you'll wonder what you would do given the same stupid, irritating, but also hilarious circumstances.
If you've ever spent hours chatting on MSN, IRC, or Yahoo, you will relate to this for sure.—CL
ANATOMY by Dana Schwartz
This book is Outlander but make it YA; historical fiction buy make it feminist. "Anatomy" plunges you deep into Edinburgh in the 1800s, following the exploits of gravediggers called the Resurrection Men. They steal bodies and smuggle them off to the Royal College, where young men learn to be surgeons and physicians and need a constant supply of cadavers to keep up with their education. The book is set during the Roman Fever, where a mysterious disease is killing off entire populations in Scotland (pretty on the nose for our situation 200 years later!).
Off in the posh side of town is Hazel, a teenager who yearns to learn and practice medicine, but is confined to a life where all she should aspire for is to become wife to the boy she was promised to (her cousin, no less) since she was a child. Rebellious Hazel goes undercover, dressing up in her brother's clothes to sneak into the Royal College, where she meets Jack, an 18-year old body snatcher who's tired of running from the law.
"Anatomy" is suspenseful, supercharged with teenage emotion, and is set in one of the most beautiful cities in the world. You can do no wrong, diving into the mysterious, haunting, and magical world that Schwartz creates in this book.—CL
THE HOUSEKEEPER AND THE PROFESSOR by Yoko Ogawa
So quietly disarming in that inimitable Japanese way, this gem chronicles the daily challenges of a housekeeper hired to care for an eccentric professor whose short-term memory only lasts eighty minutes. The slice-of-life story unfolds with graceful lucidity, and what sets it apart is the clever way it weaves the magic of math into the narrative—it's how the Professor makes sense of his world, in turn, unveiling a wondrous universe for the housekeeper and her young son. This one stayed with me for a long time; sometimes it's really the unassuming ones that creep up on you and burrow into your heart.
This line in the book flap says it best: "The Housekeeper and the Professor is an enchanting story about what it means to live in the present, and about the curious equations that can equate a family."—PCL
LONELY CASTLE IN THE MIRROR by Mizuki Tsujimura
I confess: I totally bought this book for its cute cover and ordered it from an indie bookseller at its peak popularity. Wary of the hype, I almost expected to be disappointed, but soon fell under its spell.
Kokoro is a contemporary Japanese teen who doesn't quite fit in, and one day she sees the mirror in her room shining—a portal offering escape from this lonely existence. At the "castle" beyond, she meets six other students, each with their own issues and dreams. Part magical wonderland, part survival game, all seven need to confront their fears, but only one will be granted their most fervent wish. Enchanting, inventive, and unexpectedly comforting, it nevertheless makes you contemplate the painful reality it draws inspiration from. If you've ever felt misunderstood, ostracized, bullied, or just plain different, this intuitive book will make you feel so seen. Tissue required.
WHAT GIVES US OUR NAMES by Alvin Pang, illustrated by Marie Toh
It's hard to describe this lyrical anthology without spoiling the experience. Published by Math Paper Press, an imprint of Singapore indie bookshop Books Actually, this slim volume is composed of short, seemingly disparate stories—prose poems, in fact—that ultimately come together wonderfully. It's perfect for today's attention spans—each chapter is accompanied by evocative illustrations and never more than a few pages long, easily read in one sitting.
The beauty of this book is that a different chapter/character is bound to resonate with every reread, depending on your current state of mind. Wait for the aha moment—finally, that elusive feeling, that ineffable experience, has a name.
An excerpt: "You don't need to have known Learning for very long to understand that he's a perpetual optimist. Those who know his father, Experience, say that Learning takes after him. What they often overlook is that Reflection was the mother of Learning, and that his favorite teacher is Joy."—PCL
TOKYO EVER AFTER by Emiko Jean
A modern-day Cinderella story set in the land of the rising sun? Peak pandemic escapism!
You know the fairy tale drill: our spunky half-American, half-Japanese teen heroine Izumi travels from California to Tokyo to meet her birth dad for the first time, who by the way is the Crown Prince—and the snappy dialogue, supportive AGG (Asian Girl Gang!), and hot bodyguard will make you keep turning the pages (and quickly). I know, I know, how fresh can a Princess Diaries-ish story be? But the charm is in the delightful storytelling, vivid descriptions, and thoughtful attention to traditions and detail.
Also, I'm a sucker for rom-coms, and this has all the makings of a kawaii coming-of-age film (Culture crash course! Royal cousin rivalry! Love blooming along with the cherry blossoms!). It would be fun to see who they would cast for Princess Izumi, but I can already imagine hot bodyguard played by Kento Yamazaki (master of broody-but-secretly kind roles) or Mackenyu (pretty poker face + pecs, and speaks English!). Netflix gods, are you listening?—PCL
THE HOUSE IN THE CERULEAN SEA by TJ Klune
When I mentioned that I enjoyed Diana Wynne Jones' Howl's Moving Castle (which the iconic Studio Ghibli film was based on), a friend passionately recommended The House in the Cerulean Sea, which has a similar fantastical/warm feel and its own cult following.
Here, Linus Baker, the straight-laced caseworker in the Department in Charge of Magical Youth is sent on a highly classified mission to investigate an orphanage on an island. In the course of determining whether it should be shut down or not, he begins to see the (literal) magic of the six children so feared by the world. An unexpected complication that puts his objectivity (and possibly, life) in peril: he finds himself inexplicably drawn to Arthur Parnassus, the kind yet mysterious master of the orphanage (their chemistry reminded me of David and Patrick of Schitt's Creek, which added a fun dimension to my reading experience). Does Linus dare deviate from his RULES AND REGULATIONS handbook and follow his gut?
Full of wit, wonder, and warmth, I now understand why this book has consistently been described as a hug in literary form. My copy is riddled with Post-its marking conversations that double as meditations on universal concerns such as summoning up courage and embracing one's gifts, to daring to be happy. Here's just one of many favorite excerpts: "We must pick and choose our fights. Just because someone else acts a certain way, doesn't mean we should respond in kind. It's what makes us different. It's what makes us good." This book makes me want to be a better human.—PCL