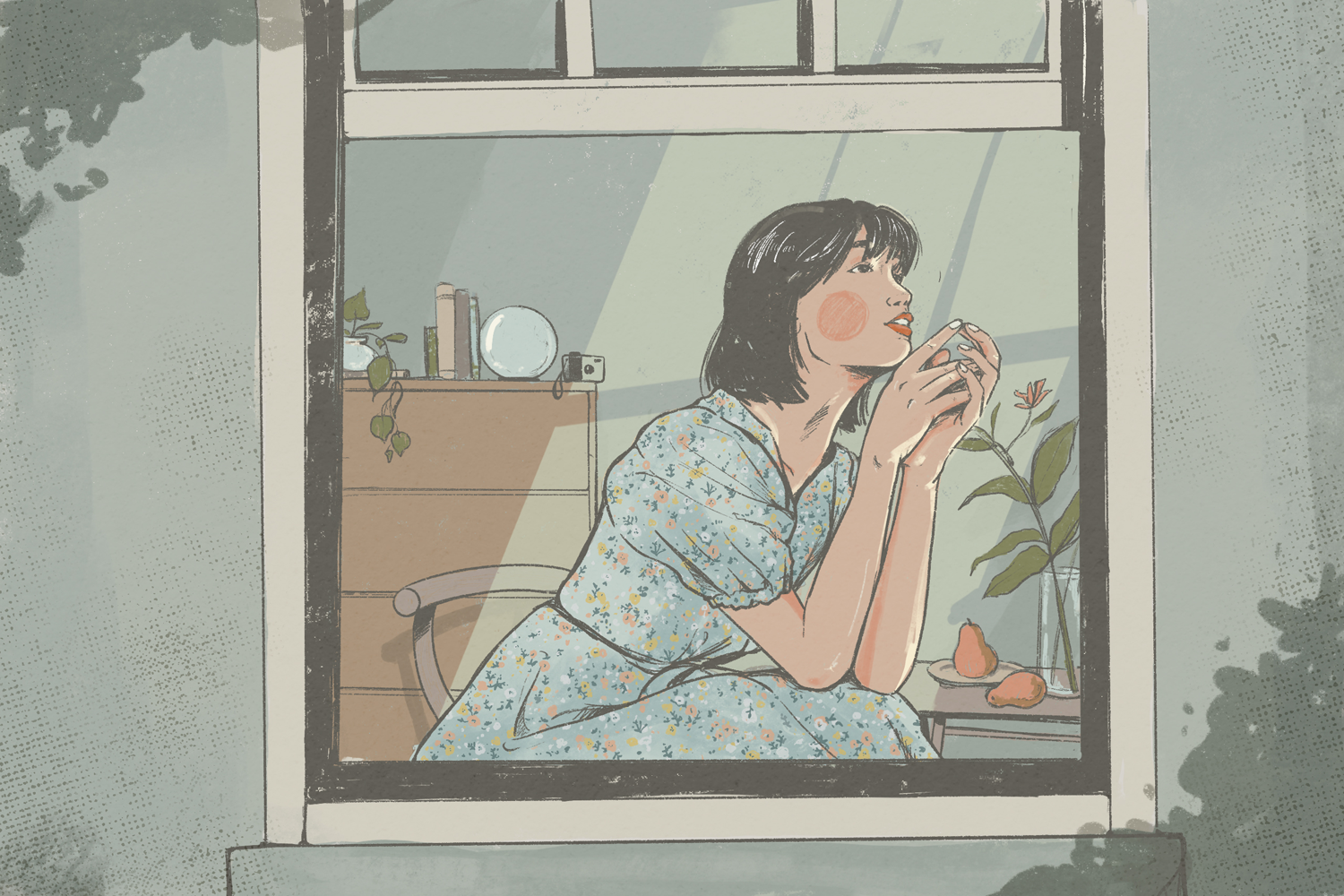 Home Fire
In this thoughtful piece, a freak fire forces writer and Practical Magic founder Chinggay Labrador to reassess her concept of home and what she holds most dear.
Art by Romina Militante 
What would you take with you if your house burned down?
I always thought it would be photos and journals.
My photo albums were compiled painstakingly through the years by my parents and my yaya. They were spiral bound and labeled with a Sharpie, covering the time I was born right up to the time I started Kindergarten and grade school. When I started bringing my Hello Kitty camera with me to field trips and sleepovers with my best friends, I took over the task of cataloging my negatives, having my film processed and printed, sliding photos into plastic sheets in binders, and arranging everything chronologically. Up until 2003, the year digital cameras and hard drives took over film, my photo albums told the story of my life in picture form.
My journals were a more private affair. I started my first diary when I was seven years old—it was a hardbound, My Melody notebook with a lock and key. Since then, I'd kept some version of a journal, documenting my moody teen years, my college experience, and the years that came after. In my early 20s, I thought I'd preserve these notebooks (and save them from a hypothetical fire) because one day, they'd be interesting enough for someone to read. In my 30s, I realized that if I couldn't get through my old journals without wanting the earth to swallow me whole in embarrassment, then no one would want to see my secrets. Today, in my 40s, it has become clear to me that people are way too concerned over their own narratives to care about my mundane life.
Which is why it didn't even cross my mind to save my journals when my house burned last June. My photo albums were also the least of my concerns and have only actually sprung to mind as I started writing this piece, thinking about what I'd left behind.
---
It happened on a Tuesday afternoon. I'd just driven home from my Barre3 class, taken a shower, and was making my way down to our kitchen from my room—I had just eaten half a cob of corn and was bringing down my dirty plate.
There's a long hallway that runs from one end to another of our 1960s house. This corridor sits between bedrooms and a stairwell to our attic on the left, and floor to ceiling windows overlooking our garden and our basement on the right. The walls of our hallway are decked with paintings by local artists that my family has been collecting since the 1970s, a multitude of family photos, and photographic prints taken by my brothers. The passageway itself is decorated with furniture passed on to us when my lola's house was sold years ago. It is dotted with coffee tables stacked high with books and magazines filled with articles, stories, and past work by myself, my siblings, and other family members.
Our house is old—dressed up, dressed down, renovated, and reworked over many decades. It was a project my parents undertook a few years into their marriage, at a time when life was just like Mad Men, and when brutalism was popular. Local architects married concrete with sliding screens and jalousie windows. Our house, for half a century, has always been known as the one beside the subdivision gate. In its latter years, it was the one across the neighborhood Starbucks, or the spot where friends could come and park so they could walk to the mall and see a movie or walk to church.
Since it was built, our house had always been a center of activity and people. It had been the venue for a family wedding, a prom, UP Mountaineers parties, high school soirees, and for my friends and I, the place where we would film our juvenile 90s music videos, stay up through the night finishing plates and making scale models, do annual Kris Kringle reveals, throw each other despedidas, meet up for karaoke before one of us had to go in for a hospital procedure, or just the place where everyone would hang out on a random weeknight for takeout dinner or drinks.
As I traversed the hallway that afternoon, I smelled something was off. My senses had caught the familiar whiff of a 110v hairdryer plugged into a 220v outlet—that stench that hits you when you accidentally plug some appliance you bought in the States straight into the socket without having it pass through an adapter.
I looked around to see what was causing the smell and saw nothing. I chalked it up to a random accident that could have happened downstairs and I unceremoniously walked away from the stench and made my way down to the kitchen. I placed my dirty plate in the sink, walked back up and stopped midway down the hallway again, right by the wooden stairwell leading up to our attic. The smell of smoke and fire was more potent than it had been just a minute before.
The spiral staircase was always one of my favorite features of our house. In the 60s, it connected the 2nd floor playroom of my brothers to their 3rd floor childhood bedroom/attic. In the 90s, we moved the staircase out into the hallway, exposing it to our living area. It became something of a conversation piece to everyone who went up to the second floor of our house. The steps are angular and geometric, and its central post is a stark black. Even after our house had gone through several renovations, it remained to be one of the few elements we kept—a relic from the original house and a testament to how design trends keep cycling back through time.
My high school barkada mentions the stairs every now and then, its shape imprinted into our now-40+ year old brains. When we were 14, my friends and I shot a little movie in my house. The stairs were central to the epic scene where my best friend Louanne, playing Young Indiana Jones, ran down the steps, declaring her (his, really) love for our movie's heroine.
Over the years, I'd noticed that everyone who visited the house would make it a point to ask, "But where do the stairs go? What's up there?"
The answer—my collection of Babysitters Club, Sweet Dreams, and Sweet Valley High books. And the rest of our attic.
The third floor of our house was pretty much empty, save for a few cartons filled with unused linen, seasonal décor, and my mom's Swarovski crystal Christmas ornaments. For a year, my mom busied herself progressively unloading all the attic's contents after my dad passed away—a Swedish death cleanse of sorts. My dad, an engineer, was heavily involved in the construction of our house. He specialized in electrical and electronics and was responsible for the complicated network of wires that ran through our home, baffling anyone who attempted to rework, rewire, or redo that aspect of our home.
Over on the second floor, on the way to my room, there was nothing in plain view that seemed to lead to the smell. My gaze traveled up the staircase. What was previously a dark empty space at the top of the stairs leading to the attic held a steady, burning, orange glow. Just a minute before, as I walked by the space, that part of the house was still pitch black.
I called for Jessie, our trusty all-around maintenance guy, from where I was standing. He could usually be found in the basement, doing repairs, checking our cars, or working in my dad's toolshed. "Parang may nasusunog," I called out. He ran up and saw the orange light radiating stronger and stronger by the second, ran down to get a fire extinguisher, and ran up to the attic. I could hear the thud of his steps across the floor as he tried to inspect what was going on.  The fire seemed to have spread from the top of the stairwell all the way down the length of our attic, running from one end of the roof to the other end. He immediately dashed back down because the fire extinguisher wasn't working and he needed to get a spare.
What happened next was a blur. I walked to the guardhouse just outside our gate and requested that they call the fire department. Smoke began to waft through the second floor and down to our basement. Jessie shut off the circuit breaker and assisted the security guards who had come to help up the stairs, meanwhile getting his hair singed and his lips burned by the extreme heat. I got our kasambahays (all of whom were, fortunately, in the basement and out of harm's way) to take their essentials and go out our back gate to the street. I called my eldest brother to alert him to what was happening. (Thankfully our mom was at the dentist, and we decided to keep her unaware of the fire until it was managed so she wouldn't panic.) I went back into the smoke to get all the car keys out and drove the vehicles out, one by one. In about 15 minutes, we could hear the sirens of the firetrucks ringing. They made their way inside, smashed the glass of our hallways' sliding windows, climbed the roof and struck through it to get water pumped into the house.
All through this, I was calm, recalling all the seasons I watched of This Is Us where we see Milo Ventimiglia save his family from the fire only to die from poisoning from the smoke. The only thing ringing in my head was—don't be like Milo, don't go back up, don't go back inside!
In just a few hours, the house I called home my entire life was overtaken by smoke, firemen, security, police, and water. As my brothers, one by one, came to the scene, I stood outside my neighbor's gate and watched them fight to contain the fire in the attic, water dousing every last inch of the house for safety. Literally. All I had was my phone. My journals and photo albums were the last thing on my mind.
After a few hours, one of my brothers, Jessie, and I were given the go-ahead to go inside. The electricity was out. There was flooding everywhere. There was a constant downpour from the roof to the attic to our second floor, straight down to our basement. The water was gushing down the walls, trickling down our paintings, our family photos, crashing into the furniture from my lola's house, and spilling into all the books and magazines that contained about 20 years' worth of work. We were instructed to get our essentials—they would be closing our house like a crime scene for the next couple of weeks so we needed to get all the important stuff out to prevent theft or blame.
I methodically plunged into the house, first going to my room to get my license, cash, credit cards, and my passports. Next on my agenda were my gadgets—I pulled a random backpack out of my closet and stuffed my computer and keyboard, my tablet, and my Nintendo Switch into it without a second thought. I instructed Jessie to pull out all our suitcases, while my brother and I entered my mom's room, phone flashlights in hand, to open the safe. It was pitch black and all we could do was thrust our arms into the safe and throw whatever we could grasp into garbage bags and pray for the best. I took a bunch of clothes, whatever toiletries I could spot, and threw them into tote bag after tote bag. The fire happened at around 3:30 PM and we left the house at around 9 PM to camp at my eldest brother's house for dinner until we could figure out what to do next.
A family friend, the daughter of my mom's best friend, called when she saw someone post about the fire on Facebook. Her condo in Ortigas was about to be occupied that same day, but the arrangement was canceled at the last minute. She said we could use the space for as long as we needed. It was ready to be moved into. And just like that, just hours after I had smelled the fumes after eating my afternoon snack, I was handed the keys to a new home.
---
It's been eight months and our house is still under repair. I have transitioned from living in the house I was born in to a three-bedroom condo just a few paces away from that Barre3 class I attended the day of the fire. I no longer see a guardhouse outside my window, but floor to ceiling windows that give me a direct look into the call center operating in the building beside me. For the first time, I see the sky as the sun rises and sets—I now know what it's like to live on the 22nd floor, to take the elevator everyday, and to walk out in my pajamas to meet a Grab rider and be surrounded by people in suits or with lanyards hanging down their necks on their way to the office.
I struggled to call the condo "home" when I first moved in it right after the fire. Whenever I journaled about it, I called it "my new space" or "the condo." I'm getting used to 'my 'new space.' My high school barkada visited 'the condo.' My idea of home was always inextricably linked to my old house and all the stories that shaped it. Its rooms, columns, floors, furniture, and ceiling hold more stories and more lifetimes than any of my journals or photo albums. I can be trite and reductive and say that home is wherever I am. And to a certain degree, my heart and my head know this to be true. I have a clear appreciation for the history of my house, but I am nothing but grateful for the story that my temporary home tells, too.
It is here that I learned to value my pared down belongings. They represent what's important to me. The first things I picked up after the fire—my passport, my visas, my driver's license—these are my most cherished items… funnily enough, all these things exist to take me away from home (!). It is here that I witnessed incredible generosity. I still have a place to call home because family friends welcomed us into their space. The dining table here has borne witness to the limitless meals that friends and family from all over sent our way as we dealt with the aftermath of the fire. My closet has shrunk and is now only filled with pieces I truly love to wear, many of which are handsewn and handmade, sent to me with thoughtful notes and tiny gifts. I have learned to love my Kindle because it has saved me, allowing me to escape and disappear into different worlds without taking up literal space in my world. Details, big and small, have allowed my sense of space and home to shift. What I am left with is a leaner, cleaner life.
---
Every year, I pull a tarot card for myself—the card is meant to give me an anchor point, something I can focus on whenever I need guidance. My card for 2022, the year my house burned, was Death. This card represents the painful act of letting something go, of letting a part of yourself die to make space for new things. It represents grief, mourning, and the hope that comes after.
Home, these days, means mornings settled down at my desk, looking out my window and observing the call center folks across my building. It's cracking open my journal and knowing I still have a million stories to tell. Home is playing with the toy camera I bought shortly after the fire, knowing there is still so much of life to shoot, capture, process, dive into, and watch come alive.
When everything goes up in flames, we stay as mindful as we can. We respond with as much equanimity as we can. We survive the best way we know how because our stories are ever-expanding and life doesn't just have to end with ashes and soot and smoke. We allow ourselves to grieve, hold on to what gives us comfort, and stick it out long enough to see ourselves thrive again. And again. And again.
Chinggay wears the Tala Dress in Beige (sold out) from our Extraordinary Ordinary Days collection. 
Follow Chinggay's world on Instagram.