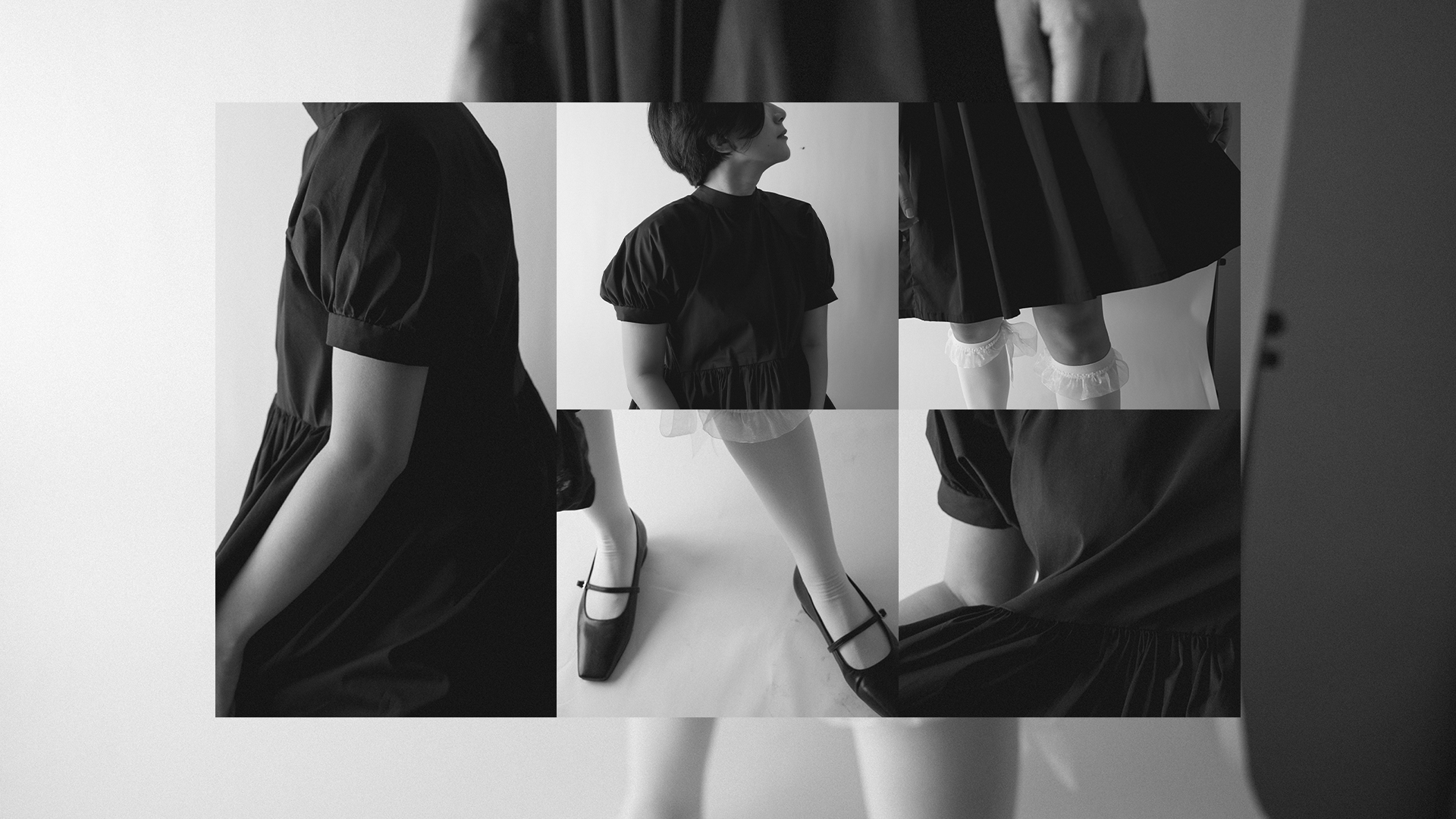 Home Is Where the Art Is: Sara Erasmo
Freelance photographer and artist Sara Erasmo gets candid about her androgynous, magical style, social media anxieties, her emotional support Kpop boy, and art as inner child healing.
Rising freelance photographer and mixed media artist Sara Erasmo first piqued our attention with her ethereal work, so when we spotted her wearing a Hinhin Ulap Dress (her caption described it as the "Maho shojo* dress of my dreams!") to her first group exhibit, we knew we wanted to get to know her better. Here, we chat about everything from her creative process and eclectic fashion inspo, to how moving back into her family home helped her hone her artistic voice.
*magical girl
WONDER VISION 
Through Sara's lens, everyday objects become otherworldly, garden flowers seem imbued with magic, as seen in the ethereal photo series entitled "EDEN" that she created for Tarzeer Pictures (tarzeerpictures.com).
"I like reframing things that seem ordinary or mundane," shares Sara. "One photographer I really look up to is Rinko Kawauchi—her approach is photographing daily life, but when you look at it, it looks so magical. So that's what I try to do with my work, as well."
Ever since she was a kid, Sara had been drawn to the visual arts and creativity. "When I was growing up, my brother and I loved drawing—we'd buy those How To Draw Anime books! Then I got into photography, which is my true love," shares 31-year-old Sara.  "I got into LiveJournal and DeviantArt and would see all these amazing artists like Tricia [Gosingtian], and I think dahil doon, tuloy tuloy na."
She took up Information Design at Ateneo, and has been a freelance photographer since graduating from college. "I like to wear different hats, so career-wise, it's been a journey. I've been a graphic designer, I did illustration and copywriting, but now I mainly do still life photography and mixed media art."
PERKS OF THE (DAY) JOB 
While photography is her great love, Sara also works full time at Canva and is part of their local photo and video team, where she helps create stock that serves as design tools for creatives around the globe.
"The stability my day job has provided has been great for my mental health. It's given me the space to pursue things not so tied to financial gain." She adds, "I work with amazingly talented, hardworking, and kind people. Plus I get to collaborate with photographers and videographers from different countries. To be honest, I'm still finding my way in such a big company. But so far it's been fulfilling to see my ideas come into fruition and help diversify stock content in the world."
BLOOM WHERE YOU ARE PLANTED 
Lately, vivid botanicals are a recurring theme in her personal work, but she admits it was a happy accident. "I don't think I would have the body of the work that I have now if it weren't for the pandemic. Because of it, I was kind of forced to focus on still life photography, and flowers became such a repetitive subject in my work."
By serendipity, being stuck at home helped her find her niche. "Before, mas kalat pa yung work ko; I was looking outward a lot. I thought that to be a great photographer, you had to go to far off places, you had to photograph interesting subjects who lived completely different lives. But because of the pandemic, my process was forced to become more introspective, more inward. Which is also why I started taking more self-portraits, because I couldn't really photograph anything else. So it became more about me, my emotions, and whatever I had immediate access to. Luckily, I'm privileged enough to live in a house where we have a garden and lots of outdoor spaces, so it was good progression of my work."
ART AS THERAPY 
In the iconic book The Artist's Way, author Julia Cameron recommends using the tools she provides for "creative recovery," and to "excavate our buried dreams." Cameron says, "As you learn to recognize, nurture, and protect your inner artist, you will be able to move beyond pain and creative constriction. You will learn ways to recognize and resolve fear, remove emotional scar tissue, and strengthen your confidence."
The Artist's Way has been a huge influence on Sara, where a key exercise for mental clarity and freewheeling creativity is the Morning Pages—writing three pages' worth anything that comes to mind, every morning, every day. As someone who already has a closet full of journals, this came naturally for her, and really works in opening up creative pathways. "Honestly though, hindi ko na kaya the three pages because my job starts at 7 AM. I still write almost everyday; not as consistently, but I try to write as much as possible."
 "A friend asked me recently: 'Why do you do what you do?' At the end of the day, honestly, it's inner child healing. I think that's what creativity is. It's a bonus to be able to share it, but for me the process itself—it always gives me energy, it always makes me feel so much happier and better. So parang it's really for my mental health, honestly."
She adds, "When I go for weeks or months without making anything for myself, na-fefeel ko na yung drop in my mental health. I realized that ang laking bagay to be able to have that safe space to experiment and to play."
How does she balance work and art? "To be honest, I haven't been as good at that the last few months; it's been so hectic, I haven't had the time, especially now with my day job." She also admits to feeling like she's hit a wall creatively. "But I don't want to pressure myself to make anything; I don't have to naman. [I'm letting myself] Gather experiences again, refill the well."
JUST SHOW UP 
"Since I moved back in with my parents during the pandemic, I was able to turn an extra room into a studio, and every afternoon, I'd make whatever." Asked about her creative process, she shares, "Just showing up, having a routine—that really helps. As long as I'm in that room, I have my camera, things would happen magically."
When she hits a wall, that's when the routine of creating comes into play. "Minsan talaga you just need to show up; you just need a vague idea to start with, like for me, it's like, ok I'll take a picture of this flower with this color background and this type of lighting, I'll just see how that goes, and then once you start and then you give it enough time, you get into the flow and that's when things happen. You'll be surprised na, oh, I made something pretty nice, even if in the beginning I didn't really feel like it."
COMFORT IN CHAOS 
"Before the pandemic, I thought our house was so kalat, and there wasn't really anything interesting here. But since I couldn't take pictures of anything else, I started documenting our house more—just little things, like when the light was nice…Mas naappreciate the space I live in, now."
Sara had been living on her own for just over a year before lockdown realities forced her to move back into the family home. "At first, I thought, aw man, I won't have my own space. And then na-realize ko, it's actually nice to be with people on a daily basis. Before, I would be like, ang gulo-gulo dito, ang daming tao, ang daming nangyayari, but now I don't see myself moving out again if I'm just going to be completely alone. When you live alone, it's so quiet. I think some people like that, but for me, it was too quiet."
As the youngest of four siblings, she realizes she's grown accustomed to the comings and goings of family, however chaotic. Two siblings have moved abroad, but one brother still lives at home with her and their parents. "There's the inevitable clutter that comes with living here with five other people. We have three dogs to take care of. Random fixtures have been breaking down in this decade-old house. Let's of course not forget the tricky family dynamics that come into play."
Growing serious, she confides, "Actually, the main reason I moved out in the first place was an unhealthy relationship with a strict and overbearing parent. So one of my fears moving back here was facing my triggers again. I feared losing the boundaries and independence I enjoyed living on my own. I even had a panic attack a few days before the move. But looking back, things didn't turn out as bad as I thought they would. I found that my parents respected me more as an adult once I was back. They're also more careful about crossing my boundaries since they know I can just walk out the door. Now I'm in my 30's I understand them more as an adult, too. I've realized how hard it must've been to raise four kids while being full-time doctors. It isn't perfect though. Fights and arguments still happen."
"Still, I'm grateful for the progress we've made. I've let go of the expectation that my parents will change. Though my inner child still gets triggered, I know how to soothe her now. Thing is, living alone was lonely. I've accepted that relationships are hard, but necessary."
SOCIAL MEDIA ANXIETIES 
"With Instagram, TikTok, and all of the social media platforms, at the end of the day they're [helpful] tools, but why does it make me feel so bad?" Sara muses.
"When I don't post as much and then I see everyone else, I feel like I need to keep up. Kasi ang daming magagaling—that's the great thing about social media, that you see so many talented people and get to connect with these people—but sometimes it feels like, oh no, I'm not making enough or doing enough. Everyone else is doing this already."
Sara adds, "Honestly… I struggle with it daily. But I'm better now that I'm in my 30s; I have a better mindset in terms of work-life balance, naseseparate ko ang sarili ko sa work ko. Before kasi, I would still put a lot of my own value in my work. Dati, I'd feel so competitive; I'd feel like, oh, I need to be better than everyone else; but now…I think it's having the abundance mindset that someone else having this opportunity doesn't take anything away from me. If someone else is thriving, the whole industry is thriving; if someone gets paid well in this industry, that's good for everyone else, too."
After creating something she was pleased with, her old impulse would be to post it immediately. "But now, since I have work for clients or brands that I can't post yet, I've learned the value of sitting on work, letting it just sit, not feeling that I have to share it kaagad—and I think mental health wise, that was better for me because now I don't look for the instant gratification or external validation as much. I do work, that's that, I enjoy the process of making it, I don't have to worry so much about what people will think of it. That's been really good for me."
Recalling the random purity of the older iteration of Instagram, Sara comments, "Before, people just used to share whatever. Suddenly, it's so curated… I had to make a Finsta, which is a separate account, and that's where I dump all my personal stuff, that's where I can post slideshows of my real life photos, family life, life with friends… Kasi I feel this pressure na, oh, yung main account ko, it's for work and I need to put this professional facade."
Like many artists who feel conflicted about what they put out there, she recognizes that her relationship with social media is contentious. "But strangely, getting a Finsta helped me find a good balance. It gave me structure—work stuff [goes in the] main account, everything else, Finsta. I treat it like my diary, and I can look back, oh, this is what happened this month."
And whenever she feels like social media is starting to consume her, she takes a step back and sometimes deletes apps for months at a time. "I'm trying not to overthink my social media presence and not be pressured by the algorithm. I already feel it though; when you post photos, it really doesn't engage as much na, they really want you to do reels."
Instead of spending time doing reels, she's devoted her attention to building her own website, which has helped establish her presence as a creative. "Making that website was really helpful because it's less pressure to post consistently on Instagram. And when you have a site, if Instagram were to go one day, at least you still have that space on the Internet that's your own."
PICTURES, OR IT DIDN'T HAPPEN 
"The thing about sharing on social media… It's kind of like that saying, you know, If a tree falls and there's no one there to hear it, did it really fall? Sometimes you feel that way with your work—I made this thing, and if I didn't show it to anyone else, does that thing have value? Was that experience valuable? And you know, not being able to share it kaagad, you're like, yeah, it is valuable. I enjoyed that process, I enjoyed making it. It made me feel better, it recharged me, so it is valuable, even if no one else sees it."
SEW COOL 
When she feels at the risk of burnout, doing something crafty is a saving grace. "Na-realize ko na very much energizer yung creative process ko, being able to make things for myself. If I don't feel like making pictures, or doing what I usually do for work, it's being able to do more tactile things—embroidery, pottery—that reenergizes me. I guess that's why I like doing mixed media, cutting up my prints and stuff, and I want to go back to making zines. It's a nice change of pace because with the work I do, you're on screen so much, and then you forget to play with your hands."
Next on the agenda: learning to sew. "I have a sewing machine but haven't touched it at all because it's so intimidating…hopefully this year I can learn to sew my own clothes. That's the dream right now."
Inspired by a fashion-savvy digital creator couple she follows, she shares, "Do you follow Joe Ando? Pogi siya pero kenkoy! He makes clothes for his girlfriend. I wanna be able to do that for my boyfriend—I'll be that girlfriend, I'll make you clothes!"
When it comes to personal style, she confides that as a kid who grew up playing basketball with her brothers, she thought she wanted to be a boy and had the boy cut to match. But being mistaken for a boy apparently didn't sit so well with her after all. "I'd be out with my dad and brothers and my dad would bump into a friend and they'd say, 'All boys tayo today ah…' I think that low-key traumatized me. So in high school and college, I dressed as girly as possible because I never wanted people to think I was a boy."
These days, she's more self-assured and anything goes; one day she'll dress in a frilly hot pink frock, and the next, she'll be wearing her boyfriend's clothes. "[Thanks to] Inner child healing—I cut my hair short, I like dressing androgynous, I like wearing guy clothes, but on the other end of the spectrum… it's either I dress like a little boy or a little girl."
She likes experimenting with fashion with her boyfriend, and in fact, calls him her stylist-nim. "He has good taste and I like borrowing his clothes. And he encourages me—I think that's why I'm more open now to dress androgynously. Now I'm like, ok lang pala."
LOW-KEY ARMY 
What's one thing she can talk about all day? "Dati, hardcore Army ako. 2015. Fire, that era. I was always aware of K-pop, but [when I came across BTS] I thought, 'What is this, oh my God, they're so good.' I've been Kpop trash ever since. But not as intensely now."
These days she's too busy to fangirl, but there is one she still has time for. "Si RM! Of all the members, he's the member I identify with the most. Taste-wise and interest-wise. He just released his solo album, and first two songs pa lang, when I read the English translation of the lyrics, naiyak ako. I love him," she declares unabashedly. "He's my emotional support K-pop boy."
CRYING IS A SUPERPOWER 
Now that the world is opening up again, it means more social functions and events—including giving a talk on her process at a photography event by FotoMoto—which can be somewhat overwhelming for this self-confessed introvert. "The thing is, for me, in the moment, I enjoy it. And then once it's done, when I'm finally alone, I get so overwhelmed with emotion. And my outlet is crying. When I get really tired from socializing, or ang daming life events, I just need to cry it out. Since I was a child, iyakin ako—so it's not a negative thing when I cry, it's how I process, it's my release."
Then the chronicler in her kicks in. "Besides crying, I also need to reflect on what happened that day or that event: that these were the things I was thinking, these were the things I realized. So I journal—it's a huge way for me to recover from big social events. I need reflection time. Kailangan may takeaways ako from whatever happened."
At this point, Hinhin founder Tricia Gosingtian, who was present at the interview too, felt compelled to share: "It's nice to hear that you're not afraid to cry; it ties in with what you said about inner child healing. It's refreshing, because growing up, a lot of the older generation attach shame to it. So, to be able to give yourself that space to cry? As a parent, it takes a lot of effort to break the cycle by saying things like I hear you, I see you. I'm reminded everyday that we can extend the same grace to ourselves as adults."
COMING HOME 
What was the moment she felt like her career had taken off? "Somehow I still don't feel like my photography career has taken off. Every new job, even ones I've dreamt of, comes with its own set of challenges. Each opportunity humbles me and shows me how much I need to learn. In that way I probably won't ever feel like I've made it,'" Sara shares modestly.
"However, I feel happiest when things come full circle. Times like these when I get to work with people I look up to. It also means a lot when people send me messages about how they appreciate my work and how it makes them feel things. I screenshot those messages and keep them in a folder for when I need cheering up."
She adds, "Now that I think about it, there was one moment last year I felt particularly proud and overjoyed. It was at the opening of the first physical exhibit I'd ever been part of. It felt like such a peak moment, not just because I got to show my work, but because my friends and workmates came and showed me support. I felt so loved that night I cried in the shower once I got home."
It really feels like fate led her to move back home during the pandemic, opening up an unexpected opportunity for her to hone her artistic voice. "A few days ago I looked through old hard drives and found a video of me talking about moving back in with my parents. Context: I used to make little YouTube videos about my creative process. I figured I'd document the move too. The video was dated May 16, 2020. I talked about feeling overwhelmed, grieving my old life, and making the hard decision. 'That space—the condo I've been renting—has been a safe space for me emotionally, psychologically, creatively. I didn't think I'd have to give it up,' I tell the camera as my eyes seem to well up."
But blessings come in the strangest forms, even painful ones. "Being pushed into that corner ultimately changed me for the better. The biggest effect, I think, is letting go of perfectionism. A big deal for a Virgo sun and Capricorn moon like me. And that letting go applies to a lot of things in my life—letting go of having a fixed timeline, letting go of having a friction-less relationship with my family, letting go of living in a perfect space conducive for creativity, the list goes on."
Having tasted the liberating bliss of living on her own, it would take more than courage to return home with grace. Luckily, Sara had built a stronger sense of self in the time she has been away.
"Contentment has replaced that perfectionism," she attests. "Now I work with what I have and find inspiration in the life I was born into."
Sara wears the Hiraya Dress in Black, Ulap Dress in White (sold out), and Maria Mary Janes in Black.