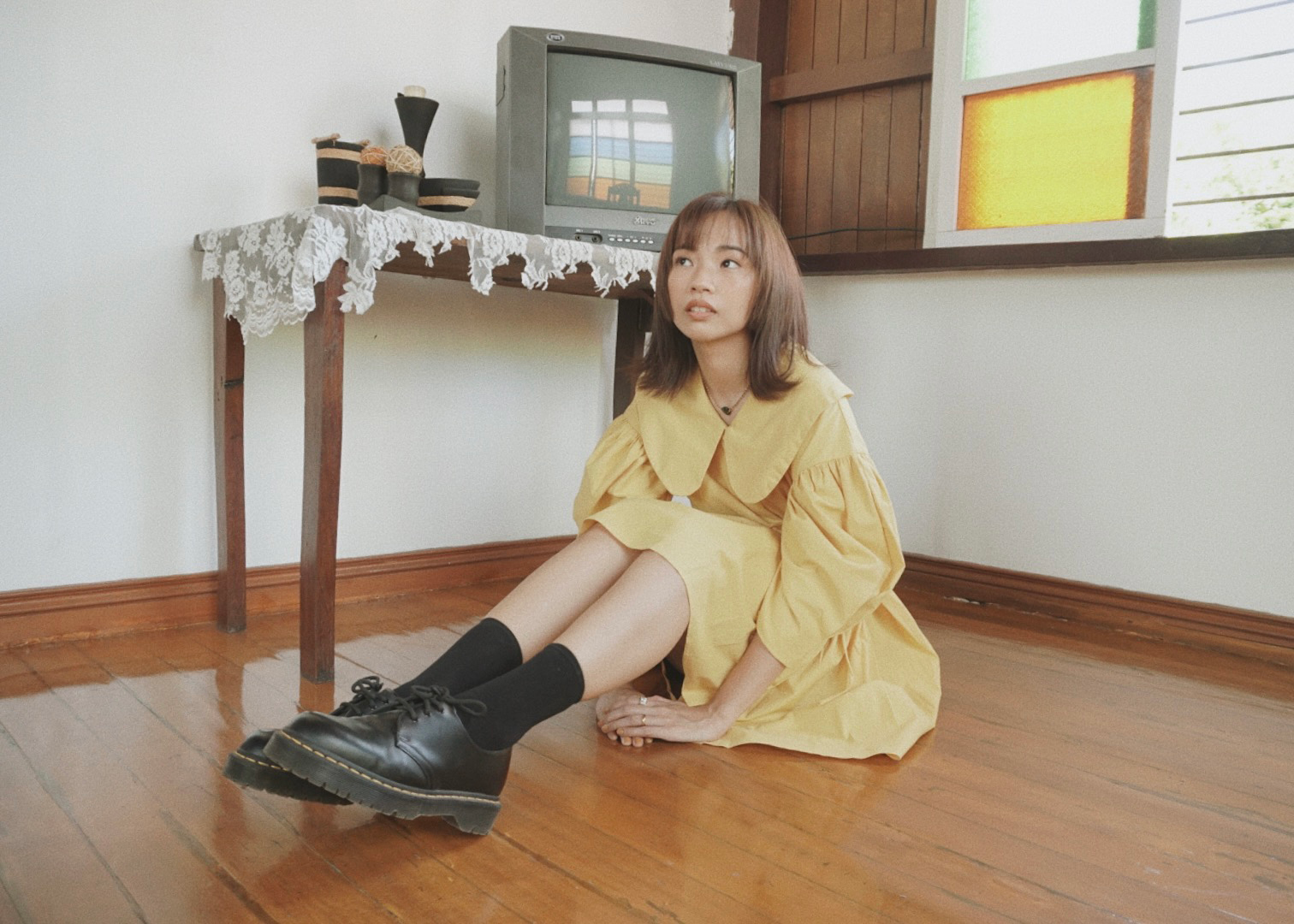 Style Diary: MJ Benitez on gaining style (and styling) confidence, living on her own, and managing pandemic anxiety
"I really had no sense of style before," MJ Benitez shares candidly—a fact we found hard to believe about this former fashion editor, freelance stylist, and 1/3 of the creative force behind Milk Man Marketing.
"I would always just wear a T-shirt and pants, that was it; I guess because I was really self-conscious and that was what was most 'normal.'" Her early aspiration was to be a photographer, and landing a job as an editorial assistant at a fashion magazine was a foot in the door. "When my editor Pauline Suaco-Juan [of Preview] found out I was interested in photography, to test me muna, she assigned me to take pictures at a huge party," MJ says, cringing at the memory of her introverted self awkwardly approaching strangers to take their photos. "After that, sabi ko, ayoko na!" (Laughs)
As all-around editorial assistant, she was often tasked to assist at fashion shoots and soon developed a love for it. "I was trained by Daryl (Chang) and Vince (Uy), so that was how I ended up becoming a stylist." After Preview, she moved on to YStyle at the Philippine Star as a contributing fashion editor, before eventually going freelance. "I was also the fashion editor for this in-house magazine that Bench used to have which Milk Man started; it was called Benchmark."
INSPO IS EVERYWHERE
Though she was wary of expressing or even defining her style at first, her inner world was already teeming with inspiration. "Yung fantastical things, that's what I really wanted to do." To her, photographers were visionaries: from icons whose work she admired in magazines she read growing up (Peter Lindbergh, Alasdair McLellan, Ryan McGinley, Tim Walker, Linda McCartney), to recent favorites like IG discoveries @chogiseok, @minhyunwoo, @latourfanny and @lesliezhang1992.
"I used to collect ViVi magazine in the early 2000s—it's how I first found out about Kiko Mizuhara, who I still love now!—but since access to those was much more difficult before, I also used to scour LiveJournal communities and download low quality scans of Japanese fashion magazines. The struggle was v. real!"
Movies were a big influence, too (spot the Kiki's Delivery Service reference in Hinhin's latest video campaign!). "All Studio Ghibli, but I have a soft spot for Kiki's Delivery Service/Spirited Away/From Up On Poppy Hill." At age 14, viewing Michel Gondry's Eternal Sunshine of the Spotless Mind immediately ignited the desire to become a filmmaker ("A dream that fizzled out the moment I realized just how difficult filmmaking is, haha!"). Then of course, there's everything Wes Anderson, Sofia Coppola's Marie Antoinette and The Virgin Suicides, Akira Kurosawa's Dreams, Wong Kar Wai's In The Mood For Love and Chungking Express, Satoshi Kon's Perfect Blue/Paprika/Tokyo Godfathers. "Also, Greta Gerwig's Ladybird reminded me so much of the Catholic high school experience, so of course I liked it!"
And naturally, she nurtures a deep appreciation for stylists and costume designers, the genius behind the looks we love. "Stylists Harry Lambert and Jacob K for runways/campaigns/editorials, award-winning costume designer Milena Canonero for films—she's worked on the sets of Stanley Kubrick, Wong Kar Wai, Wes Anderson, Francis Ford Coppola, Sofia Coppola. I mean..."
EMBRACING HER STYLE
Being immersed in the fashion industry amongst creative visionaries and fearless peers did wonders for her own confidence ("Parang trial by fire," she quips, but we recognize the audacity of an introvert holding her own in an extrovert's world).
Admittedly, the first few years were tough; when she would attend fashion events in her normcore outfits, the reaction was usually, Yan ang suot mo? "And then as you grow older, you start to care less about what other people think, and just dress the way you want to dress." The key was to dress not to disappear, but to be herself.
"Honestly, yung mga gusto kong suotin noong high school, lately mas comfy na ako wearing those things, so feeling ko pambata ang lahat ng suot ko. Like in Hinhin's latest collection, I like the [Ulap] babydoll dress best. And I guess we now have the buying power to buy the things that we couldn't have before."
Some days, she'll go all out schoolgirl—clips in her hair, babydoll dresses, pleated pieces, socks and Docs; sometimes, she'll mix it up with trousers, blazers, menswear. "Basically nothing that's too sexy or revealing, that's my complete opposite." Hinhin girl, indeed. "I love that all the Hinhin silhouettes are forgiving, and I like the short dresses the most, they're just so cute." Gotta love how she rocks the girlier styles with cool kicks or boots.
A SPACE OF HER OWN
She also expresses her style in her cozy condo, which is Virgo-neat yet packed with punchy color and personality. "Growing up in a big family—I was the 5th of 6 siblings so I also had almost-bunso privilege, haha—I naturally had so many people to rely on. I knew I needed to learn how to be independent so once I'd saved up enough money to live alone, I decided to just go for it." Were her parents unwilling to let their baby girl go? "Funnily enough, I was super nervous broaching the topic to them because I wasn't sure how they would take it, but they've been nothing but helpful and supportive."
Home for about three years now, her pad is obviously a source of pride. "Having a place to call my own makes me feel like such a grown up!"
Instead of a design style, her initial choices were governed by colors she liked: green and yellow. "So those are the first things I bought, a yellow sofa and a green chair. And then I just built around that." She takes inspiration from favorite filmmakers like Wes Anderson and Sofia Coppola, and how they use colors to create not just visual impact, but atmosphere.
"When it comes to home decor shopping, I'm not so particular with brands—as long as it looks cute and works for my space and budget, I'll get it! That said, I shop everywhere—IG shops, local/international indie brands, department stores, specialty shops, wherever! One of my first ever condo purchases was a round sopa from @halohalo.home; I also love their placemats! My most recent buys are pillow cases—a checkered set for my bed and a throw pillow cover with an embroidered house print, which I got on sale from @dusendusen!"
Framed prints are posters she bought from art exhibitions in Seoul ("One from a 2015 Linda McCartney retrospective and another from a 2018 exhibit that featured artist KangHee Kim @tinycactus"), plus a photo taken by Ralph Mendoza, one of her fave local photogs. "Next on my wishlist is an Akari light sculpture by Isamu Noguchi—the orange or green ones, specifically! For more color, of course lol."
THE STYLIST LIFE
"If you're a stylist, your day doesn't start with the shoot date, it starts before that (concept, pre-prod, pulling out clothes or having them made, a fitting if you're lucky); the shoot date is actually executing it already. Basically, you just plan it all. Then all the dirty work—the steaming, the clipping, putting the tape on the shoes (so that it doesn't get scuffed when it goes back on display in the store), and then returning them."
Craziest shoot? "For one brand before, I did more than a hundred layouts, it was on location, and I only had one assistant. There were 8 racks, and I only saw the clothes on the day itself, so aaaaa paano ba to! That was super tiring. But for me, styling a movie (Baka Bukas, by Samantha Lee) was satisfying, but even harder. Film hours are usually longer; grabe pala siya, you don't sleep."
"But this is self-inflicted also, kasi I know that styling teams here are TEAMS, but me, it's just me. If I get an assistant, it's just for them to steam the clothes or be the one to talk, but all the thinking is me. I think it's also that I don't want to give up control—what if they suuuuuck? It's really a me issue." Did we mention she's a Virgo?
"When I quit Preview, I was telling my friends, I'll stick with styling, but never celebrity styling, never! Kasi pag models, at least you still have control, they have to wear what you're giving them, but kapag celebrities, they have egos and images…  Funnily enough, my first freelance gig was a Bench billboard [with a celeb]. I was like, Lord…" But it wasn't as bad as she thought, after all.
"Once you get over the fear, you realize OK, tao lang naman din sila. Kung ayaw nilang suotin, di wag, palitan." It's not judgment on her skills or the end of the world. "Before kasi, I was like, oh no, they don't want to wear what I styled, until Raymond (Ang, her partner at Milk Man) told me: 'For work styling, listen to the brand; just separate it [from your personal preference].' When I made that that distinction, I was like, OK, not everything has to be about what I want. That gave me less anxiety; if that's what makes the client happy, I'll do it. I got more chill after that."
For someone who tries to avoid styling celebrities, she is practically the personal stylist of good friend Janine Gutierrez. "Janine is also a super introvert," she concedes. "My first ever celebrity shoot for Preview was Janine, only because they were asking me to pitch a story, and they didn't know we were friends, he he, so I thought, I'll pitch her para madali. And then they said great, now why don't you feature five other up-and-coming artistas…and I thought, wait, this isn't what I wanted! But having a friend na naging celebrity, navalidate para sa akin na, ok, they're only human. Their life can also be hard, so you have to be understanding, too."
She may have stumbled upon styling accidentally, but it seems like the universe was always leading her here. "My favorite moment is when the shoot's about to start—hair and makeup done, model finally dressed and ready to step into the set. The first layout sets the tone for the rest of the shoot and it's the moment right before the shutter clicks when I feel the most stressed, anxious and excited. And then, magic. ✨"
Dream project?  "If I get to work on a film again, I'd love for it to have a storyline where the clothes are super central. Or a music video sana—as long as I love the song or story. That's what I'm manifesting…"
KAYA MO YAN MANTRA
The struggle is real for this introvert who works in the high profile worlds of fashion and marketing. "It really takes me a while to warm up to people. I've heard I was aloof and unapproachable plenty of times—especially true when I was starting out in the industry because I barely spoke before, but to be honest, I was just shy and extremely awkward. Even as a kid, big social gatherings tend to exhaust/overwhelm me." Looking poker-faced unapproachable does have its benefits, though. "Less work for me!"
Where does she draw the confidence to thrive in her industry? "Hoo boy, I'm the type of person who has to psych herself up for everything—from attending meetings and prepping for shoots to even making phone calls. It involves a lot of internal Kaya mo yan! When I'm really stressed and have too much noise in my head, I allot 5-10 minutes for a quick guided meditation. More often than not though, I just drink coffee and share my apprehensions to a friend. Sometimes, all I need is to not let my thoughts overwhelm me and just talk it out."
She considers herself lucky to have found her creative safe space (and extrovert counterparts) in Milk Man Marketing. "It's important that you're with people who get you. Lately with Milk Man meetings, Martin [Yambao, her other partner] would always ask me, 'Do you want to present to client? OK lang kung hindi.' You just really need a support system, especially in an industry that can sometimes be superficial. You need a solid group of people who will be honest with you."
MJ's advice to aspiring stylists/notes to self: "This is easier said than done, but trust yourself. Work smart. Be grateful. Listen but know when to stand your ground. in every undertaking, realize that no person is superior to others—every collaborator plays a pivotal role. That said, take advantage of the fact that you're surrounded with creatives and ask questions! Every shoot is an opportunity to learn. In the same vein, don't be wary of sharing what you know. Creativity thrives when there's a healthy exchange of ideas. Be patient—it'll take time and experience for you to find your voice, your skillset, and even your people. Be kind to yourself and others. Have fun!"
MANAGING PANDEMIC ANXIETY
"The first year was the worst because I had no work, and I lived alone. I'm fine with being on my own, but it's different when you are cut off by force. Work-wise, I tried to let go and think of it as a vacation, a year-long break. Then I realized, before the pandemic, we were really just exhausting ourselves, and for what?"
"Admittedly, I really struggled with anxiety at the beginning of lockdown, so I created a simple routine for myself: making myself a cup of coffee, watering my plants, just taking an afternoon walk, oftentimes while listening to an hour-long podcast—mostly comedy (Conan!) but I sometimes listen to topics covering science and films, too. Because I was plagued with thoughts of fear and uncertainty, I tried not to put too much pressure on myself."
When some of her family members contracted (and thankfully survived) COVID last year, she realized the importance of taking care of her own health, too. "I try my best to work out and make better food choices—a feat for someone who would much rather just sit still, do nothing and eat a lot of bread and sweets."
"The pandemic also shifted my perspective and reminded me to value the more important things in life: family, friends, and nature—I took all for granted until these strange circumstances suddenly cut them off from me. It also made me value my work even more—whether it be Milk Man projects or my styling gigs, I feel extremely lucky to be able to pursue things I enjoy doing and can take pride in."
Music was also a trusty lockdown companion. "Recently, I've been listening to Rostam's Changephobia album and Japanese Breakfast songs on repeat—mostly because I read Michelle Zauner's Crying at H Mart a few months back and practically ugly cried every chapter. As for K-pop, my pandemic discovery and guilty pleasure is NCT! At the very beginning of lockdown, I quickly realized if you need a happy distraction, a boy group with 23 cute members ought to do it!"
Also: "One of my closest friends was a violin major so she curated a playlist with a good mix of classical and jazz music—Erik Satie, Claude Debussy, Edward Elgar, Miles Davis, Duke Ellington, John Coltrane, etcetera. Good for quiet rainy days and chill nights, but actually really great at making tedious chores like washing the dishes feel more cinematic, haha!"
THE LITTLE THINGS
"Since the pandemic, I think we all feel the same way: we want to make even the little things feel special, the things we took for granted. For me, a super tiny joy is taking afternoon walks. Before, when I would look out of my apartment and see people walking around, I was like, why would anyone do that? And then lockdown happened, and we couldn't get out at all. So when restrictions were lifted, I thought, kailangan akong mahanginan a bit. I started taking walks around Ortigas, and it's really therapeutic pala."
"One time, a friend visited me, and as we stood outdoors, I said, Stop, look at the sky, it's so blue… And she was like, What's wrong with you??? You realize that what's mundane is really what you need, not necessarily the other fluff. Which is funny coming from a stylist, I know—basically my job is about excess."
Will things change when the world opens up completely? "I have no idea. This is kind of negative, but I think people tend to forget; they need to be constantly reminded, myself included. So I'm scared for future MJ. I hope she remembers the simple pleasures."
MJ is wearing our Ulap Dress in Yellow. Visit her Instagram here.