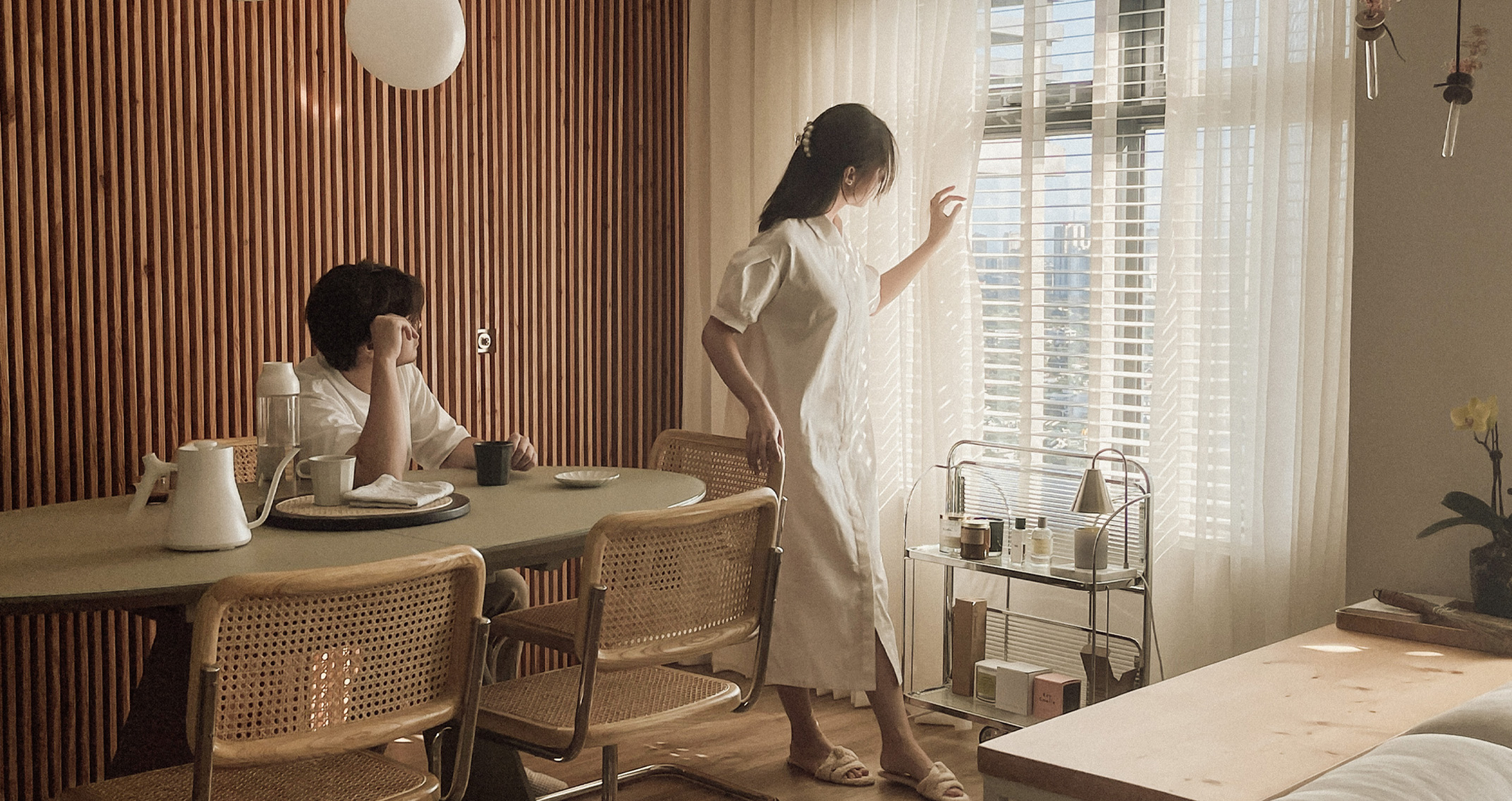 The Tranquil Months: At Home With June & July
In the middle of a global pandemic, an intriguing little IG account called June & July was born, quickly carving its own niche as a virtual safe space. The elusive couple behind the aesthetic lifestyle shop chat with us about their anonymous brand, getting married in the middle of a pandemic, and the quiet moments that make life magic.
"Even before the pandemic, engaged na kami, so we really wanted to start something together," shares soft-spoken June. A multi-media arts graduate and makeup artist by profession, she realized that her chosen career didn't suit her introverted nature. "I read the interview with Anthea (Bueno, our first Hinhin feature), and I felt that I'm the same, hindi rin ako marunong mag-start ng conversations with clients. Di ako sure what to say, and minsan ang hirap pag may dead air. So I wanted to a business where I'm just behind the scenes."
Thus, June and her then-fiancé July dreamed up their online shop of curated finds and personally designed, locally-made home pieces. They named it June & July—not their real names, but their birth months. With calming, minimalist visuals and anonymous appeal, it quickly became a virtual sanctuary in a year of upheavals. "It's like a safe space," says July, June's spirited counterpart and soulmate. An architect who also tends to his family business, he considers June & July a welcome creative outlet and is in charge of photography and content creation, while June handles operations.
From coffee ASMR to slow living rituals and the occasional earth-toned faceless OOTD, June & July is IG eye candy. Their cozy aesthetic is mainly shaped by a shared interest in architecture and interior design, finding inspiration in travel, and building urban sanctuaries. "We love going to artisan shops/indie spots abroad which have a really comforting and pleasing feeling—this makes us want to recreate that feeling at home and [for] life in general." They are also heavily influenced by Korean and Japanese lifestyles. "We admire how they live intentionally and make their home a place where they can say that it's their 'sanctuary.'  We love watching vlogs as well; seeing how they live and how they enjoy the simple moments in life makes us reflect on our own."
June adds, "For me, I've always loved life in the province. My family would usually visit our relatives in the province every summer when we were young. I have always loved how slowly time goes by there. I also admire how they seem to manage work-life balance; working, but still having time to lounge and enjoy the company of others."
ANONYMOUS
"Anong gimmick na naman yan," some people say when they stumble upon June & July's faceless posts. But believe it or not, the anonymous concept happened organically, not as an affectation. Reclusive by nature, the couple wanted the focus to be on the products and a kind of lifestyle anyone could imagine for themselves.
"Si June kasi yung person na hindi siya showy ever since—kahit sa personal life, so ako yung nagpupush sa kanya, kasi nakikita ko yung potential niya na hindi niya pinapakita sa iba," shares July. So for June & July, June attests, "Ayoko talagang magpakita. I just wanted to share what we do everyday [to show the products], but not to make it all about us. We want you to visualize yourself using the items." A welcome note to their store sums it up: "We hope that our collections inspire you to make your home a story of who you are, and be a collection of what you love."
It's a refreshing move in an era obsessed with how you look on social media (for the record, they are adorable). Ironically, the fact that they didn't want to draw attention to themselves has only intrigued people more.
"At first, our posts were mostly pouring videos at cafés. Then there was a time na pinicturan naming yung mirror, pero hindi kita yung face—doon nagkaroon ng interaction." The sneaky mirror selfie led to a sudden spike in followers, and they also noticed increased engagement when they talked about their jujuhome renovation and wedding preps (see progress updates in their IG highlights).
"I would post na ang hirap to plan during a pandemic, and may mga brides na lumalapit who would ask, paano kayo magpaplan?" shares June. Little by little, they started sharing their personal experiences while still maintaining anonymity, connecting with their growing community. "Doon nila nakilala kung sino talaga kami. Yun yung may personality na, ganito siya, ganito ako. Kaya ang tawag nila sa amin, Miss June, Mr. July."
HATERS WILL BE HATERS
Though the anonymous concept is common in Korean blogs, it's quite novel here. And as the account grew more popular, so did the criticism. "People will say, nagpopost kayo online, pero ayaw niyo ipakita kung sino kayo. Nacoconfuse sila na sobrang conflicting ang idea."
Do they get offended? "Not so much; we know that everyone has a different perspective. We shouldn't take offense with someone's comment after seeing us once; so we're really thankful to the community that reaches out to us, because they get us. They're the ones we should consider when we post. So yung mga iba, ok lang. Kung hater, hater," says June with equanimity.
With 25k followers to date, the attention is so unexpected for a couple who pretty much keep to themselves. "I haven't really gotten used to it, but I'm always happy with the content we share," shares July. "It's also an outlet to express ourselves and connect with people, kahit online lang."
June agrees, "Nakakatuwa na may nag cheecheer on for us, kahit hindi niyo kilala. Yun ang pinaka-fulfilling sa ginagawa namin. Minsan, nagkwekwento na sila. Yan yung conflict—you want to get to know them on a personal level, and yet, you don't want to get too… close." (Nervous laugh)
THE INTROVERT DILEMMA
Heart beating fast, mind going blank, forgetting how to breathe, face turning red… June describes what happens when the spotlight is on her. And like a true introvert, extended contact and communication with others severely drains her energy.
"It's funny how we got into this because June wanted to be behind the scenes. Pero minsan ang hirap din. Even though you don't see her face, she's the one in front of the camera, and who deals with inquiries and customer service, so napapagod siya." Their inbox is now so full—not only with inquiries and orders, but also followers simply wanting to say hi, that they can no longer reply to everyone.
July shares, "Safe space nila kami; some make kwento or even rant about their life issues. Parang nagiging online friend na sila. Nakakatuwa kasi bihira ang ganoon, na magconnect with other people na wala kaming mga faces. We were thinking of hiring staff to help us out eventually, but it makes us think: will the dynamic still be the same when we're not the ones who talk to the customers personally?"
ACCIDENTAL INFLUENCERS
Though June & July is mainly a shop of their curated finds and MTO home pieces, sometimes they help plug other brands they simply love. "We also wanted to help other people, kaya we feature other brands so it can be one community that helps each other out."
And as their popularity grows, so do the offers for collabs. July reiterates, "We're not used to it. We're just normal people na…" June continues sheepishly: "… na parang accidental influencers!"
"Kakahiya na kukuha ka ng gamit na hindi mo naman talagang gusto," says June, so they limit features to items they like and personally use. "It's very hard to decline, kasi nag-start rin kami sa bottom, kami yung nag-rereach out sa iba. So if ever we accept collabs, we make sure na quality talaga. We're not just posting and tagging lang."
PANDEMIC WEDDING
Apart from starting a new business during the pandemic, this pair of reclusive rebels also managed to plan a wedding! "Sa Chinese, di ba there are auspicious dates? So the date was really locked in already."
It was definitely a challenge, but the key to pulling it off was being flexible, allowing for compromise, and putting trust in their event partners. "We just went with the flow—ang hirap maging control freak sa wedding day mo pag di mo alam kung ano ang mangyayari."
June adds, "You know how girls usually imagine their wedding to the last detail? Ako, sobrang wala akong maimagine. Kung ano nalang ang meron, yun na 'yon. But the non-negotiables were the church (St. Benedict in Silang, Cavite), reception (Narra Hill), and wedding gown (Anthony Ramirez). And the flow of the wedding—ayaw namin na super structured." Everything else, they left in the care of the wedding coordinator, event stylist, and event partners. Talk about #bridechilla!
"In terms of design, we just sent them pegs, tapos sila na ang bahala mag set-up. Kasi kinuha naming sila for the creativity, di ba? So dapat trust mo. Sa photo and video, we just explained the concept we wanted, and gave them the freedom to execute it. Hindi naming kinontrol masyado."
Because of COVID-19 restrictions as well as concern for the safety of their guests, the wedding party was whittled down to a mere 24 invitees. "Immediate families nalang and one set of ninang and ninong each, and close friends," shares June. "Traditionally, Chinese weddings are big talaga, right?" Figuring out how to keep it small without offending anyone was a source of tension, but it eventually worked out—in some ways, even better than they had hoped. "Super nag enjoy kami na intimate lang, kasi ayaw ko talaga na center of attention ako," says June.
"For us, memories mo nalang yun, e. Nagwedding ka, for you, not for other people to see it. So enjoy nalang throughout the day."
FACELESS WEDDING PHOTOS
In true June & July fashion, even majority of their wedding photos were faceless. What did the relatives think? "Bakit parang multo?" was the general reaction. "They do understand that we aren't showy. Pero hindi talaga nila type," July laughs.
June explains, "10 years rin kami magkasama, and we always travel together, so we already have lots of photos together. For our wedding, we wanted a new concept. Super nice rin na sila Mico [Gonzales] ang nag-shoot, kasi na understand nila yung art behind it." (Note: Mico shot our feature with our OG Hinhin girl Reese)
July adds, "Sabi ni Mico, it's very generic, but unique. Nagiging immersed ang audience namin na hindi kita ang faces; nagkakaroon ng connection na nafefeel nila na sila yun. So that's what made us realize that it can be inspiring rin. Nakakatawa yung mga reactions ng Instagram vs. Facebook vs. Tiktok. Sa IG, sobrang naapreciate nila. Sa Facebook, ang mga comments: 'Baka kabit!'"
AT HOME WITH JUNE & JULY
For your daily fix of calm, put on their playlist (jujuchill on Spotify) and peek into their stories, which turn even the most mundane tasks into mindful moments. June & July invite people to enjoy an "aesthetic" lifestyle—one even they themselves aspire to.
"Our normal days aren't aesthetic all the time," July admits. June shares, "During workdays (at their Binondo office), it's not always so calm but we do try to keep a positive mindset! Finding little joys in between keeps us sane. For me, the routine of the operations like writing down names and packing orders feels so therapeutic. July enjoys making content, finding something to do with his creativity makes him happy."
On weekends, they cocoon in their cozy new apartment. "Parang Airbnb!" June giggles. "Homey siya, na ayaw mo nang gumalaw." The space is a happy marriage of both their styles—his minimalist and clean aesthetic, and her dreamy, rustic touch. "Collaboration talaga. It's not a look that we can easily define—say, Japanese minimalist—hindi ganoon ka simple. Chopsuey, ha ha! Whatever we like, we [infuse in the space and] make it work."
Their favorite June & July piece at home? "Pinakalove naming yung [Nami Rattan] chairs. We've brought them everywhere—our pre-nup, our wedding… so there's a story behind them. We brought them home and now use it in our dining area; at first we weren't sure if it would be bagay, but it works surprisingly well."
Settling blissfully into their honeymoon phase, they relish their quiet time at home. "Our rituals usually include: brewing coffee in the morning, watching the sunsets from the balcony on weekends, and lighting a candle at night. There's also something so calming about cleaning the house. It feels very therapeutic, even if we're just fixing our bed, cleaning the dishes, or vacuuming the floor. Chores won't feel like chores if you don't think of them as work. Hahaha does that make sense?" Absolutely.
When they get a chance to go out, they like going to cafés or visiting their families and playing with their furbabies.
July admits, "Actually during weekends, we also shoot for content. So that's the disadvantage of mixing our personal lives with June & July. Hindi namin alam if this will be content or not, so we always just take pictures in case kailangan gamitin." Everything is content!
WHAT'S NEXT
"We dream of having a café—but how do we do it without actually being there and people finding out who we are? Conflicting talaga!"
They're also toying with the idea of June & July Spaces, where July can maximize his architecture skills and June can get creative with styling interiors. But again, the introvert dilemma: "Bumabalik sa path ng service and dealing with clients in person, which is what we wanted to avoid…" But it's something they're putting out into the universe anyway.
With their introverted but self-assured "You and me against the world" philosophy, they know they'll eventually pull it off if they do it together. One thing the pandemic taught them was that each person has their own pace, and things fall into place at the right time.
"Actually, mas naaunderstand niya ako now," says June. "Before, he used to push me na makipagusap sa iba… pero now, he understands me more and says, if you don't feel like talking to people, it's ok, take your time."
From high school besties-turned-sweethearts, to business partners, and now husband and wife, what's the secret to their steady, supportive 10-year relationship?
June shares, "Patience, and understanding the feelings of your partner. Pero hindi kami magkasundo all the time, ha! But the times when we fight, kailangan i-understand mo ang point of view niya."
July adds: "Give and take. And to be open, open sa lahat. Pag may one thing na tinatago ka, hindi nagiging truthful ang relationship mo."
EXTRAORDINARY ORDINARY DAYS
"I think being contented with what you do—yun yung essence ng pagiging extraordinary yung ordinary day mo. Hindi mo siya kailangan isipin na palaging may special… hindi talaga ganyan ang life, eh," says June.
"Being content doesn't mean you don't have goals anymore. But it's striving for perfection that's keeping us from being happy in this world. It's hard to keep up when you're physically and mentally tired, so reminding yourself to be happy and content with what you already have now is important. When you do, you'll always have exactly what you need."
Their content is contentment, and June & July embody it so authentically that it resonates universally, especially in these uncertain times. "What we realized recently is that being yourself is extraordinary on its own. Embracing who you are can make so much of an impact on other people as well. We never imagined anyone would be interested in what we do, but people still get to relate to you. It's comforting to know that someone out there connects with you."
"I think we also just realized last year that we're okay with the simple things. We just enjoy each other's company whether it be work or doing nothing at home. Even just each other's mere presence without the need to talk is already so comforting." Extraordinary ordinary days, indeed.
June is wearing our Tala Dress in Beige and Muni Dress in White. Visit their website here.