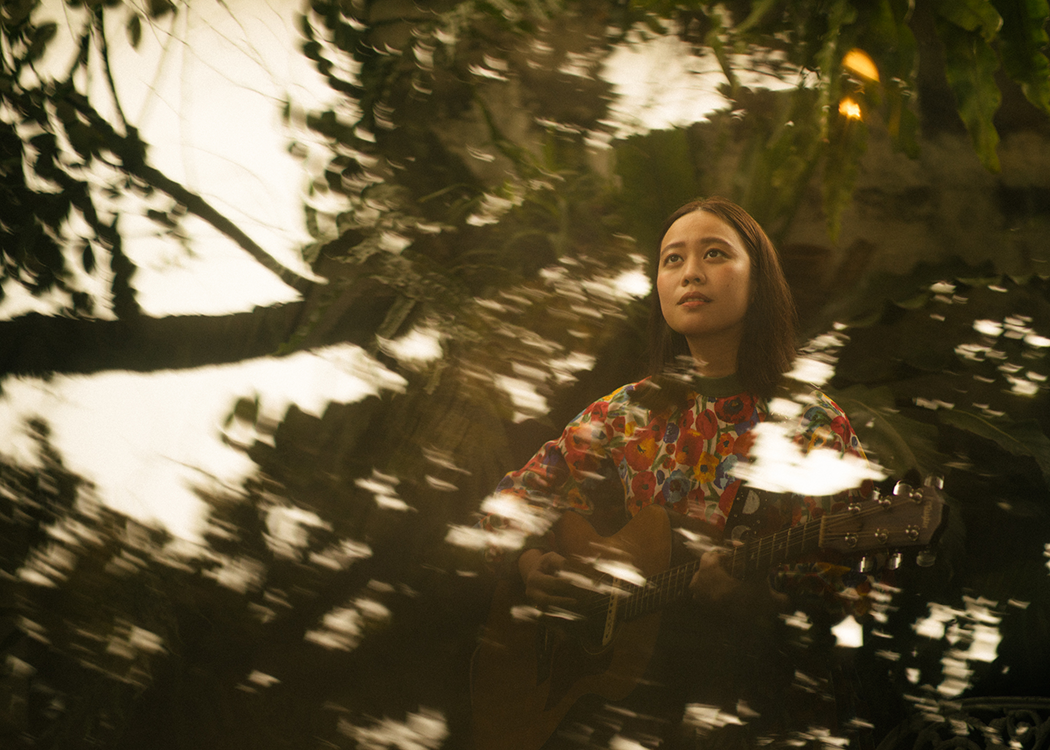 Shoot for the Moon: Multi-talented artist Reese Lansangan opens up about finding the courage to sing, putting herself out there, and the story behind "Tenderfoot"
PHOTOGRAPHY MICO GONZALES
STYLING TRICIA GOSINGTIAN

SHOT ON LOCATION AT TERRACE 45
"In high school, I hid my singing talent, I don't know why; I guess I was afraid of failing," reveals indie singer/songwriter Reese Lansangan, one of the most gifted artists in the music scene today. She's practically the local poster girl for self-made YouTube stars, performed countless gigs, and even opened for Paramore in front of thousands at the Mall of Asia arena—who would've guessed she was once too bashful to be heard?
"My dad's family is musical; they all play musical instruments, or at the very least, sing. We'd sing in family reunions and they'd always give me the videoke and I hated it—I was shy and I didn't want to perform, but they would bribe me with one hundred pesos," Reese reveals. But in private, she loved singing along when her dad would play the guitar, and when he passed away when she was nine, she only withdrew further into her shell.
Her supportive mom enrolled Reese and her younger sister Denice in music lessons, but recitals only exacerbated her performance anxiety. "I would get really nervous and my hands would clam up, so I'd have to sit on them to warm them." 
For most of her school life, she was known for her talent in writing, not in singing. "I really wanted to write music, to perform it, but I've always stayed inside my shell. And then I saw School of Rock—they're very young kids and they're the ones really playing the instruments." Seeing the scene of the kids killing it onstage and the audience loving it was lifechanging. "It made me pick up a guitar again and perform in front of people."
In college, she joined the Ateneo Musicians' Pool, and thanks to the encouragement of upperclassmen, Reese formed a music duo with a friend. "It was supposed to be just for one night, but we had such great songwriting chemistry so we became an indiepop duo called Reese and Vica." Sharing the spotlight helped her overcome her inhibitions, and eventually, Reese was ready to shine on her own.
Arigato, Internet
Reese often writes her songs in her home studio/creative cave, which she's filled to the brim with inspiring art, books, nostalgic toys, and collectibles. "Because of YouTube, I saw how singing/songwriting can be achievable by any normal person. I used to think that a career in music was for rockstars, people who are bigtime and have labels and stuff, but I saw young girls like me singing and writing their own songs and recording them on YouTube and I thought, I have a mike and a webcam, I could do that."
Joining the famed Elements Music Camp in 2013 under the tutelege of OPM greats was a defining moment. "My mentors there, like Ryan Cayabyab, Jim Paredes, Chito Miranda of Parokya ni Edgar, and Jay Contreras of Kamikazee helped propel my momentum to record." They found her audition song about space and the universe unique, and encouraged her to release it. "That was the push that I needed, because I was just considering recording it at home, burning it, and giving CDs to my friends. And when I recorded it, I did it by myself—I had no management, no label, I scouted for interns online, and some friends helped me. After that, it started becoming a career for me."
Ironically, she admits that if she released her first (solo) album now, it wouldn't be called Arigato Internet! "The landscape is very weird right now—very evil, sometimes; so I don't find myself thanking it as often as I used to." Like the mirrored funhouse in a circus, it can magnify and distort how others see you, and even your own self-image. Imagine, one flaw being magnified and reflected to infinity? "[Being trolled] just happened to me twice, and it's a scary thing. It wasn't sobrang unforgivable, but it was enough to traumatize me. I can only imagine what others feel," shares Reese.
If she has offended people, Reese shares that she will readily own up to it or seek their point of view. "But for trolls who just want to tear you down, just because—I tend to tune it out. If you don't really have a good sense of self, just one negative comment can really bring you down. It can really plant a seed in you; you don't need that kind of self-doubt," she shares. "But of course, feedback is important. I just try to keep a balance between getting constructive criticism and filtering out what's not relevant."
On her first brush with haters: "I was living in a smaller bubble surrounded by good friends where I just heard good things about myself; I think that's true for a lot of creative people. Of course when you hear your first negative comments, you're like, oh my God, am I not good? Am I a failure? But that's the way of the world. No matter who you are, there will always be somebody who won't be so happy about what you're doing. You just kind of learn to accept it—just focus on what really matters, and why you're doing the work anyway."
Heart On Her Sleeve
Knowing the perils of putting herself out there, how vulnerable does Reese allow herself to be? "With my songs, I really give as much as I can. It's my way of understanding myself, it's my way of preserving my experience." Perhaps her only hesitation comes from worrying about how her own family will react. "It's nakakaconscious what my mom will think. But I know that writing about heartbreak or happiness, it's universal feelings that people can identify with," Reese shares. "And if it's attacked, I know it's something I can stand by. It's not an attack on me; they can attack my songwriting skill, but not my experiences. It's my truth."
While she has no qualms baring her soul in her songs, she admits that sharing her life on social media can stress her out. "As a musician, you're expected to keep in touch, be visible, and there's that pressure on yourself to stay on people's minds even if you're not releasing music. But I've already reckoned with that. When I don't feel like it, I don't."
"Kultura natin na 'pics or it didn't happen,' but that's not true. It doesn't take away from me experiencing something. Sometimes, I can't help but feel, oh, I didn't post this cool experience and now lipas na siya, but you kind of have to self-check: why are you posting ba? Why are you sharing these things? Does it make you happy? If it does, then i-habol mo nalang. I just really have to go back to [the true intention of] why I do things."
She's become more mindful of her presence on social media, usually only posting to promote something or when she wants to share an experience that's really relevant to her. "I really am forgiving of myself if I don't look at my Twitter for weeks. It can stress me out, and I need to protect my headspace. And if people don't remember me, then fine. I can only do so much. And I hope that the music that I write will carry me through."
Multiverse
These days, Reese may be best known for her music, but this multi-hypenate is also a graphic artist, fashion designer, and author, largely thanks to a creative and supportive childhood environment that made her feel like she could accomplish anything. "At an early age, my parents encouraged me to express myself artistically." They would buy her books and art materials, and her mom would declare every Saturday as crafts day. At the precocious age of eight, she was already asking for oil paints. "I painted still life, and even if it wasn't good, they framed it like it was a masterpiece. I always felt validated, and I think that's something I carried through as I grew older." 
From the retro collectibles that grace her room, to videos like Grammar Nazi, The Chase, and the recent Jealousy Is A Familiar Friend, nostalgia plays a very big part in Reese's aesthetic. "We're lucky that we got to live in that era where we transitioned from the analog to the digital—we got the best of both worlds. We got the discipline to research in the library on our own, or find out how something works by reading and actually referencing encyclopedias for homework and not just Wikipedia. But also, we were beginning to explore the Internet and appreciate the magic of it."
Up, Up, and Away
At gigs, she is often approached by fans who share that her songs help them overcome depression, anxiety attacks, or even get through suicidal tendencies. "It's humbling but also very very scary, to be told that information and feel like you have to lift them up and get them out of that dark place. Most of the time, I don't really know what to say. So I figured, I should write a song about this." And that's how the body positive song "Tenderfoot" came about. 
"It first started as a song about people telling me stories, but I realized, I had stuff to say about myself, too. The first line, I feel a weight that's heavier these days—I've been feeling that because I feel like I've gained so much weight in the past few years. It won't be recognizable to other people, and they may feel like, ano ba yan, but it's true to me—I can't wear the things that I used to wear, I can't express myself in fashion the way I used to be able to do, and when I perform, I kind of feel conscious."
"It comes from a personal place that I'm scrutinizing the changes in me, and so the song eventually became about my issues about my weight, my body, which is something that I know a lot of people also struggle with. The song also became about wanting to lose weight by different (and self-destructive) means, which is something I haven't personally experienced but has been relayed to me by other people. And then, it progressed into reframing the perspective—you acknowledge that you feel that way, but also, try to think that what really matters is that your body is working, you can think, and that you're still alive."
Reese gets to the heart of the matter in the line: "It's not what people see, it's the mind inside of me that weighs me down." She shares, "No matter what other people say, you can rise above it with your mind; it's a reminder also that you can fight it. And that line, 'Each day I'll try to do it better'—it applies to everything that you do." Revealing that this is the first time she's opened up about her issues with her body, she shares, "I hope that the song encourages people to be reflective and not be so hard on themselves. To take care themselves, their mental, physical, spiritual, and emotional health—we have to pay attention to these things."
The same way the School of Rock kids get energized by a live audience, the ultimate joy of performing for Reese is getting to connect with her fans IRL. "Once people come to your gigs and you see the faces behind the listeners, you'll really figure out that they are real people with stories. It really moves you." As she shared some encounters, one instance in particular made her (and us) tear up. "There was one fan who was taking care of her brother in the hospital, and every time she had a reliever, she'd go to my gig. Eventually, one day she came and told me her brother had passed away. Naiyak ako. And for her to find time to go [to my gigs] and to know it made her feel better... it's really touching and I can't imagine going through something like that. Finding comfort in music is a gift; and some days more than others, it really reminds me of my purpose."
True Swiftie
Beyond the witty wordplay and sweet, soulful vocals, Reese has grown into a go-getter with guts. Asked if she's afraid that the guys she dates will be concerned about appearing in her songs the way Taylor Swift's boyfriends inevitably do, she replies, Sabi nga ni Lorde, 'Bet you rue the day that you kissed a writer in the dark.' But seriously, I'm not afraid of that—it comes with the territory, you have human emotions. If guys fear that, then they will miss out on the experience of dating me. Joke lang!" 
She adds, "It's sad that Taylor Swift got that kind of criticism because it's nothing to be criticized about. She just writes songs on her real experiences, and if she made money off of it, that's so smart. It should be commended—good on you girl, nasaktan ka nga, ikinayaman mo pa, sobrang galing mo. She's one of my biggest idols. I love how she takes control."
Interstellar
The best advice she's been given? "Growing up, I've always looked up to my artistic cousin Meghan. One time, she told me, 'You have to focus on "doing," the verb, rather than "being," the noun. You shouldn't be fixated on being a painter, or an illustrator, or a musician... You should just do—just paint, just sing.' Hearing that takes away the pressure of being boxed in, which I sometimes feel. When I adopted that mindset, I felt freer to explore other avenues of creativity."
Case in point: though she doesn't consider herself a poet, she co-wrote two poetry books (In Case You Come Back and The Maps That Contain Us) with Marla Miniano. "Before, I would've doubted myself, worry that will people say I'm not a poetry writer. But now, if the opportunity presents itself and I feel I'm up for the challenge, I take it, and always learn from the experience. I have this game mindset when comes to creative work—if I can wrap my head around it, I probably can do it. Except for dancing. But then again, I danced in my latest video (Jealousy Is A Familiar Friend) anyway!" 
The author Norman Vincent Peale once said: Shoot for the moon, even if you miss, you'll land among the stars. And that's exactly what Reese is doing, brilliantly.
Icebreakers
Want to say hi to Reese at a gig? Break the ice by talking about:
✿ Space Exploration: She's fascinated by it and references often appear in her work
✿ Dream collabs: Imogen Heap, Regina Spektor, Taylor Swift (of course), as well as Tom Sachs ("he's a sculptor/artist with a fascination for space) and Adam Savage of MythBusters ("He's an intense, obsessive guy and I'd love to be able to fix my studio with him because he's big on accessibility and things working most efficiently for your use")
✿ Books! "I love fiction, non-fiction, design books, Lemony Snicket, Harry Potter, Roald Dahl, House of Leaves, Battle Royale, Haruki Murakami's IQ84, Little Women—whenever I think I need to exercise grace, I think of Little Women... I can go on and on!"
Follow Reese on Youtube and Spotify.