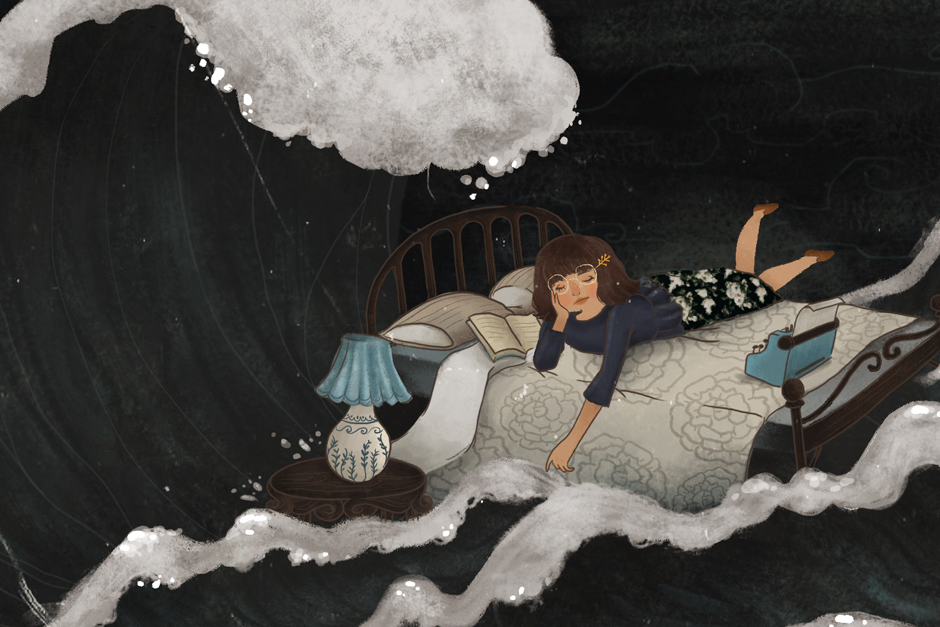 My Life in Grief
Whether it's losing a job, the end of a friendship, or the death of a loved one, dealing with loss is a different journey for everyone. Macy Alcaraz opens up about how grief taught her not so much about moving on, but moving forward.
TEXT MACY ALCARAZ
ART DIANNE BUTIAL
I was 25 when I lost my mother to liver cirrhosis. Up until then, we believed she was getting better. I spent a week with her in Olongapo at a natural healing clinic that looked like an abandoned school. We spent Christmas there—our last one together it would turn out.
Mommy was always on top of things ever since my dad suffered a stroke due to an aneurysm in 1999. The hemorrhage on the left side of his brain rendered him half-paralyzed on his right side. She was running our laundry business, taking care of tenants in our building along Rosa Alvero, and managing our household all by herself. That's not to say she was all business and no pleasure. She had time to see her barkada and hear mass every morning. Mommy also made sure we had everything we needed.
I remember she would always exclaim in frustration when my brothers and I would sit around doing nothing during the weekend—ignoring her pleas of giving my dad a bath or washing the dishes—what will you do without me? We would of course sigh and roll our eyes and do whatever it was we were asked to without really giving much thought to this question.
When she died, we had to learn the hard way. We would later on find out that maybe she wasn't completely on top of things. Our finances were not that great, and our house was going to be repossessed due to an unpaid mortgage. She was struggling to make ends meet, but she never once let us know any of this. She made sure we had a roof over our head and three meals a day. She took care of all of us until, well, she couldn't anymore.
Since my father had already stopped working since his stroke, my brothers and I had to figure out our finances. We moved out of the home we grew up in and suddenly, we were squatters in a home that wasn't our own. Somehow, we managed to make things work. A few years later, due to unforeseen circumstances, we moved out again and started renting a house that was in our old neighborhood. It felt like coming home.
Two years ago, I lost my job. I was 34, a month shy of turning 35. I was the editor of a teen website for 12 years. I couldn't imagine myself working anywhere else. Each time someone would reach out to ask me if I were interested in joining their company, I would automatically reply, I'm happy here. And it was the truth. Working there was simply a joy. I never felt like I was forcing myself to get to work every morning. I loved the people I was working with, too. It was a dream job.
When I was told that there was no longer space for me at this new version of the brand, I felt like a rug had been pulled from under me. There were all these signs that gave me some sort of warning, but when it happened, it still felt like I was blindsided. My first reaction was anger, rage. I couldn't understand why this was happening to me. I was such a loyal employee, giving my 100% to this job. How did it end up this way?
Then as if that wasn't enough, I found out that certain people I trusted had been saying terrible things about me behind my back. Suddenly, I was questioning everything I had come to love in the past decade. Did I really love my job and the people I worked with? Were they just pretending all this time? Was everything a lie? Why did I even stay here all these years? Why was this happening to me?
I was in a pretty dark place in those couple of months. I felt like everything that I had equated to "me" suddenly vanished. I began doubting myself and blamed myself for everything that had happened. Maybe I wasn't a good boss; maybe I wasn't a good friend; maybe I just wasn't good enough, period.
I started to become wary of the people I would hang out with. I only opened up to a handful of people, not quite sure if I could trust them, either. I spent days at home with my dad, cooking for him. I wrote articles for anyone who would ask me, so I could somehow earn money while figuring out my life. I was floating, lost.
Eventually, I decided not to go back to a full-time job. I updated my resumé for the first time in 12 years. I got to know myself again and figured out what my strengths were. What was I really good at? What else can I do? I took on a few copywriting projects and signed on for a 6-month consultancy for a different publisher. It was a daunting task for me because it was like starting from scratch.
In the next couple of months, I learned how to adapt to new ways of working. I figured out how to treat work as work and not as something that defined me. There were so many more parts of me that were left hidden all these years. Maybe if I hadn't been let go, I wouldn't have discovered them.
I designed my first collection of dainty hair accessories. I wrote for a campaign that invested in the future of young Pinays. I lent my hands to video demos for a food website. I started a newsletter with my friends. I built my own website after years of building someone else's.
Finally, I was in a place where I was comfortable with who I was becoming. I was no longer resentful, and I learned to trust in people again. I was more intentional in my decisions. Why was I doing this? Why am I spending time with these people? I became more mindful of the kind of environment I allowed myself to be in. And it changed the way I looked at everything. I appreciated my wins even more because I had gone through so many failures before I achieved them. I decided that the growth that came out of a very painful time in my life was worth it. I wouldn't be here if it wasn't.
Earlier this year, I lost my dad. We knew that this time would come eventually, but it still didn't seem like we were ready for it. We had just started a new holiday tradition and checked into a hotel just a few weeks before during Christmas. He attended our annual family reunion. I had even accompanied him to the dentist to pick up his new dentures the day before he died.
And yet, the next morning, he was gone. In the same emergency room, where just 11 years ago, they were reviving Mommy. I rushed into the ER to find my brother Manu quietly sobbing. I saw Daddy on the hospital bed, a nurse pumping on his chest to revive him. At 36, I found myself kneeling by the bed and crying like a baby, as if that could wake him up. He was lifeless.
We held him for as long as we could, and at the same time, we already started making arrangements for the wake. This time around, it seemed like we were prepared. We had lost touch with most of Daddy's friends, so unlike my mother's wake, there were no friends to sponsor meals or contact priests. And yet, somehow, that afternoon, our handsome father was in the Assumption chapel of our old parish, the same chapel where 11 years ago, my mother was also lying in. My brothers and I figured things out. We took care of each other.
I want to say that you get better at dealing with loss each time it happens, but that wouldn't be true. Each loss still gives you a piercing pain in your heart that no amount of "Condolences" or "I'm sorry for your loss" can comfort. You'll still cry harder than the last time. You'll still sit in a daze, not realizing you haven't eaten for hours. You'll still blame yourself for things that are simply out of your control. You'll find yourself months later, sobbing uncontrollably—sometimes without any trigger at all. You'll find that the wound can still be as fresh just when you thought it had already healed.
But what I can say is that you'll figure out a process that works for you, building up the steps each time you experience a loss. You'll learn that it's okay to cry. It's okay to be vulnerable. It's okay to allow yourself to be sad. It's important that you acknowledge that the losses in your life have become part of who you are. And that you wouldn't be the person you are now, if you didn't go through them.
They say that grief comes in waves, and I couldn't have said it better. The trick to dealing with grief is learning how to ride it. Because when you finally find your stride, you'll learn that the only way to deal with it is to move forward.
Guest contributor Macy Alcaraz is a freelance writer, editor, and digital strategist. She'll always be a web girl.