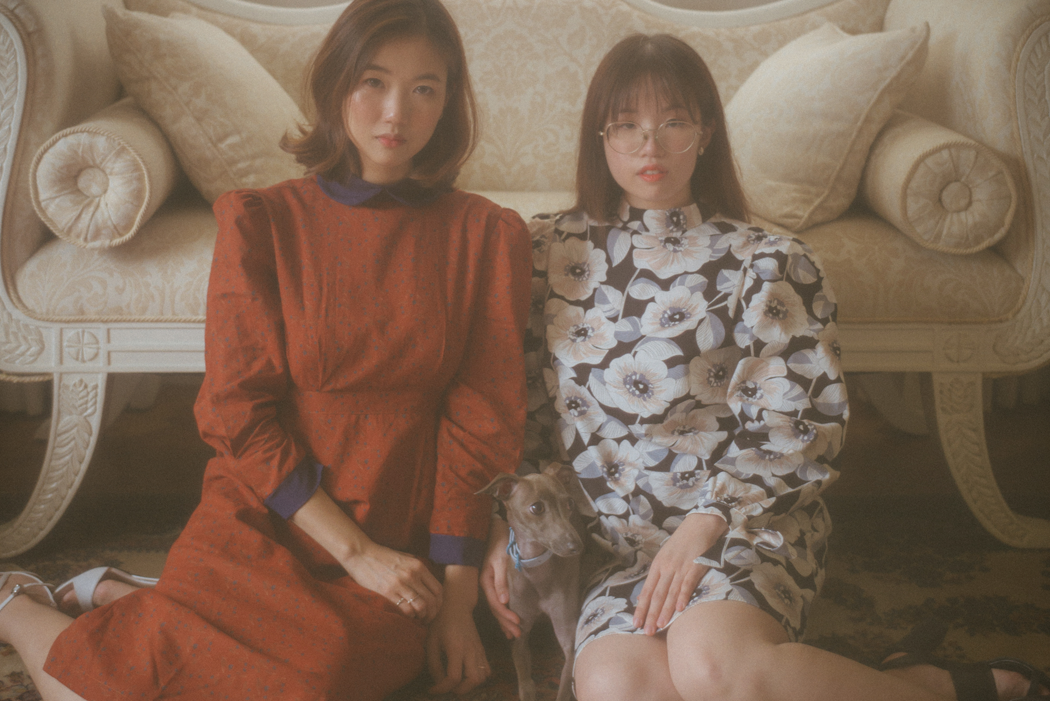 The Dollhouse: Dainty rebels Valerie and Veronica Chua on growing up as frenemies, their creative journey, and pets as anti-depressants
As we step into the Chua family home, classical music greets us as two fluffy bunnies and a sleek greyhound scamper past old-world furniture, following porcelain-skinned sisters Valerie and Veronica wherever they go. One can already imagine how growing up in this idyllic space has influenced Valerie's paintings and Veronica's feminine, vintage-inspired fashion designs. But life wasn't always a fairytale for these creative introverts.
PHOTOGRAPHY/STYLING TRICIA GOSINGTIAN
SECRET IDENTITY
"When I was young, no one wanted to be friends with me," shares Veronica, the 26-year-old up-and-coming fashion designer behind the prèt-a-porter brand Versai (@versai.officiel). "I was so awkward and meek; I had extremely bad social skills and my classmates avoided me, so I didn't really have friends until about the third grade. I couldn't connect with my relatives either, so it was pretty lonely growing up."
It didn't help that her sister Valerie, who was five years older, was terribly quiet herself. Even if they shared a room growing up, it was like they were living in separate worlds. "Suuuper introvert ako. I like being alone," shares Valerie, an artist with a phenomenal fan base on Instagram (@valeriechuaart).
It wasn't until Veronica stumbled upon online gaming that she began to feel like she belonged. "There was no initial judgment when it came to appearance and no one cared if you were quiet as long as you played well. Strangely enough, I learned how to connect with people and have better social skills; now, a lot of my close friends are from those games."
The virtual world is also where Valerie blossomed, especially as an artist. As the original Quiet Girl (the name of her old blog), she would post her work the art platform DeviantArt, where she quickly gained a following for her surreal black and white illustrations ("I was into David Mack and Yoshitaka Amano when I was 14"), and later on, ethereal watercolors inspired by the Mori Girl subculture. "On DeviantArt, people pay attention to your talent without really knowing who you are. It was like having a hidden life online. Now, everyone shares everything on Instagram, which is OK, too, but sometimes, kakamiss the days when there was a boundary between work and private life." (Incidentally, DeviantArt is where she first struck up a friendship with Hinhin founder/creative director Tricia Gosingtian, long before they met IRL.)
FRENEMIES
"Makikita ko nalang [suot niya] sa Instagram—huy, akin yan ah!" laughs Valerie, mock complaining that Veronica is constantly raiding her closet. There's a friendly banter between the sisters now, but they candidly admit there was much sibling drama growing up, with Valerie pulling pranks like pouring stinky black ink into her sister's cabinet drawers. "I had the biggest grudge against her," complains Veronica. Who knew she would lovingly design her sister's wedding dress one day?
Valerie rushes to explain: "When I was about five, I was so lonely that I told my parents to make a kid. Parang vendo machine, press baby," she jokes. But when Veronica was born, she was consistently showered with so much attention by everyone, plus their nanny was deliberately mean to Valerie—so much so, that Valerie developed a trauma, came to resent her little sister, and retaliated with passive-aggressive bullying. Not a proud moment, she now admits.
The fighting got so intense that they eventually had to be given separate rooms. Ironically, it was when there was physical distance between them that they started to seek each other out. "That was the time we started watching shows together while food-tripping—cartoons, animé, Japanese dramas." Why the change of heart? "We grew up."
CREATIVE JOURNEY
"I didn't pursue Fine Arts in college—I actually took up Humanities, but on the side I was already doing art commissions," shares Valerie. After graduating, she worked as a commercial artist doing commissioned work for brands and agencies, before transitioning to fine art after painter Jason Montinola scouted her online and encouraged her to try doing oil instead of watercolor. From her signature dreamy watercolors, her work has shifted to darker pieces, stamped with self-assurance and gravitas.
"When you're growing up as an artist, you're constantly finding your style and genre. You also become conscious of how viewers receive your work. No one was doing it [the Mori Girl inspired romantic watercolors] before, so it became a hit on social media and it was easy to incorporate the genre for packaging design and portrait illustration, and even in my fashion. I felt flattered when people told me I looked like Aoi Yu. I got too comfortable with it, and even as I was improving technically, I wasn't evolving." Itching to explore another style but worried about letting go of her trademark aesthetic, it took Valerie over a year to finally go for it. "Letting go was a relief despite the loss of social acceptance, income, fans, etc. I think I've always wanted to do more serious work, and the realization that my identity shouldn't be exclusively tied to my work gave me a sense of relief and happiness toward how I view life."
"My current body of work is about the romanticism of accounts or evidence, and the fallibility of the human mind in piecing together information. I often work with open source archives and manipulate them into a very decorative way, or sometimes I intentionally fragment the source material." When it comes to inspiration for her work, authenticity is key. "I always remember what my mentor said: 'Your work should reflect your life now. If people look at your work and ask you why you are doing this, they should be able to see it in the way you live.'"
Meanwhile, when it was time for Veronica to head to college, she initially considered pursuing Fine Arts, but was discouraged after witnessing her sister's [early] struggles. "She's very hard on herself and would always be frustrated with her work, and I'd get the end of her galit!" That happened to be the year Alexander McQueen passed away, and when Veronica came across his work in public tributes, she was in such awe that she decided she would pursue fashion design. And so she did.
Thanks to word-of-mouth recommendations from happy clients, Veronica is slowly but surely gaining a reputation for her feminine yet functional designs. "I'm often inspired by vintage 1950s looks, and my mom's Victorian aesthetic." She also enjoys creating her own prints, but unfortunately it's too expensive to be sustainable. And while she often designs to suit her client's taste, she does her best work when she's given free reign, like when she designed her sister's minimalist but dreamy bridal gown. Valerie shares, "I trust her design sense and told her to do what she wanted; I just mentioned that the wedding would be held outdoors in a forested area. I loved what she made, especially the cloth trailing from the shoulders." Next year, Veronica plans to focus solely on bridal gowns, which she foresees will be even more challenging yet creatively satisfying.
SOMEBUNNY TO LOVE
We're shooting Veronica by the window seat, and she visibly relaxes once she's joined by her bunnies. "Lexi and Momo are my babies! They are sort of my anti-depressants and they help me unwind when I'm stressed at work," she gushes. "Sometimes, I go take a nap with them—just about 30 minutes max since they can't hold their pee long, haha! I enjoy their company while I'm sewing."
Both avid animal lovers, the sisters spazz out by making animal sounds when they're together. "My fondest childhood memories were always related to animals, like going to the zoo with my parents and sister in Tagaytay. This extends to insects as well, and a lot of my work is inspired by nature because of that," shares Veronica.
Meanwhile, Valerie's Italian Greyhound Sasha is practically her shadow. "I always see Sasha as a great therapy dog. She has separation anxiety and needs to follow me wherever I go," she smiles. "I realized that since she arrived, my self-talk has greatly improved. I give Sasha so many compliments in a day—'Yay' or 'Good girl' or 'I love you!'--that it almost feels as if I'm telling it to myself." Since Valerie pretty much works alone in a studio all day, Sasha brings great comfort. "Her presence defers negative thoughts/brooding and turns it into a positive vocalization."
SOCIAL ANXIETIES
"I used to vehemently dislike social events. I have the tendency to overfilter and overanalyze due to the fear of saying something wrong," Valerie confides. "Ever since I met Marvin—now my husband—a few years ago, I started opening up to people and stopped taking myself too seriously. I call him my social crutch; he's good at breaking the ice or keeping the conversation going. You get better with practice; you can't change who you are, but being with people you trust definitely lightens the social load." 
Valerie's anxieties have been so bad that they've caused fainting spells and even mild delusions, so she's been prescribed anti-depressants to manage it. "It's being treated, but I hope to be weaned off it soon. Feel ko lang, it's very numbing, kaya wala akong mood mag work." While it does wonders for her nerves, she doesn't want to rely on medication too much, so every day is a valiant struggle so she can eventually be stronger on her own.
WORK IN PROGRESS
"There was a lot of self-loathing growing up... madaming anger sa self, so I did art so people would like me. Pero siyempre, I'd get the validation externally. Part of my recent process is that I want to be happy with my work without praises."
For someone who built an audience through social media, it took a conscious effort to pull away and stop counting likes for the benefit of her well-being. "I don't post as often anymore. I'm trying to create works for myself so I can be happy with just the process of doing."
GROWING WINGS
If you're struggling with introvert problems, Valerie attests that it gets easier with age. "As I got older, my group of friends became smaller, so we understand each other. Parang no pressure to be more vocal, parang mas nage-get mo na ang rhythm ng iba." Today, friends comment that her aura is brighter and more open, and consider her the analytical listener whom they can run to for advice.
The hardest thing about growing up a quiet girl? Veronica shares, "It was hard if you weren't talkative or the social butterfly. Getting bullied was a constant issue for me. It really takes a toll on your self-esteem and self-worth. I always remember my sister getting mad at me for speaking too softly. So I had to learn how to talk and speak louder. You had to adapt because the world won't be patient with you. Making people laugh became my thing because it's easier to be friends with someone funny than someone who is quiet and serious. But once in a while, I'll return to that quiet girl and become invisible for a bit. It's a good way to recharge and get away."
These days, it's wonderful to see the childhood rivals express a genuine fondness and sisterly solidarity. "I think we're different kinds of quiet—I'm more high-strung when I'm passionate about something, and she's quieter than me but more easygoing and has a better sense of humor," shares Valerie. As the older sister though, she admits she can't help but dish out unsolicited advice. "But I realize it only stresses her out! I feel like I'm projecting my fears and regrets onto her, so I'm trying my best to give advice only when asked. I still think she should get out more and take more risks, though! Life never happens inside a studio."
Icebreakers
Break the ice with Valerie and Veronica by talking about:
✿ Animals and animal sounds (ask Valerie to do "reluctant goat")
✿ Sitcoms, cartoons, and animé (Rick & Morty! Naruto! Daria!)
✿ The Bumble dating app (you'll have to ask Veronica!)