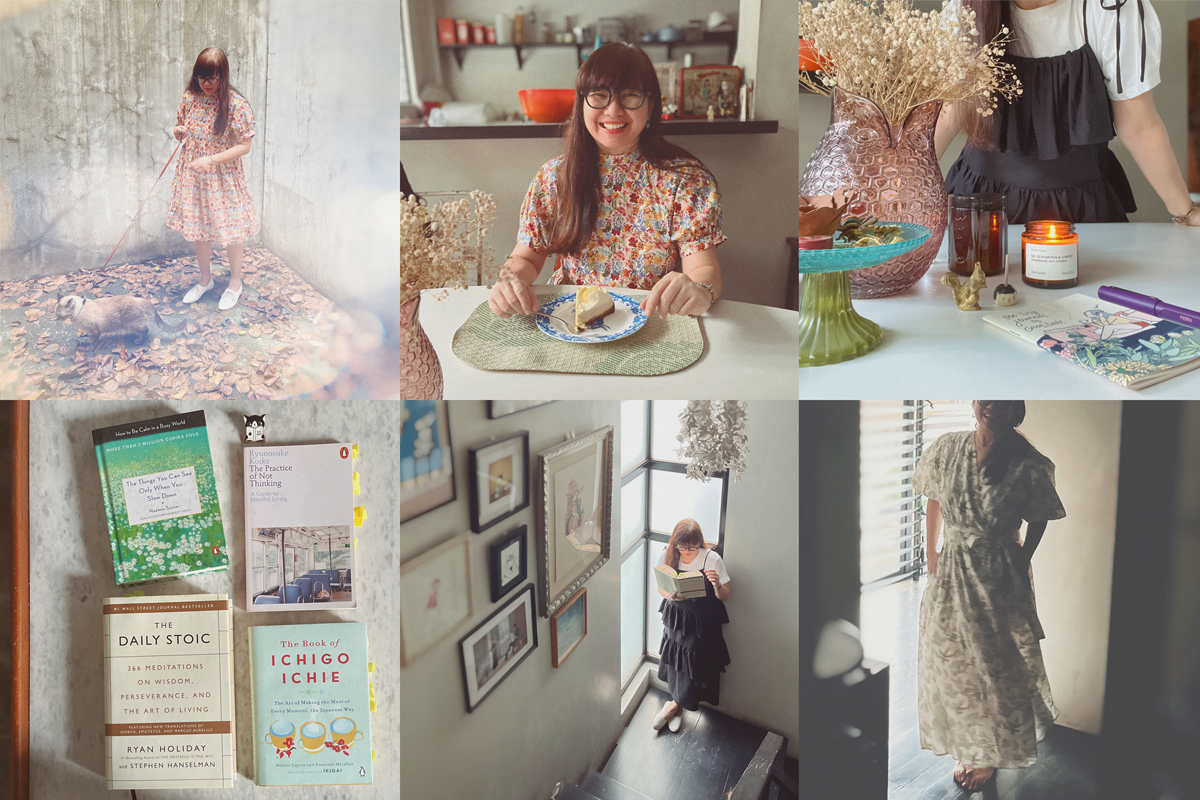 Habits of Gratitude
Change your day, change your life. Instead of New Year's resolutions, writer Pierra Calasanz-Labrador shares some simple but mindful practices to cultivate a graceful year ahead.
Remember how we took the time to appreciate the little things during the pandemic? Now that the world is opening up again, it's easy to get swept up in the old hectic cycle. I definitely needed help maintaining a mindful mindset and pace, so I tried to determine what were some quick but thoughtful practices I could realistically infuse into my routine for more meaningful days. Sharing with you in case you may need these, too!
A GRACEFUL START
Greet the day with gratitude. In the Laya Dress in Black
Ever notice how much more hectic your day already seems when you reach for your phone, first thing? Instead of being overwhelmed by an avalanche of email, disconcerting news, and mood-disrupting doomscrolling even before you've gotten out of bed, greet the day with gratitude.
Try adopting a morning mediation practice for calm and clarity to tackle the day ahead (try the 10-minute guided meditations on apps like Calm and Insight Timer). Or, you might prefer an uplifting playlist or prayer—whatever works to start the day with grace, and entirely on your own terms.
Mark Zavalla, chief candlemaker of cult favorite local brand Saan Saan shares, "My favorite is always blocking a couple of hours in the morning and at night for quiet and ritual. We don't need to follow a particular practice, but if we try to slow down our breathing, I think it's already meditation and can help a lot already." 
On a personal note: when I was getting anxiety attacks during the pandemic, my mom reminded me to pray the rosary. It's something we used to do daily as a family when I was little, though I have to admit I remember being bored/impatient as a child. This time around, rekindling this devotion to Mama Mary was meaningful and comforting, and it's become a beautiful daily habit again. I tend to fall asleep when I pray the rosary by myself in the evening, so instead, I do it first thing in the morning, praying along with those at the Lourdes Grotto (Sanctuaire Notre-Dame channel on YouTube, or search "Holy Rosary from Lourdes today" for a replay of the day's prayer—sometimes, I'll hear a familiar accent and know instantly the prayers are being led by a congregation visiting from the Philippines!). It's such a gentle way to wake up, and I find that this tranquil, centering practice is like my serenity forcefield and has really made a difference in how I approach my day.
GENTLE STRETCH
Dressing in a pretty piece has mood-boosting powers, too! In the Tahan Wrap Dress in White Floral
Exercise isn't just good for your health, it's honoring your body and a kindness to your well-being. Always too busy to exercise? Start with quick daily routines and move your way up from there when you can. The important thing is to get moving, especially if your work chains you to your desk all day. There are tons of 10-, 20-, and 30-minute workouts on YouTube that you can squeeze in, from fat-burning walking at home, to gentle yoga for better circulation and mindful body movement.
As someone who always puts off exercising, finding Yoga With Kassandra's low-commitment, 10-minute workouts on IG/YouTube was a gamechanger for me. As Kassandra says, doing just 10 minutes consistently every day is better than an hour every now and then. Make time for self-care.
If you follow Yoga With Kassandra, it's even better to cap off your quick practice with her 5-minute affirmation meditations. These consist of thoughtful and empowering phrases to internalize, and they're great for promoting self-awareness, optimism, kindness, and joy. I particularly like these affirmations: "Good things are coming my way; I am ready," "I see the good in others, and praise them for it," and "I let go of control, and allow ease into my life." Isn't this such a wonderful way to set the tone for the day?
CLEAN SLATE
A page a day keeps the stress away. In the Laya Dress in Black
I learned something interesting when I interviewed artist and jewelry designer Wynn Wynn Ong for a magazine several years ago. She told me that each day at her studio begins with a 30-minute cleaning period, where each member of her team preps their tools and tidies up their workspace before tackling their tasks for the day. By dedicating time specifically for this, the mood in the studio is virtually meditative, and helps them start the day consciously, with a clean slate. 
Instead of thinking of cleaning as a chore, what if we did it as a mindful exercise? Even just 10 minutes prepping our workspace or even closet each day could make a difference. Of course, if our areas are a mess, it might take more than 10 minutes to clear it the first time around, and then it will be much easier to keep things in place on succeeding days. (For more tips on decluttering and energy clearing, see our interview with certified KonMari consultant Christine Dychiao here.)
MINDFUL MINDSET
In a world that glorifies being busy, it can be challenging to convince yourself it's ok to slow down. Yes, there is grace in living with intention. Being mindful means being attuned to your five senses and living fully in the here and now, not obsessing over the past or anxious about a future that hasn't happened yet.
A five-minute practice that can help pull you back into the present is reading a page from The Daily Stoic: 365 Meditations on Wisdom, Perseverance, and The Art of Living by Ryan Holiday and Stephen Hanselman. This daily devotional presents the powerful Stoic principles of Marcus Aurelius, Seneca, Epictetus, and more, paired with accessible, down-to-earth insights that will help foster equanimity, resilience, wisdom, and kindness. And because at the core of Stoicism is the "art of acquiescence" or gratitude for our fate, this book also serves as an inspiring guide to make good choices when it comes to the situations in life we actually do have control over.
GRATITUDE JOURNAL
Always grateful for cake! In the Hiraya dress in Red Floral
Studies show that an attitude of gratitude can lead to a more positive outlook, a happier life, and an improved well-being. A concrete way to practice gratitude is by keeping a gratitude journal, in which you note down what—and who—you are thankful for. (Check out the lovely The Tiny Gratitude Journaling Kit by life coach Aurora M. Suarez, illustrated by Lehn Shih, which puts a delightfully fun spin on the habit of gratitude journaling.)
Mark of Saan Saan adds, "I try my best to bullet journal. Paper and pen. I think it's a good and simple system in setting the tone or planning the day, week, month or year, with a lot of room for change and adjustments!" Speaking of Saan Saan, lighting an aromatic candle always adds atmosphere and deepens the journaling experience.
Whether you journal every week or every day, this practice brings a heightened awareness of the ordinary yet extraordinary blessings in your life—from the simple joy of cake or an uplifting chat with a friend, to witnessing milestones of your kids and personal breakthroughs. Even the suckiest of days will surely have some good in it—perhaps the comfort of a favorite drama, a cuddle from your furbaby, or the magic of spotting a dragonfly. The ability to give thanks is a gift in itself.
OTSUKARESAMA DESHITA
In the Hiraya Dress in Red Floral and Halina Oxfords in White
At dusk, I usually take a work break and give in to my cat, who by this time is meowing incessantly for me to take him for a walk around our little compound. I grumble as I attach his leash (a precaution so he doesn't run out into the busy street), but when I step outside, I always give thanks for this reminder to pause and admire the sky at sunset, dressed in different shades each time.
Otsukaresama deshita is a Japanese phrase that people usually say to each other after the completion of a task or end of the work day, which roughly translates to "Thank you for your hard work today." So instead of merely saying goodbye, you are technically saying, "Good job today." I think about that each time I see a sunset—it's like nature's way of saying thank you for your hard work today. Don't forget to say it to yourself, too.
As in anything, do what works for you. Let's cultivate an attitude of gratitude, make time to witness wonder, and make space for gifts from the universe.
Follow Pierra's world on Instagram.