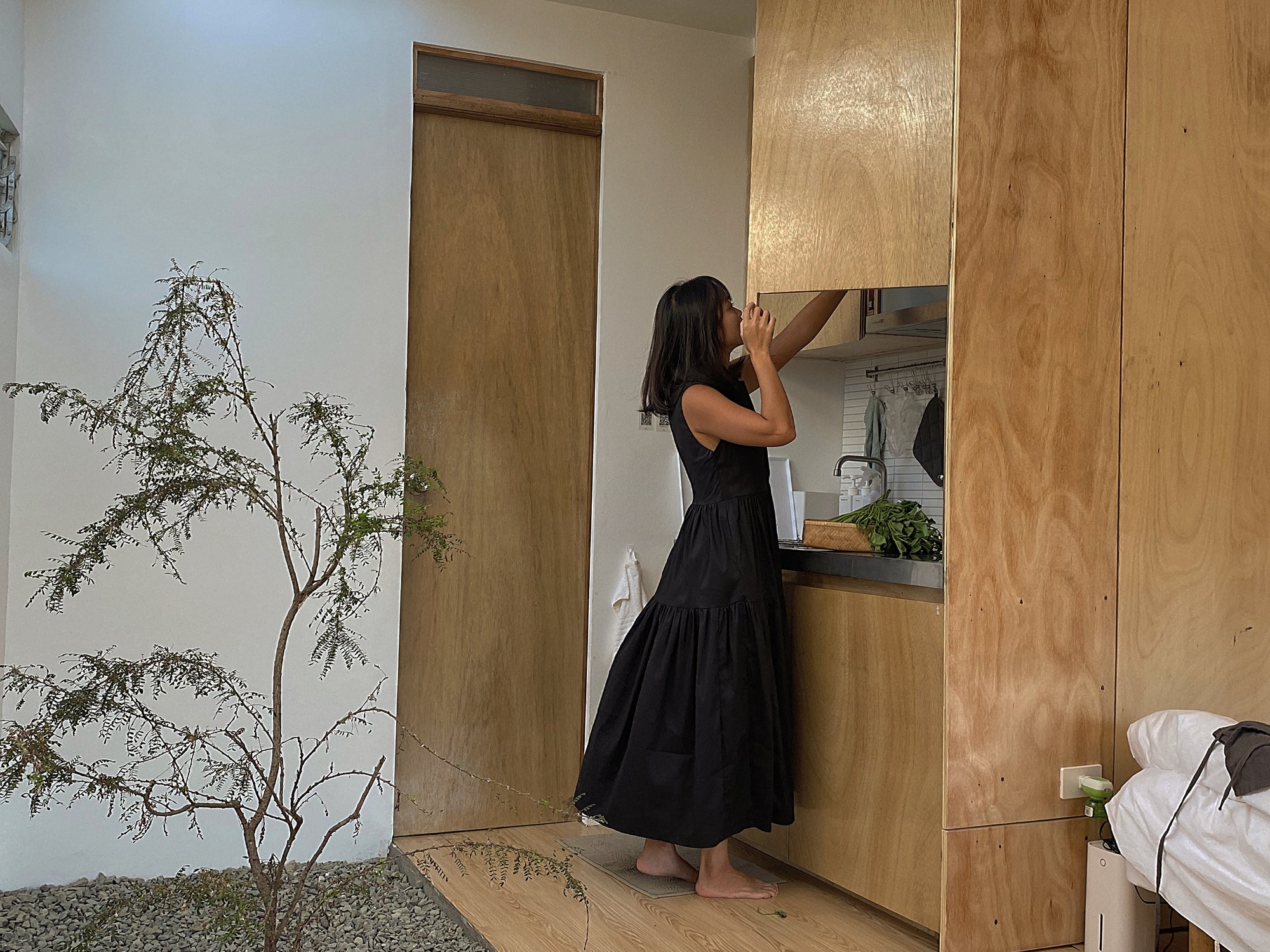 Leaving the City (and City Girl) Behind: Lala Llanes
Our inspiring chat with Burt Select Shop's Lala Llanes on mindfulness, moving to the beach, and finding her true self.
SHOT ON LOCATION AT BURT SELECT SHOP and BURT LITTLE HOME
If you've been following the La Union-based IG account Burt Select Shop for its minimalist aesthetic and mindful vibe, it might be even more inspiring to know that it's the result of a dream its owner Lala Llanes manifested for herself. Not so much the furniture shop, but the slow, quiet, ocean-adjacent life, built on her own terms, along with business and life partner Troy Ventura.
THE POWER OF CHOICE
These days, more and more young people are leaving anxiety-ridden lives and moving out of the city. Some call it millennial escapism, but other argue, why put up with things you don't like? For 27-year-old Lala, relocating to La Union dramatically improved her quality of life.
"I was working as an architect in Manila, but it was very stressful—the long commute to Makati, the 9-to-five grind, the hectic pace, and my job just wasn't for me. Affected na ang mental health ko."
But moving to the beach wasn't just a snap decision; it was a hopeful dream that took root over the past few years. Every month or so, she would visit her partner Troy, who had moved to La Union five years ago as they were graduating from college. "So I got to immerse myself in life there and compare it to life in Manila. During those times and throughout the pandemic, I decided na ito na talaga ang life na gusto ko."
She wasn't even a "beach person" to begin with, but her soul longed for stillness, and space to breathe. "I just wanted a simple life—gumising ka ng umaga, makakarinig ka ng manok or birds, see the ocean everyday… hindi yung traffic. So I gave up everything in Manila to move there for my mental health, physical health, and everything else."
THINGS FALLING INTO PLACE
During the pandemic, and even before her own move, Lala and Troy noticed a surge in people moving to La Union and looking for furniture. While she enjoys designing pieces and even accepted custom orders for a time, the couple thought that the most sustainable option was to sell secondhand but 100% functional pieces. With their architecture background and an eye for furniture, they would regularly scour surplus shops for underrated gems they could offer as lovely, earth-conscious alternatives.
"Finding one-of-a-kind pieces at second hand stores, sharing it to our friends and customers, creating spaces that are conducive to slowing down and allowing people to experience it as well, is what brings me joy the most. Offering a more sustainable option than to produce another object in this world." Thus, Burt Select Shop was born. (Named after their doggie Burt, how cute it that?)
It was originally envisioned to be online only, but when they found a warehouse for their items, they saw the potential to turn the space into their brick-and-mortar shop. "Then our friends at Irugi coffee asked if we wanted to put coffee inside, and so nag-consign sila with us."
So while many other shops were closing down in the middle of the pandemic, they bravely opened shop. "We opened it for that [tactile] experience din. Customers can see and feel the furniture before they buy, so it won't be an impulse buy. And because the set-up of the shop is parang bahay lang, the customers feel at home. When they come in, it's like our own house where we offer coffee—pero babayaran mo, ha ha."
Originally an old bakery, the couple put adaptive reuse into practice to convert it into a spare, serene space—just concrete, wood, and natural light setting the stage for the pre-loved furniture on sale. Within the same compound, they also spotted an old water station and transformed that into a compact but bright and tranquil space that they christened "Little Home," a homestay people can rent out for "slow and healing days."
"Our design aesthetic is heavily influenced by our everyday life. It is the mirror of the journey we are working on internally in a more tangible framework. To become mindful, conscious, aware, and seek truth through space, objects, and time."
Because the spaces are a reflection of their mindful way of life, they contain only what is truly essential. "Troy is a minimalist, more minimalist than me, while I'm more of an essentialist."
What's the difference? "Putting it simply, all my stuff—clothes, accessories, etcetera—have variety depending on its function and what is just essential for my lifestyle. For example, I have three pairs of footwear that I have in LU: a pair of sandals for errands, a pair of shoes for traveling, and a pair of slippers that I can wear at the beach, while Troy has just one footwear for all the occasions! But [minimalism] is not just physical; it also manifests through digital, ethics, and sometimes, our emotional needs as well."
Unlike some spaces that are beautified and sanitized for Instagram, what you see in Burt Select Shop and Burt Little Home is exactly how they live. "It's completely us—even the captions, the stories we tell… it's all true." To simplify things for social media, Burt Select Shop's voice/persona is Lala's, and Little Home is Troy's. You'll notice too, that they rarely show their faces in the photos, primarily because they want the focus to be on the furniture, the homestay, and the ethos of mindfulness and sustainability.
ENERGY EXCHANGE
The beautifully unexpected bonus of opening shop is that it provided an opportunity for human connection, especially at the height of the pandemic. "We get to connect with strangers and hear their stories. Ang dami namin naging friends because of the shop."
But as an introvert, Lala is careful to space out interactions so her energy isn't depleted. "We take rest seriously after a day of energy exchange. We take a nap, walk or bike around the neighborhood, do a bit of stretching, meditate, or if I have the time, I'll do a full yoga practice. And we don't go out the next few days, ha ha!"
"A HAPPY LETTING GO"
Moving to La Union meant giving up a lot of material things to fit a smaller space. "Plus living with a minimalist, you get to see the essential things nga lang. Before, I had soooo many clothes. Right now, kasya na ang lahat sa isang box."
Was it a tough move, or a happy letting go? "It's a happy letting go. It's an opportunity to start something new in my life. And since I moved to La Union for a simpler life, letting go of things allows me to have that simpler life."
Her extensive and colorful city wardrobe has been pared down to lightweight, multipurpose, and neutral essentials that suit not only the weather but her current state of mind. "Your personal style is affected by your environment; before, I was this artsy student in streetwear, then working in a firm, I needed to be more formal but still with my own style. But since I changed my lifestyle after moving, mas priority ko now is the function more than the look. I can't wear layers kasi ang init talaga." And while she used to go for bright colors and prints, these days, she prefers more tranquil earth tones. "Something that doesn't stimulate my mind too much." More than just a wardrobe cleanse, the purge was symbolic of letting go of old habits, a stressful pace, the urge to constantly compare lives and feel inadequate.
Lala adds, "Parang I found who I am talaga in La Union; it's really my home. Everything has changed and nagreflect siya even with my wardrobe."
SLOW, SERENE DAYS
Since moving to LU, Lala has found the time to fully appreciate all the wonders a day brings—being hyper aware of the sounds of nature, hearing the sounds of birds and roosters in the morning, being able to fully breathe in and slowly breathe out, and simply being able to wake up every day is already a blessing. "If there are waves, we'll surf early in the morning, about 5-6 AM until 8. Then coffee, breakfast. But we don't have a specific sched since it's up to us what time we want to work." Visits to their shop are by appointment, and it's only a short walk away.
"If there's free time, yoga. I think that's the life that I wanted—mas hawak ko ang time ko, I get to do what I want, anytime I want."
Here, time passes more slowly, and she relishes every moment. "Tsaka walang traffic, so pupunta ka sa isang place, you're there in 10 minutes. Ang dami kong nagagawa in the space of two hours. And even the people din kasi na nakatira doon, mabagal rin sila. Very province ang La Union kasi. Especially in the area where we live; kasi sa Surftown, there are so many things happening. But in our area, very slow lang. My fave spot is the beach, because there's not much people, it's just mostly locals or friends."
Lala confesses she didn't even know how to swim before moving to La Union, but now she's even learning how to surf. "It makes me feel alive!"
THE DOMINO EFFECT OF YOGA
 "I was doing boxing before, and my partner asked me if I wanted to try yoga, and at first I said ayoko, it's too slow for me," Lala laughs. "But when I tried it, na-hook ako because I get to be mindful of everything in my body, which I get to apply in my everyday life."
Because yoga has become not just a physical practice, but a way of life, she also turned vegan about three years ago. "It's like a domino effect; the values and the ethic [of yoga] changed the way I live—even the food I eat, the clothes I wear, the things I own, the skincare, the shoes… I have to be mindful of everything I own. And everything should be vegan—that means no animal testing, no animal products; it's not just a diet for me."
Because they are both vegan, there are limited food choices in La Union, so they typically prepare their own food and rarely need to dine out. "It's cheaper din!"
With a deepening spirituality, it also meant a more powerful connection to nature. "In college, I already practiced sustainability, less use of plastic and those small things, but not so much the vegan lifestyle yet. But now with [a heightened awareness of] climate change, I needed to make a bigger change for the environment." And through their mindful practices in Burt Select and Little Home, they hope to encourage their clients and community to adapt a more sustainable lifestyle, as well. "So in our AirBnb, we put QR codes that you can scan that leads to a YouTube video or Spotify playlist with a guided meditation. We share how we live just by staying there."
(Visit @burtlittlehome on IG for the pinned post of a virtual room tour of their healing space, aptly accompanied by a soothing Ichiko Aoba track.)
DAILY CALM
Since moving here, she's been able to slow down, soothe her anxieties, and have a better sense of self. But one doesn't necessarily need to live by the sea to achieve that sense of inner peace.
"It's always a challenge to be still—we're always moving, we're always thinking what's next. Meditation helps—even just a minute of breathing in and breathing out, you'll be able to center yourself."
Lala adds, "Just listening to yourself more, helps. Just giving yourself the time to rest and pause for a while—if nakakapag Instagram ka for hours, what's one minute of not doing anything and just breathe in and breathe out. Just start with that, maybe practice yoga, being mindful of what you consume—your things and what you eat, as well."
Surrounding yourself with inspiring people is important, too. "I have a few people that I look up to online and offline that inspire me to live mindfully and find what I really want in life. I consider them as my teachers in life. Recently, a friend told me how I inspire her to grow with the uncertainties, and has been following my journey through my posts at Burt," she marvels.
"It feels so warm knowing that I pass on the teachings that I get from the people who inspired me as well, through my own platform. We really appreciate it when followers and friends tell us they are not just following us for the items that we sell, but also for the story of our journey."
A WORK IN PROGRESS
It's a typical city girl dream to want to live by the beach, but how many actually dare to leave their comfort zones? "It was really scary to move, kasi walang assurance financially and I didn't don't know if Burt would work," shares Lala. But she attests that it's worth the risk if you know what you really want. "Three to five years ago, this was already the life I saw for myself, but initially, in denial pa ako how to do it because it was something so big, eh. But I worked hard for years to be where I am right now. So the courage came from the dream itself."
But she admits she's still figuring things out. "I'm living the life that I yearned for years ago, but it's not always perfect. Honestly, I'm still lost. This is my first time being responsible for everything, together with my partner—from finances, groceries, laundry, chores to even managing our time."
At the moment, Lala and Troy share a studio to save on rent, but the goal is to eventually have separate apartments. "Budget-wise, it's cheaper to live together, and it's fun naman. But we are the type of partners that value our individuality and need our personal space."
She adds, "I think I am in the part of my journey where I want to grow in my own space. Growing up, I never had my own space to fully express my true self. I always find peace being alone—talking to myself, dancing, singing, crying, laughing on my own. I feel like I will be able to bring light to a lot of things if I'll be able to move my own way in my true nature. Manifesting that I'll be able find my own apartment soon!"
For now, they each know intuitively when the other needs space without needing to say the words. They rarely fight, but when they need time alone, the ocean is merely a short walk away.
THE CAPACITY TO FEEL AT EASE
Wherever you live, it's important to find something to be grateful for everyday. For Lala, it's a million little things—brewing herself a good cup of coffee in the morning, having an abundant source of fresh food from a nearby market, being around people that bring her peace and contentment, being able to see the sun rise and set beautifully.
Once in a rare while, she'll experience the FOMO of being away from the familiar circle of friends and family, especially when her family comes together and she can't join them.
But as always, she turns philosophical. "Living mindfully means also looking deeply what causes our suffering. I saw this paragraph from the book of Thich Nhat Hanh's The Heart of Buddha's Teaching: 'The capacity to feel at peace anywhere is a positive seed. The energy to run away is not. If we practice mindfulness, whenever the energy of wanting to run away arises, we can smile at it and say 'Hello, my old friend, I recognize you.' The moment we recognize any habit energy, it loses a little of its power."
And so instead of dwelling on what she might be missing, she embraces her present. She is in constant awe of the life that she is carving out for herself—it's not so much a moving away, as a move toward a more mindful life, a chance to make deeper connections. Here in La Union, Lala is home.
Lala wears the Kimi Dress in Black and the Laya Dress in Beige.